Send new members a welcome SMS message after they've opted-in as part of signing up for, or purchasing your products and services. This is a compliant way to show your appreciation, introduce the phone number you'll be communicating with, and help your new member begin any onboarding process you may have. With Act-On's welcome message feature, it's quick and easy to automatically send a welcome SMS when your new member opts in.
Don't have SMS yet?
You'll need to
purchase Act-On's SMS add-on
. Contact your Account Manager if you'd like to learn more about leveraging SMS in your marketing campaigns.
Overview
| | |
| --- | --- |
| Industry: | All industries |
| Primary Actor: | Marketing Team or Act-On Administrator |
| Stakeholders: | Member Onboarding Team, Account Manager, Sales Team |
| Reason: | Nurtured contact becomes a member and opts in to receive SMS messages |
| Goal: | Welcome the new member with an SMS message, introduce new products and services, and/or begin the onboarding process |
Scenario
Your marketers have nurtured a prospective contact and successfully converted your contact into a member! It's important to show your new member appreciation for signing up or purchasing your products and services. When a contact converts to a member, use Act-On to automatically send them a welcome SMS Message. Use SMS to reach your customers anywhere via text!


What Needs to Happen?
Before you send a welcome SMS, your contact needs to have done the following:
Become a new member by signing up or purchasing your products and services.
Opted-in to receive SMS messages from you.
You can collect SMS opt-ins with an Act-On Form, or you can upload an existing list of opt-ins to Act-On from an external data source. When using an Act-On Form for SMS opt-ins, you'll include an SMS Opt-In Section in the Form Composer's Design tab. Customers can check the box to opt-in to receive your messages when filling out your Form.
Learn more about gathering SMS opt-ins in Act-On with the following guides:
Solution
If they've opted-in, you should send a welcome SMS to any new member immediately after they sign up or make a purchase. This will reassure your customer after their decision and ensure a positive brand reputation – a quick welcome SMS message tells the customer that your organization is prompt, inviting, and reliable!


Instructions
Ready to create your welcome SMS? Get started by following the steps below.
Important!
SMS is only available to customers who have purchased Act-On's SMS add-on and SMS credits. Once you've added SMS to your account, you'll also need to import an SMS Opt-In List to identify which of your contacts have opted-in to receive SMS messages from you.
Learn more about Act-On's SMS requirements in
Getting Started with SMS
.
Enable Welcome Messages in your SMS Opt-In Form
Before you can create your welcome SMS, you'll need to enable welcome messages in the Form used to capture new customer SMS opt-ins.
Go to Content > Forms, hover over your SMS opt-in Form, and click to edit it in the Form Composer.
If you need to create a new Form for SMS Opt-In, follow the instructions in the Form Design Guide & Add SMS Opt-In to a Form.


In the Design tab, find your Forms SMS Opt-In Section, and click the opt-in field:




In the Edit Opt-In Field panel, turn on Send welcome message.


Click OK.
Want to allow international customers to opt in? You can set your SMS opt-in Form to allow both US and international phone number formatting. Learn more about adding validation for international phone numbers here.


Create your SMS Welcome Message
Once you have at least one opted-in contact, you're ready to set up your welcome SMS. There is a dedicated Welcome SMS feature in Act-On to help you create this:
Go to SMS > Opt-Ins:




Under Welcome Message, click Edit Message, and type or paste in your desired welcome SMS for newly opted-in contacts as described in Customize and Send SMS Welcome Messages.


Click Save.
This message will go out automatically to any member or customer as soon as they opt-in to receive SMS.


Outcome
You've set a welcome SMS message to welcome your new customers!


Next Steps
To learn more about leveraging Act-On's SMS capabilities to reach your customers, look through the SMS Overview.


FAQs & Troubleshooting
Why don't I have SMS?
Check here: Go to Automation > Automated Programs > New Program > Build tab > Program flow >

Add new step: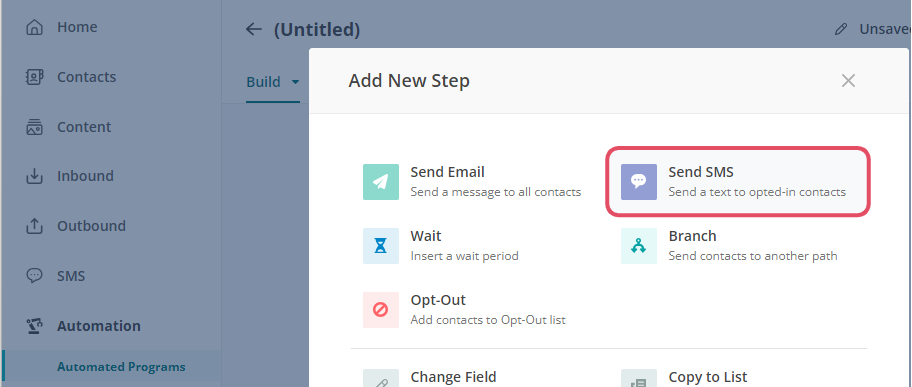 If you don't see Send SMS as a step option in the Automated Journey Builder, it's likely that you haven't purchased Act-On's SMS add-on. Contact your Account Manager to discuss adding SMS to your suite of Act-On tools!


How do I see reporting for my SMS messages?
You can measure the performance of the welcome SMS messages you have sent in Act-On's SMS message report:
Go to SMS > Messages > Sent Messages tab.


Click on your welcome SMS message.
Here, you'll find a variety of data related to your SMS message's performance, including metrics, charts, and summaries. Learn more about the SMS message report here.


Where can I learn more about SMS from Act-On?
Didn't find an answer to your SMS questions here? See our full SMS FAQs for setting up and using Act-On's SMS feature.