Act-On has a default Email Header that will be included in your messages. Some marketers may wish to customize this.
Header Contents
Email Headers are standard practice and usually include a "View in Browser" link. Some marketers will want to omit this from a message, however we encourage you to keep it in use. Contacts will click this link to get a better view of your email message when they are having problems seeing it in their inbox.
Using the Default Header
By design, the Default Header cannot be changed.

Create a Custom Email Header
Go to Content > Email Headers
Click Add Header to create a new Custom Header
Edit the content and add a View in Browser link if you wish to use that

Note: You will need to copy/paste this value from your Default Header

Style the Header as desired

Note:

The Email Header is meant to be flexible to apply to multiple email styles.

Below the HTML version, click on Generate Text Header from HTML
Click Save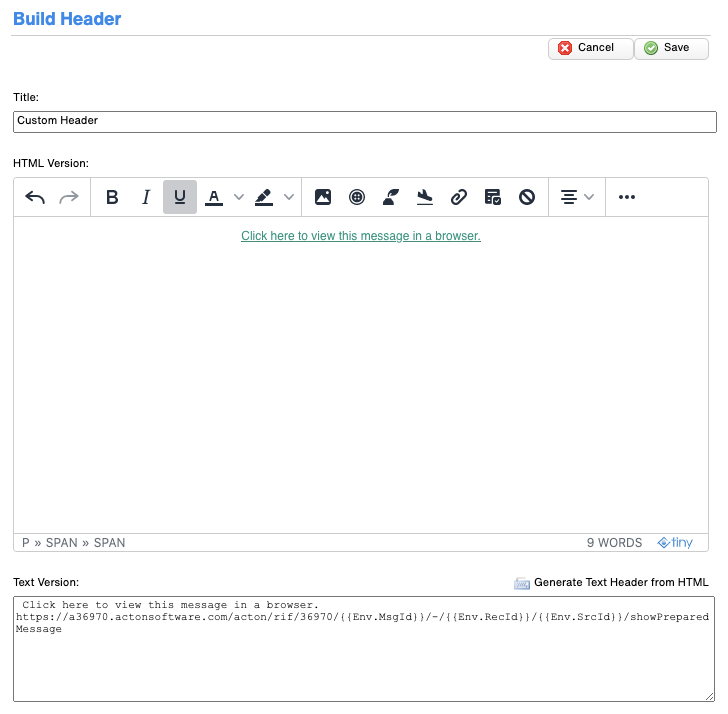 Choose a Default Header for New Messages
Once you are done creating your header, hover over the Custom Header you want to use and click Make Default. This Header will now be automatically applied when creating new Email Messages.

FAQs and Troubleshooting
Why does the "View in Browser" link get so many clicks?
When an email is sent, the majority of email service providers will use spam bots to check messages for malicious content. This can include clicks on the first link int he email, which is often "View in Browser".
Removing the link from your Email Header will not eliminate this behavior, it will simply shift the false clicks to the first link that appears in your email message.
For more information and to reduce the reporting of false clicks such as this, see our related article here: Identifying False Positives in Email Clicks