There are several reasons why you may receive the following error, preventing you from successfully importing your report into Act-On.
When using the Send Act-On Email to Report button, an error may pop up stating the report must include information in the Lead ID or Contact ID column, and at least one record: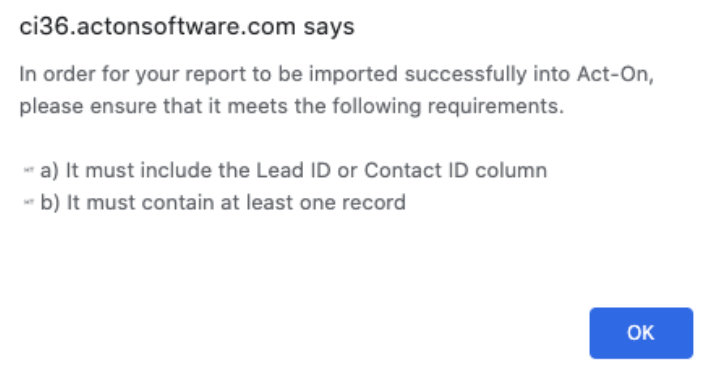 This error may also show in your Act-On Marketing List sync results:

The report is missing a Lead ID or Contact ID
First, make sure the report actually has either Lead ID or Contact ID filled out.
If these fields are missing, see our instructions for adding them to your report: How to Add Required Fields to your Salesforce Report
If the fields are not available for the report you are importing, then the report type is not supported for marketing list import.
Your Salesforce User has an unsupported license type
Your Salesforce User must have a "Salesforce" type user license (not Salesforce Platform or others). If this error is appearing and your user has an unsupported license type, contact your Salesforce Administrator for assistance.
Your Salesforce User needs Oauth permissions
Ask your Salesforce Administrator to review your user profile permissions. You must have Oauth permissions added to your user's profile in Salesforce to use this feature.
See our instructions here: Pre-approve Oauth for Salesforce Administrator and Act-On Users.
This is a new permission requirement as of the Lightning support package (version 1.85) release.
The report type is not supported
Act-On Marketing Lists are intended for Leads, Contacts, and Opportunity Contact Reports. Reports for other standard objects such as Accounts or any custom object cannot be imported.
To use Account Lists in Act-On, we recommend using Account-Based Marketing.