We're excited to announce some changes for Act-On Contacts and Form submissions!
What's Changing
When contacts fill out your Act-On Form, they can automatically be added as a contact in your All Contacts list, and their Form submission can be viewed from the All Contacts page. Previously, Form submissions were being added to a separate Form list, in addition to the All Contacts list. 
With the new method, marketers will enjoy several advantages:
Contact records are not duplicated. The All Contacts list gets the contact data, and the Form submission view shows the most up-to-date contact data along with the form submission data.
For Forms that push to CRM, contacts can now be added to the All Contacts list immediately and simultaneously with the push to CRM.
The Form submission view in All Contacts gives users great new organizational and informational features, such as datacards, subfolders, tags, & the info hover card submission data.
Marketers can manage columns in the Form submission view, including adding additional profile data from the All Contacts list, to be used in segmentation and personalization.
Form submission views can be used in Automated Programs and trigger immediately.
New Form properties give you control over which fields to update and which contact to update if there are duplicates.
New Push to CRM options let you choose the object type to create (such as lead vs. contact).
With this feature active in your account, use the drop-down arrow next to All Contacts to switch to the Form Submissions view:

Here you'll see your Act-On Contacts Form submission lists along with overall form performance data cards. You have the option to organize with folders & subfolders and use tags to organize your lists:
The info hover card shows performance data about the Form: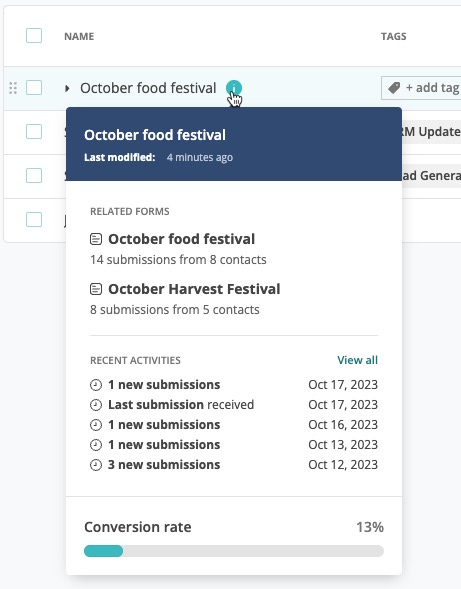 Click the Form submission list name to see the contact and submission data:

Use the Manage Columns drop-down in the table header to control which columns you see on this list.  You can add any additional All Contacts columns, even if they weren't on the Form: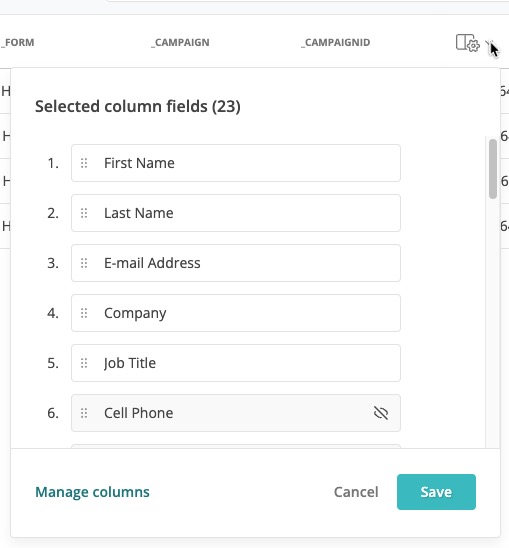 When
This feature is now available (Nov 8, 2023) for Act-On Contacts users to beta test. Watch for an email from our product team for your invitation to get involved. Want to learn more about Act-On Contacts? Click here.
Customer Impact
When the feature is activated, marketers will see a prompt to upgrade Forms that are currently submitting to All Contacts. This upgrade will transition the form submission list to be visible in the All Contacts area. Forms that have not been edited to submit to All Contacts will continue to submit to the Other Lists > Form Submissions.