Choosing a List for a New Form
When creating a form, you have the option to add submitted data to a new list or an existing list. This is done in the List section of the Properties tab.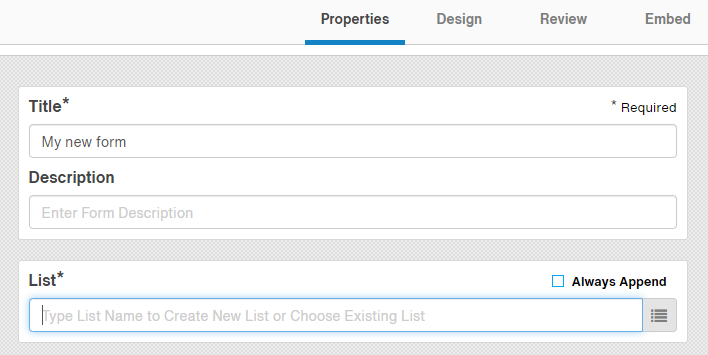 To create a new form submission list, simply type in a name. That list will be created in the Default folder under Contacts > Other Lists > Form Submissions as soon as you get your first submission to the form.
To add submitted data to an existing list, click the button to the right of the List field and select the list from the menu that appears. An important note here is that the field column names in this form must match the column names of the selected list – if the fields don't match when you save the form, you will be prompted to map the columns to resolve this.
For more information existing lists and the Always Append feature, see this page.
Combining Multiple Form Submission Lists
If you have multiple existing Form Submission Lists that you'd like to share data, or if you want to merge submission data to your Master List, this can be done via a List Maintenance Program that copies this data across lists. See this page for more information.