The Content Catalog allows you to select from our growing library of email templates to use within your Act-On account. You can easily edit and customize any template to keep it consistent with your brand or color scheme.
Instructions
Open the Content Catalog
Act-On has provided a variety of email templates in your account by default, so you can quickly begin creating and sending emails. To get started with the Content Catalog:
Go Content > Catalog in your Act-On account
In the Catalog, click the Messages tab to find our selection of email templates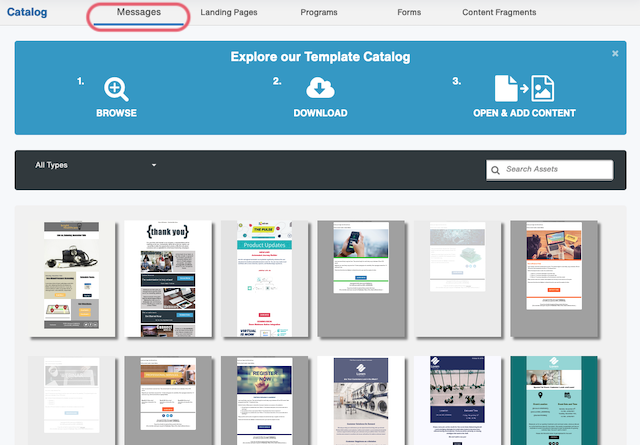 Once you're in the Messages catalog, you have the option to:
Filter based on message type

Search email templates

Preview email templates
Preview an Email Template
To preview an email template from the Content Catalog:
Hover over the template you'd like to preview
Click to open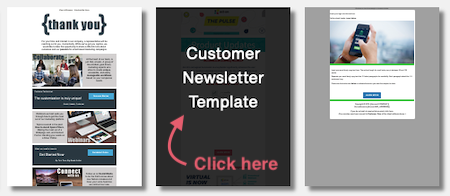 In the content preview window, you can:
Preview your email template in desktop or mobile view
Download the template to customize and use for your marketing campaigns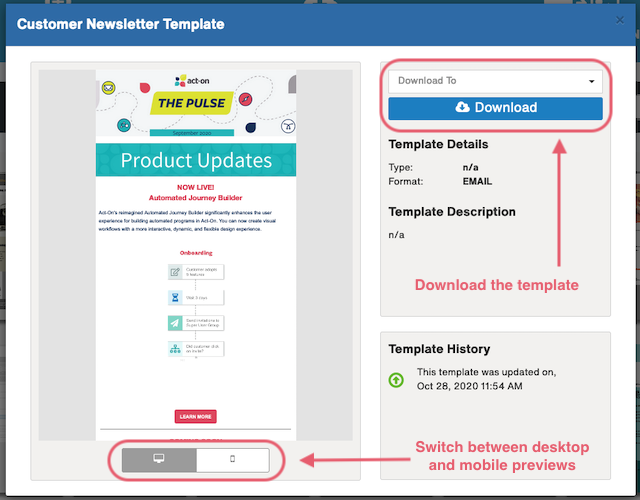 Download an Email Template
To download an email template from the Content Catalog:
Click on the email template's thumbnail to open it in preview
Under Download To, select a folder to store your email template
Click Download


Click Edit Template to open and begin editing your template in the Email Composer

You can also find your new template by going to Content > Email Templates. Here, it will be stored in the folder you selected before downloading. Hover over your template and click Edit to open it in the Email Composer.
Next Steps
You're ready to design and customize an email from your newly downloaded template! See our Email Composer User Guide to learn more about designing your message in the Email Composer. You can also visit the Create Email section in Connect for a variety of resources on customizing your email messages in Act-On.