The Marketing Network allows companies to manage their clients' Act-On accounts. You can create new accounts, provision active contacts to accounts, assign managers to accounts, log into accounts to manage marketing efforts on clients' behalf and share marketing assets between accounts.


Create or Remove Child Accounts
Agencies gain and lose clients often and, as a result, need the ability to easily create or remove child accounts (also referred to as managed accounts). Using the Marketing Network, users can create new Act-On accounts or instances, provision them with active contacts, and delete them in one step.

Agencies' clients have different marketing schedules and, therefore, different needs in terms of active contacts. Agencies' users can easily manage the number of active contacts each account uses.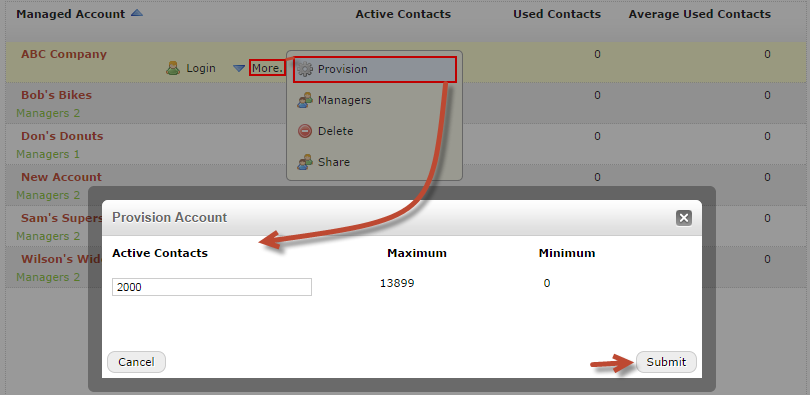 Minimum: reflects the number of Active Contacts currently used by the child account during the current month period. You are not able to drop the number of Active Contacts below what has already been used
Maximum: reflects the number of Active Contacts that have been provisioned to this specific child account plus what is available in the main account total for distribution


Assign or Reassign Account Managers
Clients' staffing needs often change, and agencies need to change managers' access to sub-accounts. Administrative users can easily assign, re-assign, or remove account managers on an account. When an account manager is assigned to an account, they can log into it to manage the account's marketing efforts, and vice versa.


Log into a Child Account
When an account manager is assigned to an account, they have the ability to log into a sub-account to manage that account's marketing efforts. When an account manager is logged into a sub-account, they have administrative privileges for the account, which means that they can configure the account (settings, users, privileges) in addition to managing campaigns.

Share Marketing Assets
Agency users have the option to configure sharing settings with child accounts in the Marketing Network.
Note:
By default, the sharing feature is enabled for parent accounts to share assets with child accounts. It is possible for child accounts to share with other child accounts (in the same group) and the parent account. Please
contact Support
to enable this setting.
Hover over the account in the Marketing Network, select More, then select Share.
Use the boxes to select Can Share and/or Can Subscribe:

Can Subscribe – the child account can receive assets from any other account in the group
Can Share – the child account can share an asset with any other account in the group

Click Submit.
For more details, see Set Up Sharing Privileges.


Share an asset
Click Share in the preview of the asset they would like to share.
Select the accounts with whom they would like to share the asset.
Once an asset has been shared, the receiving accounts need to accept the asset in the Inbox, located in the Home icon menu. For more details, see Share and Accept Assets.


Cobranding Child Accounts
If an account meets certain business requirements, they are eligible to co-brand their child accounts. Co-branding allows administrative users to add their logo to the application where the Act-On logo is displayed and change the name of the page title where it reads 'Act-On Service' by default.
To use this feature, you meet business requirements and contact your Act-On representative to have it enabled in your account. Once your account is approved and this feature is enabled, a Customize option will appear in the navigation of the dashboard.
Select Customize.
Click Choose File .to upload a logo.
Enter your application name.
Click Save.
Please note: The maximum image dimensions are 176x35 pixels, the maximum file size is 10 KB, only PNG files are accepted, and the maximum number of characters for the application name is 200. In addition, users are encouraged to upload images with a transparent or white background for the most optimal rendering.