Follow these steps to install Act-On Anywhere for Outlook.
Minimum System Requirements
Microsoft Windows 7 or higher Operating System
Microsoft Office 2010 or higher, including:
This plugin is not compatible with:
Mac OS
versions of Outlook from the Microsoft/Windows Store
Act-On cannot guarantee compatibility with other Outlook plugins.
Instructions
Download
To download the installation file, you must be logged in to Act-On.
Marketing Users
Navigate to Settings > Connectors > Outlook
Click the download link to download setup.exe
Sales Users
Navigate to Resources > Outlook Plugin
Click the download link to download setup.exe
Install
Run setup.exe. This will launch the InstallShield Wizard. Click Next.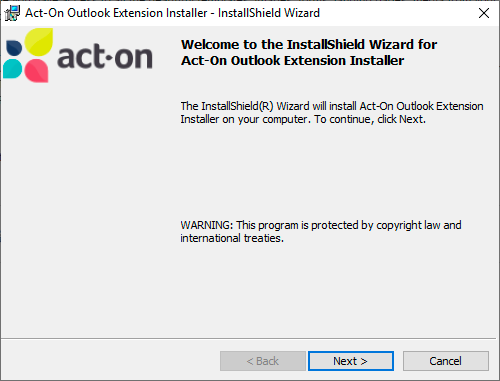 Accept Act-On's license agreement and click Next.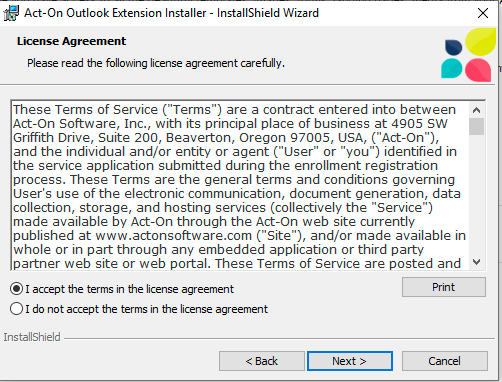 Review the install location and click Next.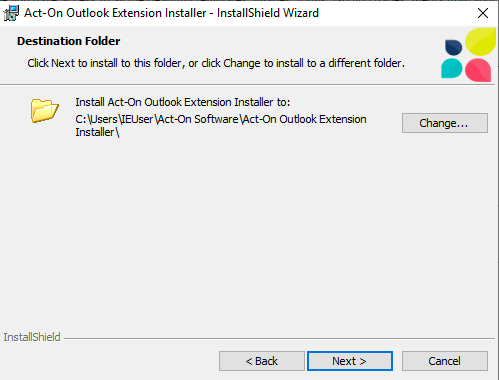 You can review the complete installation settings and click Install.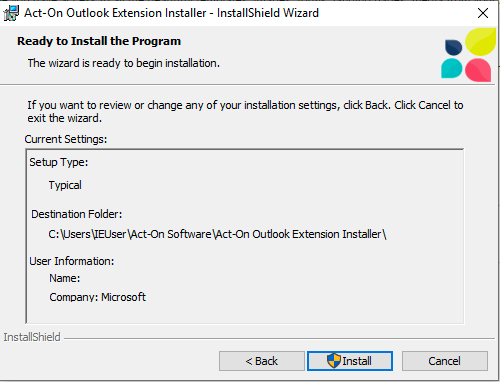 Click Finish.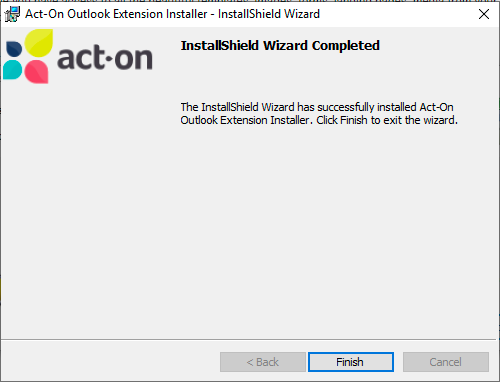 You will also be prompted by Microsoft Office Customization Installer to approve the Act-On Outlook Extension. Click Install.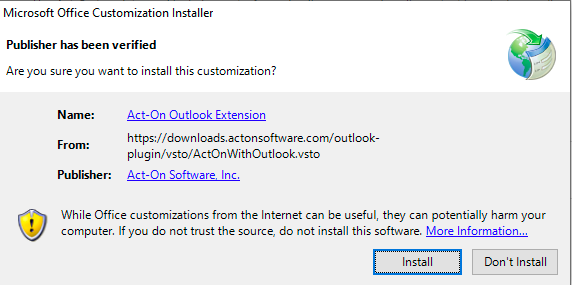 Once the installer is finished, click Close.

Once installation is complete, you can begin using the plugin. For instructions, see our User Guide here: Act-On Anywhere for Outlook - User Guide.
Uninstall
Go to Add or remove programs in your computer's settings
Uninstall the two Act-On applications in the order below


Very important: Make sure to uninstall the programs in the correct order.

Uninstall the plugin first
Uninstall the installer next
Troubleshooting
For help resolving errors, see Act-On Anywhere for Outlook - Troubleshooting.