You can invite your email message recipients and landing page visitors to share your content via their own social media outlets (Facebook, LinkedIn, and Twitter). The social share block also has an email link that will allow your contact to forward the message to a friend using our
Forward to a Friend
feature.
Instructions
In the designer, find the Social Share block
. Drag and drop it to your layout.
First, update the Design:

Click on each icon to select or de-select it from display

Note: Only Emails will have an Email icon for social sharing. Clicking this icon will allow your contact to forward the email message to a friend via Act-On's Forward to a Friend feature.

Drag and drop the order of the social share icons
Choose the style and size of your icons to control their color and shape. Style options:

Circle, Color
Circle, Black & White
Square, Color
Square, Black & White

Update the properties for the social block, including Padding, Alignment, and Layout

Next, click on Content to update the content of the sharing:

Prompt is what displays in the content above the social sharing icons
Title and Link are the content that will share with each social feed when a contact clicks on the link.

Click Ok to finish and preview.
Landing Page Social Share: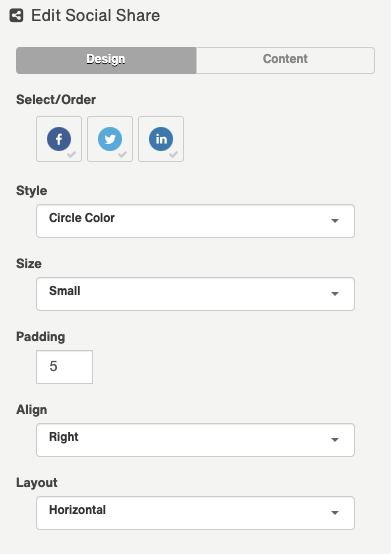 Email Social Share: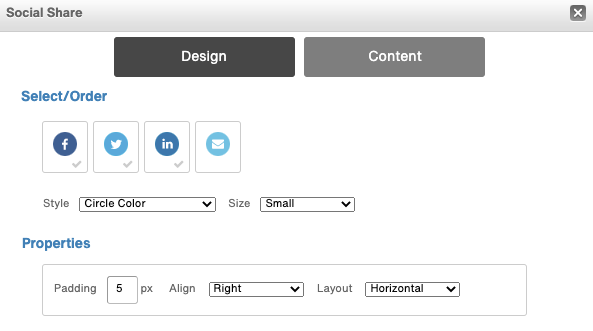 Once deployed, you can track the success of your Social Share by viewing the clickthrough traffic in the Message report. The Rebroadcast number will display the total number of rebroadcasts from each social media outlet. Clicking on the number next to each will display the drill-down menu, where you can see who broadcasted the content, where it was broadcasted to, and how many clicks each rebroadcast received.