Form Properties are available through the Properties tab in the Form Composer (go to Content > Forms then hover over the Form and click the pencil icon)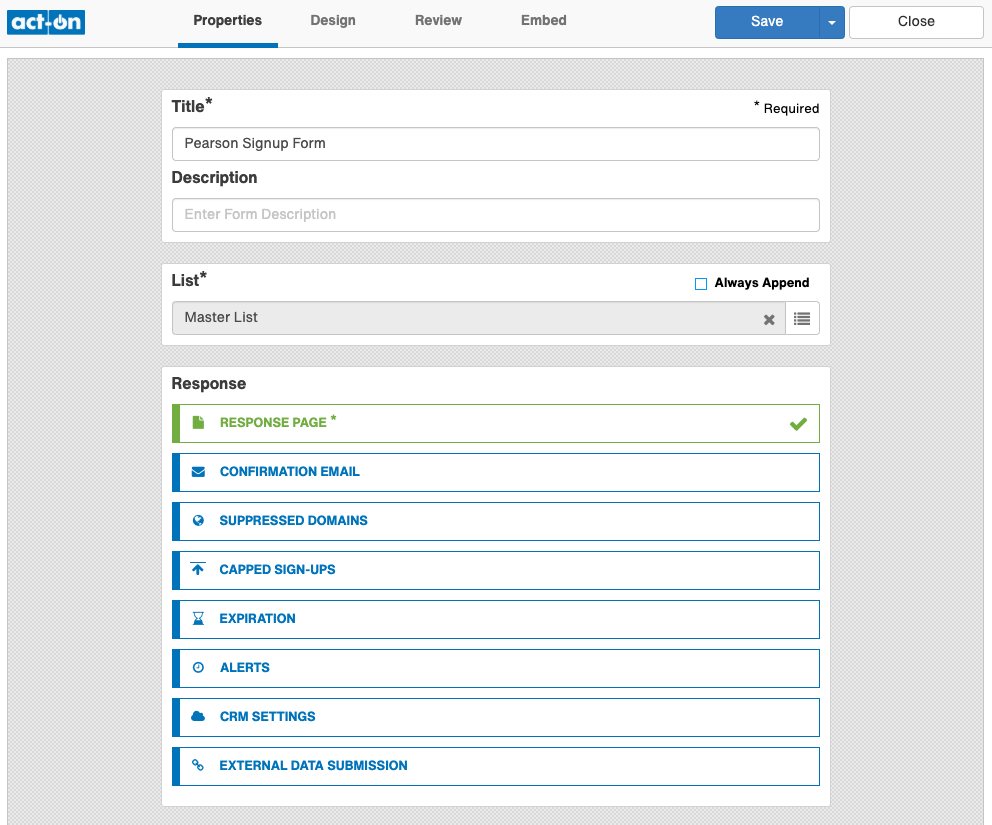 General
The first area allows you to set general options like the title and description of your form. The Title field is the publicly-visible title of your form. The Description field is for internal purposes only, and appears below the title only in the Act-On Form Library.
The List field is the list that submitted form data will be saved to, and by default, Always Append is disabled. By keeping it disabled, the Act-On form will allow duplicate submissions based on email address; however, Act-On will simply update the previous form submission with the new form submission. For example, if john@abc.com submitted the form twice, the form submission list will overwrite the first submission with the information from the second submission. Enable the Always Append feature to allow duplicate submissions based on email addresses. For example, if john@abc.com submitted the form twice, the form submission list will contain two entries for john@abc.com and treat them as unique submissions.
Response Page
In the Response Page area, you define what the user experiences when a form is submitted. The user can be presented with the response of your choice from the four options listed below. Note that some of the response options, like landing pages, can be personalized based on the information the user submits.
Response – Choose a landing page and URL to redirect to upon form completion
Gated Content – Add media content as a response and retrieve

your Gated Content URLs from the Landing Page composer

or External Pages slideout
Confirmation Email
After setting the response, you can choose an email message to be sent to the user once they have submitted your form. Common uses fr a confirmation message include sending a document that was offered to the user for filling out your form or simply as confirmation that the form was submitted correctly and that you've received their request.


Please be aware that if your confirmation email requires personalization information (with no generic fall-back), your email may be suppressed by the Act-On system due to incomplete information. For instance, if your form has a non-required comment input and your confirmation email outputs comment using the ((comment)) personalization, the email would not be deliverable if no comment is entered by the submitter.
Suppressed Domains
You can optionally specify a page that the user will be redirected to if they submit from one of your suppressed domains. Submits from suppressed domains will be restricted regardless of whether a redirect URL is supplied.
Capped Sign-ups
In certain situations, like event registrations, you may want to set a limit on the number of people who can submit your form. The optional Capped Sign-ups area allows you to enter the total number of signups you would like to allow. Once your limit has been reached, it will not show the displayed form, but will instead redirect users to a URL that you define.
Expiration
Sets a time or date when the form no longer accepts submissions, instead of redirecting users to a URL you have the option to specify. If no URL is set, the form will not expire.
Alerts
This option defines email addresses or conditions under which a specified email address should be sent a form submission alert. These alerts contain all form submission information and are completely separate from the confirmation email optionally sent to the form submitter.
External Data Submission
Some URLs are designed to accept form posts. If you are working with a third-party service that offers one of these URLs, you may enter it here. Please be aware that your third party may have additional requirements for form input names or other content, so be sure to read their documentation.