When you create an email in Act-On's Email Composer, you may sometimes notice that the text has different fonts applied. If this is not what you intend for your email design, read on for more information on why this happens and how to fix your email fonts.
How to Update Fonts in your Email
Act-On's Email Composer is a modular email builder. When you build your email, you must apply your font to each specific element. To apply your brand's font, modifications such as Rich Text Blocks, Headers, Footers, and Signatures can all be edited in the Email Composer.
You can change the font for elements that do not have font settings by using Custom Stationery.
If you need to use a custom font, see our guide here: Add a Custom Font to your Act-On email with inline style.
Common Problems
Problem 1: Different fonts in two or more Rich Text Blocks
When adding multiple Rich Text blocks in your email, be aware that any changes to your font selection will be restricted to the block you are currently editing. When you add a new Rich Text Block, the font selection will be Helvetica Neue by default.
The Email Composer doesn't extend font changes to blocks outside of the one you are editing to prevent any unwanted font selections, leaving you free to customize your email using as many different fonts as you wish.
In this example, Rich Text Block #1 and #2 share a single two-column section but can still be styled independently of each other.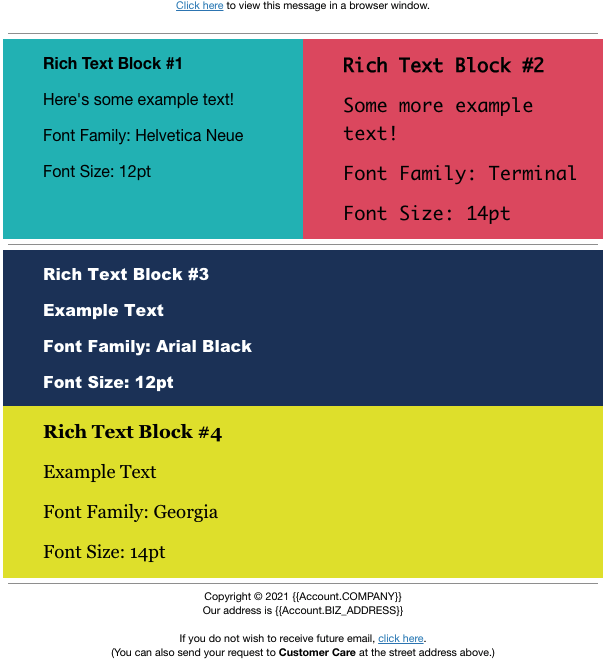 Solution
To apply a new font selection, open the Rich Text Block and highlight the text
Click on the Font dropdown menu and select the desired font
Click OK to save your changes
Repeat for each block you wish to apply the new font selection to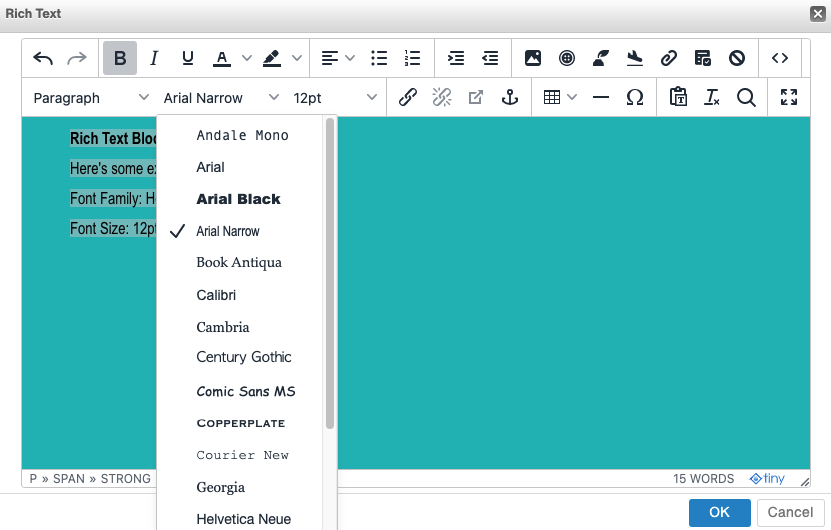 Problem 2: Multiple fonts in a single Rich Text Block
Often, the cause of this problem is that you have used copy/paste to bring text over from another program, such as Microsoft Word or even your email inbox.
Solution
There are two ways you can fix this problem from the Rick Text Editor:
Select all of the text in your Rich Text Block and reapply your desired font using the drop-down menu.
Click the Code icon and edit the inline style for your paragraph text (e.g., for a custom font).
To avoid this in the future, you can use copy/paste without formatting.
Problem 3: Multiple fonts in other elements (Header, Footer, etc)
Act-On's Email Composer applies font independently in each element of your email. If you have elements of your email that need their font changed, follow the instructions for each block type below.
Header

Update the font for your header in the Rich Text editor by going to Content > Email Headers.

See also How to Create Custom Email Headers

Footer

Update the font for your footer in the Rich Text editor by going to Content > Email Footers.

See also How to Create Custom Email Headers

Signature

Update the font for your Signatures in the Rich Text editor by going to Content > Signatures.
You won't be able to change the font for some blocks in the WYSIWYG editor. However, their fonts can be updated when using Custom Stationery and updating the default fonts for your message:
Greeting
Media File Download
Form Link
Time & Place
Multiple Choice
Business Card
Social Share