There are many considerations to take into account when editing automated programs. This article contains a few of the best practices for doing so, as well as the implications of certain actions you may want to take when editing a program.
Editing a Running Program
Changes cannot be made to programs that are running. To make changes, first stop the program by opening its dashboard and then selecting Actions > Stop Program:

Once stopped, you can make any adjustments you'd like, including changing source lists, email messages, or the program flow. It is important to note that if you remove a step that contacts are currently in (like a wait step), once the program is started you'll have the option to either remove them from the program or move them to the next step: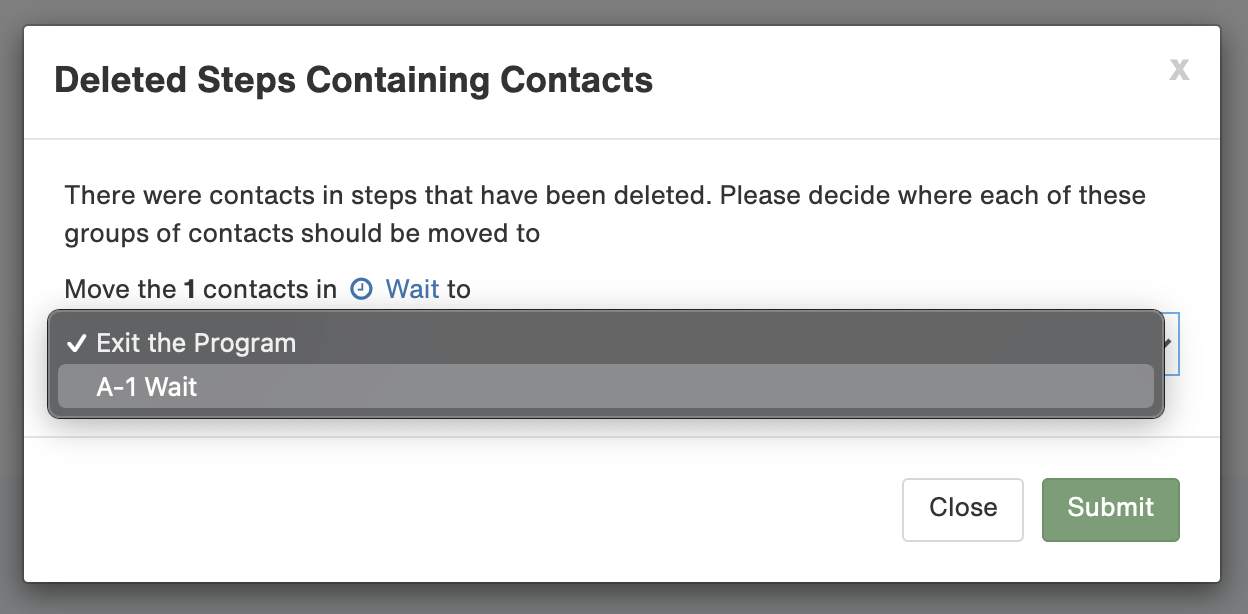 Finally, time-based wait steps use the date and time of the entry to determine when to advance records, rather than a timer. For example, if a contact enters a "Wait 1 Day" step on the 26th, and then the program is immediately stopped for two days, the contact will advance to the next step when the program is started back up.
Removing or Changing Source Lists
If a program's source list is removed, the contacts from that list will be deleted from the program. This can occur if a list is removed from the program within the editor, a list is deleted outside of the program, or a contact is removed from a list. If this occurs, it will be indicated in the "Deleted" column of the program steps:

Further Considerations
While there are many ways to go about designing automated programs, the particular flow of a given program or set of programs will always be unique to your goals and business needs. Here are a few strategies that might help keep things organized and efficient:
Always stage and test your program (or even changes to a program) in a test version before publishing the changes to your final program
If your program flow is getting too long or contains lots of branches, consider splitting it into a set of smaller, more simple programs
Maintain live documentation about the programs in your account, what they should be doing, and any changes that are made