Act-On Contacts provides a number of ways to learn more about your segment's details, performance, and history.
Info Hover Card
Hover over any segment in Contacts > All Contacts to see a small info button. You can hover over the info button to see more information about this segment, including: 
When it was last modified

This will update any time you edit the segment definition or change your segment's sort order

Segment hierarchy
Segment type (query, direct select, etc.)
Segment definition (the query criteria used)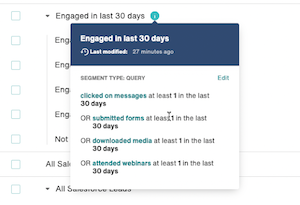 If your segment is a system-generated segment, its info card will also include a brief description.
Contacts List & Segment Details
Click on any segment in All Contacts to open the Contacts tab. Here, you'll find your segment's full list of contacts. You can also go to the Segment Details tab to see more information about your segment's performance and activity.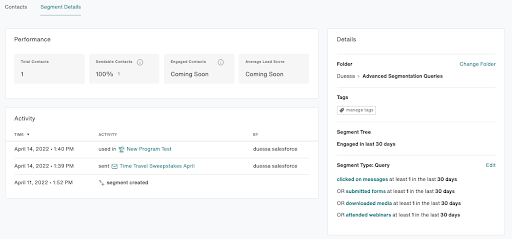 Performance
The Performance section of Segment Details will show you the number of Total Contacts and Sendable Contacts in your segment. These are the contacts that you can send messages to who haven't opted out, had emails bounce, or had spam complaints.
Engaged Contacts include anyone with a score above zero. Average Lead Score is an average score for all the contacts in your segment.
Details
The Details panel will show you if your segment is in a folder and if it has any tags applied. In this view, you can also see your segment's parent hierarchy. The segment type section gives you an overview of your segment's criteria for contacts and allows you to edit your segment definition.
Activity
Use the Activity section to see more details about when your segment is used in a message or program. You can also see when your segment was created or last edited.