Organizing your Image Library saves time on browsing for images to add to your marketing assets, and can even speed up the time it takes for your system to load. To do this, you can move images as a bulk action with simple commands.
Instructions
Step 1: Create a New Folder
Navigate to Content > Image Library
Click the plus sign button located at the top of the Image Library menu
Give your new folder a descriptive name

Click the checkmark button to save your new folder
Delete, Rename, or Move Folders
In the Image Library menu, hover over the target folder

Rename: Click the pencil icon
Delete: Click the trashcan icon:


To reposition a folder in the Image Library menu, simply drag and drop it into your desired location:

Step 2: Move Batches of Images
You can select multiple images at once to move them to another folder as a bulk action.
Navigate to the folder containing the images you want to move
Hold the Ctrl (PC) or Command (Mac) key
While holding, click on the image items you wish to move. Selected images will be highlighted in blue:

Drag and drop the highlighted batch into your desired folder
Delete Batches of Images
Hold the Ctrl (PC) or Command (Mac) key
While holding, click each image item in the list so that they're highlighted in blue
Press the Backspace (PC) or Delete (Mac) key to delete all selected images
Examples
There are many ways to create an efficient system for organizing images. We recommend experimenting to see what works best for you. Here are some ideas to help you get started:
Organize by Event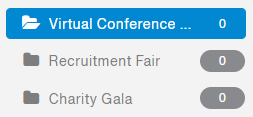 Organize by Social Media Platform
Image guidelines can vary across social media platforms, and an image uploaded to one platform may look less crisp on another.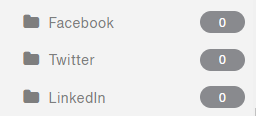 Organize Chronologically