This article provides an overview of Act-On's Google Ads integration. Learn how to access, connect to, and use Google Ads with your Act-On account!
Instructions
Access Google A
ds
To connect your Google Ads account, you'll first need to locate your Google Ads Customer ID to establish a connection within Act-On. To do this:
Log into your Google Ads account
View your Customer ID, located on the top-right corner of your home screen

Connect Act-On to Google Ads
Next, connect your Act-On account to Google Ads:
In your Act-On account, go to Settings > Connectors
Select Google > Google Ads on the Connectors homepage
Click Connect


In the pop-up window, enter your Google Ads Customer ID and click Sign in with Google

Choose the account you'd like to connect with

Click Continue

Once you've added your Google Ads Customer ID, click Configure to configure your account to track individual ads
Enter your Unique Ad Parameter, Keyword Parameter, and Match Type Parameter, then click Submit

You can use the provided default parameters or customize your own
Heads up! The Unique Ad parameter is required for a primary feature of Google Ads reporting to function. This parameter allows Act-On to associate incoming leads from Google Ads to their respective costs.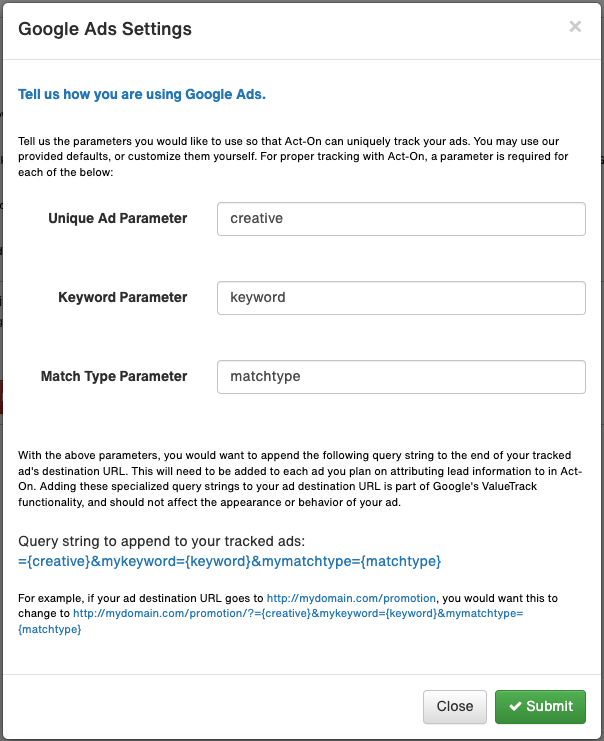 View Your Google Ads Report
To see Google Ads reporting in your Act-On account:
Go to Inbound > Google Ads Report
Select your date range and your display type

In the Keywords by ad group view, you'll see the keywords you've enabled. Click on a number in the table to see an expanded view of ad metrics, including clicks and device types.
In Ads by ad group, you'll see your ads. Click on a campaign or category to expand these and see each ad as it displays in search results.
Reporting Fields
Status: The current status of your ad campaign – enabled (green checkmark), paused (yellow triangle), or deleted (red 'X')
Max CPC: This is the maximum cost-per-click amount you have agreed to pay for each click
Clicks: The number of clicks your ad has received
Impr: The number of impressions your ad received – an impression is a display of the ad to a unique visitor
CTR: The click-through rate of your ad
Avg. CPC: The average cost-per-click of your ad
Cost: The total cost of your ad
Google Conv: Conversions on goals defined in Google Ads
Avg. Pos: The average position of your ad in the list of ads displayed
Leads: The number of leads generated from the ad
Cost/Lead: The cost per lead from the ad
Conv. Rate: The conversion rate of clicks to leads from the ad
Refresh or Download Your Google Ads Report
Click the Refresh link to see the most recent data in your report.
Click the Download link to download a .CSV file of your report or Print to print it
Disable the Adblock Plus Chrome Extension
If you currently have the Adblock Plus extension enabled on your Chrome Browser, this will prevent your Google Ads connection with the Act-On Platform.
To disable this extension:
In your Chrome browser, go to Settings > Extensions
Click Remove
Refresh your browser