Adaptive Sending is a unique feature that uses predictive intelligence to constantly analyze all of an individual's digital behavior within Act-On to determine the best time to send them an email for optimal engagement.
Using Adaptive Send
To use this feature, simply select the Adaptive Sending option in the Send tab of the Message Composer and set your sending window (start and end dates).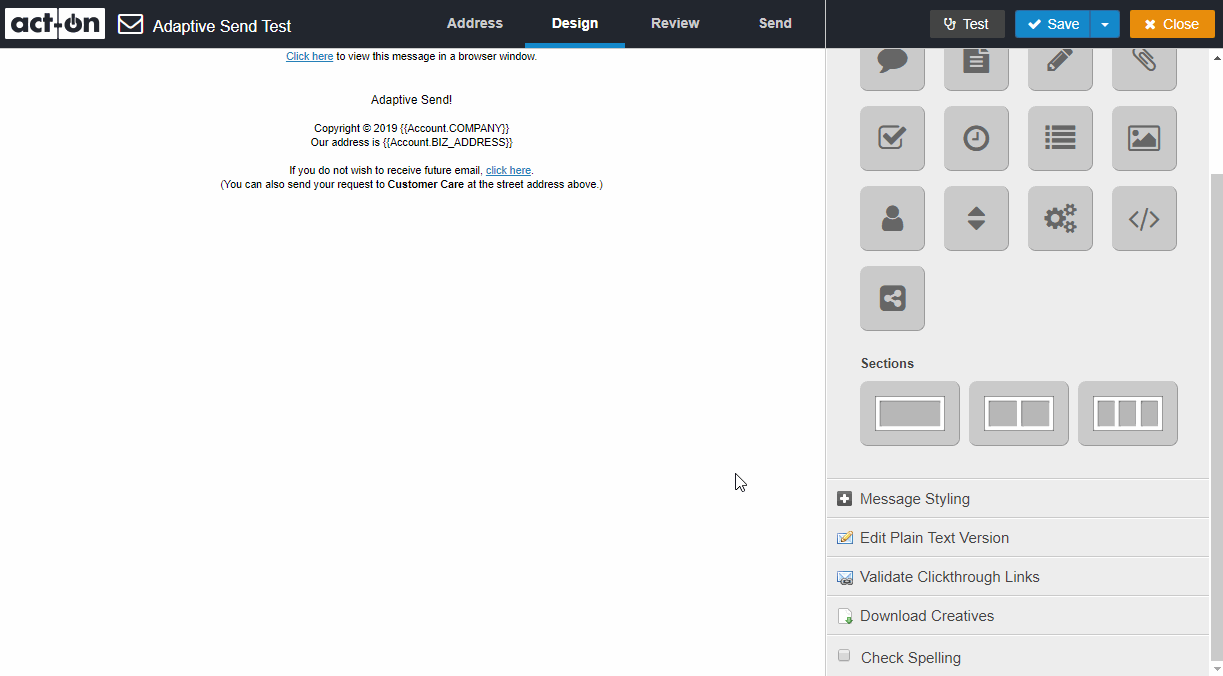 Best Practices
Adaptive Sending works best when it can thoroughly analyze your recipients' engagement history. Optimize your sends for these factors to increase your chances of sending at the ideal time.
Schedule in Advance
The best practice is to schedule messages one day or more in advance.
Avoid setting a same-day Start Date; for better results, move your Start Date forward by at least one day
Adaptive Sending starts analyzing behavior data after your message is scheduled
By scheduling in advance, you allow our system more time to analyze recipient behavior and determine their optimal engagement time
If you set your Start Date to same-day, a warning will appear above the Submit Launch Request that states, "

Warning: We recommend scheduling Adaptive Sending messages at least a day in advance in order to optimize performance."
Prior Engagement
Make sure the recipient list or segment has prior engagement with emails, landing pages, and your website. You can prioritize sending to:
Recipients with a higher lead score (if you use lead scores)
Recipients who have previously clicked on an email (this can be segment criteria)
Recipients who have previously engaged with your website (this can be segment criteria)
Wider Sending Windows
Expand the sending window as wide as possible to maximize available recipient behavior data.
A wide sending window increases the likelihood of finding the ideal time for each recipient
A limited sending window results in a higher likelihood of the system being unable to predict a time
Frequently Asked Questions
What behaviors from the Activity History are considered for Adaptive Send?
Act-On looks at all engagement behaviors and when they occurred to predict the best time to send a message to a contact. This includes inbound or active behaviors such as opening a message, submitting a form, viewing a webpage, etc. This does not include passive activity such as being sent a message or entering/exiting an automated program.
How much data is being analyzed for each individual?
The amount of data depends on how much data we have available for the message recipient. The predictive algorithm powering Adaptive Sending looks at a subset of behaviors up to 25 months ago.
What happens when a recipient has no engagement data to analyze?
When Adaptive Sending finds a recipient with no engagement history, the contact is assigned a random hour to send the email. Randomizing, in this case, helps avoid unintentionally skewing future behaviors.
Will messages using Adaptive Sending be sent or delivered at the optimal time?
Adaptive Sending will schedule messages to be sent to recipients at the predicted time for optimal engagement.* Actual delivery to the recipient's inbox depends on system load, degree of personalization, recipient's email provider, and other factors.
* Predicted times for optimal engagement are calculated in hourly intervals.
What kind of messages are compatible with Adaptive Sending?
One-time sends. Adaptive Sending isn't currently available for triggered or program messages.
How do I cancel an Adaptive Send message?
You can use the Stop Launch button to cancel the message, but please note that:
This button does not appear until the initial processing of the message is completed
If your message was already queued for sending, some or all contacts may still receive the email, even after you've clicked the button
Can I use Adaptive Sending in Automated Programs?
Not yet, but we plan to support this based on customer demand.
Can I use Adaptive Sending with API?
Not yet, but we plan to support this based on customer demand.
What reports can I view to see Adaptive Sending performance?
Sent Messages > Rollup report (downloadable CSV file):
Includes a column indicating Send Type on a message level. It can be used to identify Adaptive Sends vs. other send types.
Sent Message > Report
Recipient-level reporting per message. Includes send times and any downstream engagement activity (opens, clicks, etc.).
Potential future reporting enhancements (based on customer demand):
Indicate send type in the Sent Messages table with a visual icon.
Display the distribution of predicted vs. random times on message level (i.e., what percentage of recipients had a prediction vs. did not).
Display predicted or random time in recipient-level reporting under message statistics (UI and downloadable reports).