Form submission alerts enable a specified individual to be alerted via email when an Act-On form is submitted.


How Form Alerts Work
The alert email will contain all information included in the form submission, as well as a timestamp. You can also choose to add the visitor's location based on IP address.
You can enter emails manually to receive a form's alerts, either by typing individual addresses or pasting in a list of emails separated by commas. You can also use one of these automated options:
Alerts based on geographic territory
Alerts based on lead owner relationship
The email notification comes from the system alert email address set up for your account.
Alerts by Geographic Territory
Use geoIP Data (default)
By default, Act-On detects a Contact's location based on their IP address. Geographic Form alerts will send based on this geoIP data.
Note that Individuals using a VPN service or some ISPs may use an IP from outside their region, so geoIP data may not always be accurate.
Use Form Data (optional)
As an optional feature, you can instead use the geographic data that is submitted on your form. Please contact Support to turn this on.
To use this data, your Act-On Form must have the following conditions:
The form must contain fields for State, Postal Code, and/or Country
These fields must be mapped to Act-On Standard Fields on the Form Submission List.
Steps
Go to Contacts > Other Lists > Form Submissions
Locate your Form Submission List and go to List options (drop-down arrow) > Maintenance > Identify List Columns
Select the appropriate Field Name for each Standard Field.

You can map Business fields, Home fields, or both.
If your form contains both addresses, Act-On will send alerts based off the Business address before it sends based on Home address
Standard Fields Used to send Form Alerts:
Contact's Business Country, or Contact's Home Country
Contact's Business State, or Contact's Home State
Contact's Business Postal Code, or Contact's Home Postal Code
If your Contact does not provide their address on your form, Act-On will send the form alert based on their geoIP data. City and Street Address fields are not used for Form Alerts.
Example mapping with Contact's Home fields: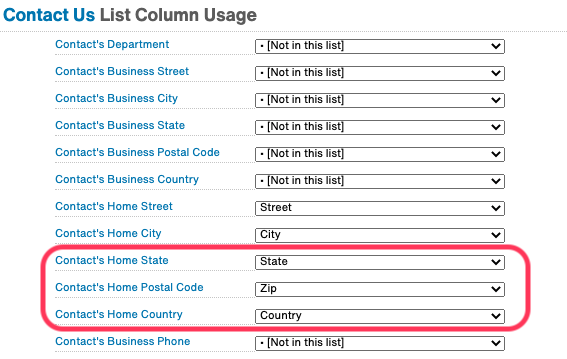 Instructions
Form Alerts can be set on each individual form, or they can be set by a User in their Website Prospector settings. This article will cover alert setup on New and Classic Forms. For instructions to set up Form Alerts by User, click here.
Alerts for New Forms
Navigate to Content > Forms
Edit an existing form or create a new form
Click Properties
Scroll down to Alerts
Options:
Send an alert to up to 100 specific email(s)
Alert CRM Users based on visitors:

who are in the CRM User's territory
are Owned by the CRM User

Choose whether to include the geoIP information with the form alert.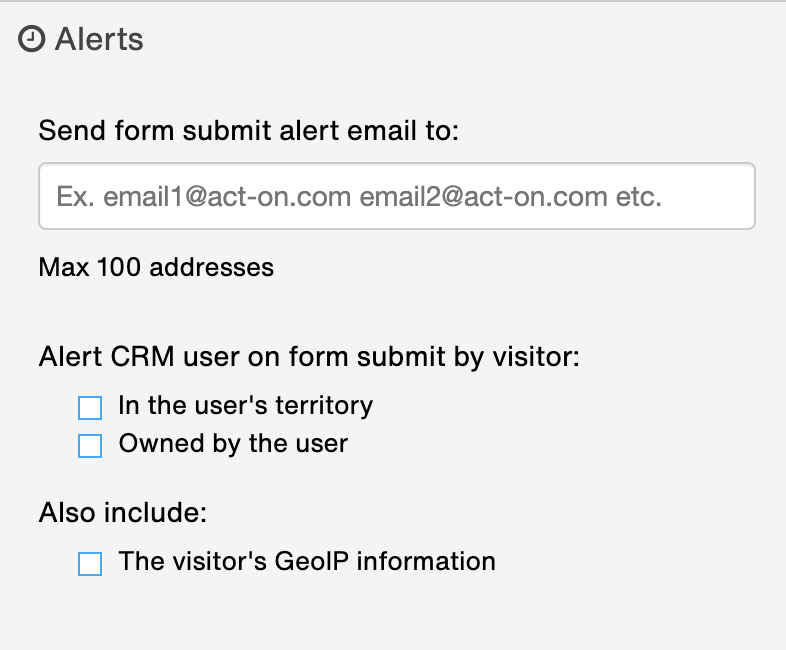 Alerts for Classic Forms
To add or change form submission alerts:
Navigate to Content > Forms
Edit an existing form or create a new form
Click Next
Scroll down to Alerts