The All Contacts page lists all your segments and subsegments. If you have a long list or a lot of segments, it can be hard to find exactly what you're looking for! Thankfully there are quite a few ways to find and organize your segments in Act-On Contacts.
This feature is available to users in the Act-On Contacts beta program.
Search
The search bar in the upper right will search by segment name. If you've got a folder open, the search will default within that folder, but you can expand the search by unchecking the folder in the search window.
Filter
Check the filters on the left side of the screen. These handy shortcuts will let you search for Favorites, Recently Created segments (shows segments from the last 30 days, limited to 1 page), Created by Me.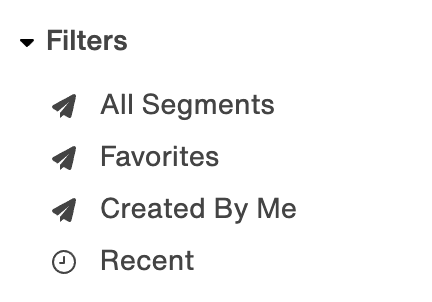 Tip! The All Segments filter is handy for returning to a view that includes everything.
Folders
Use folders to organize and find your segments. You might want to organize by year, by the campaign, by industry, by geography, or by whatever criteria make sense to your organization and marketing program.
To learn how to make a folder for your segments, see Organize Act-On Contacts Segments in Folders.
Save your Favorites!
The favorites filter is a great way to designate certain segments as your most commonly used.
To add a segment to your favorites, hover over it in the list view and click the heart icon.
To remove it from favorites, just click the heart icon again to turn it off.
Early Access Program
This feature is available to accounts participating in the Act-On Contacts Early Access program.
To find out more information and join, contact our product team today.