SMS is explicitly for Opt-Ins only, you cannot send SMS messages to numbers that do not appear on your Opt-In list. Making sure you have the right Opt-Ins is critical for you to avoid problems such as lawsuits and regulatory fines.
Adding Opt-Ins to your SMS Opt-In List is part of the setup necessary to send SMS. If you already have Opt-Ins from a prior system or other data source, you can load these into Act-On and get started sending SMS. If you don't yet have any Opt-Ins, don't worry! We got you covered.
In this article, we will cover the following tasks, step-by-step:
How to upload your existing SMS Opt-Ins
How to add SMS Opt-In to an Act-On Form
Upload an existing Opt-In List (optional)
Step 1: Prepare your Opt-In List data in a .csv file
Prepare your data in a .csv format with the following fields:
Field

Data Format

Mobile Phone Number

Act-On will accept most phone number formats and then convert the number to the format necessary for SMS.

Examples:

(123) 456-7890

+1 123-456-7890

1 (123) 456-7890

11234567890

00 1 123-456-7890

Opt-In Source

Plain text

Opt-In Date

YYYY-MM-DD
Additional Notes for your data:
The Field names don't have to match - you will identify the columns during your upload.

Other fields can also be present in the .csv file, but these fields will not be used by Act-On in the SMs Opt-In List.
Step 2: Upload your .csv file to Act-On
Once your data is ready, upload the file to Act-On.
In Act-On, go to

SMS > Opt-Ins

Click

Upload Opt-Ins

Click

Choose File

and select your .csv file and click

Next

Review the data preview, and if this is correct, click

Next
Use the drop-down menus for each field to select the matching field:

Click

Create

to finish uploading your opt-in list.
Collect SMS Opt-Ins by Form
You can use Act-On forms to collect SMS Opt-Ins. To do this, add the SMS Opt-in Section to an existing or new Form. Even if you have uploaded your current SMS Opt-In List, we encourage you to have an SMS Opt-In form so you can continue to grow your list of SMS-eligible Recipients.
Important: If you collect Opt-Ins from an Act-On form, it is very important to set up an Automated Journey to welcome new users to your SMS list as a best practice, and as a legal requirement in some jurisdictions. We will be automating this process in the near future, for now please set this up.
Prerequisites
Before you create your SMS Opt-In form, you will need the following details:
The URL for your company's Privacy Policy that includes SMS language
A Disclaimer for opting-in to SMS communication which has been approved by your legal team

Act-On provides three standard SMS Opt-In Disclaimers (see below for text)
You can also write your own custom disclaimer
Add the SMS Opt-In Section
Act-On provides a form section called SMS Opt-In that you can easily add to a new or existing form. This section includes three components:
a Phone Number Field
a Submit button
a SMS Opt-In checkbox, which includes a legal disclaimer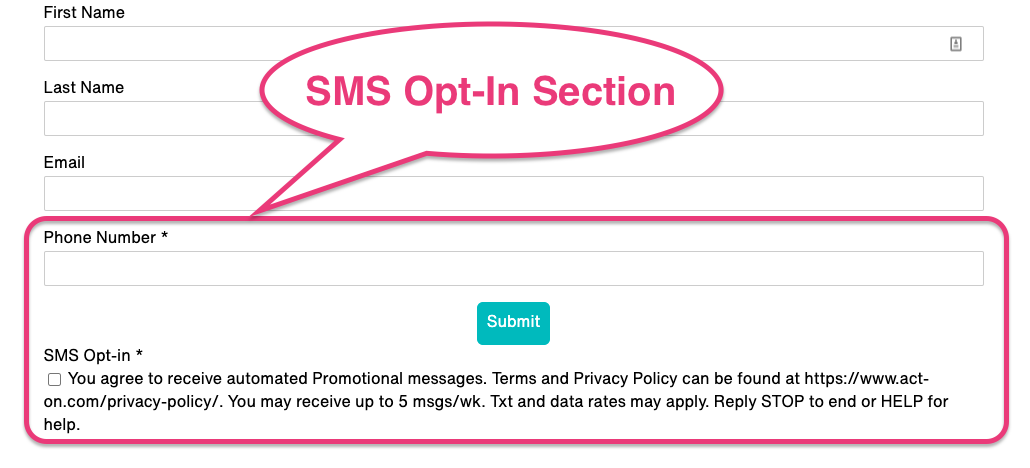 Is this required?
For an Act-On form to add opt-ins to your SMS Opt-In List, you must add this section to your form. You can move the fields and//or change the Submit button as needed.
If you choose to use a custom setup, or need to use different a field name for Phone Number, then you must manually add the Opt-In data from your Form Submission List to your SMS Opt-In List using the Upload instructions above. We do not have another way to automate this at this time.
Instructions
Before you add the SMS Opt-In Section to an existing form, you must first remove the Submit button on the form.
To add the SMS Opt-In Section to your form:
Drag and drop the

SMS Opt-In Section

onto the form.

You will see a new section with three components:

Phone Number

,

SMS Opt-In

, and

Submit.

The

Phone Number Input Field will already be pre-mapped to the correct system field. This is a system use field that

cannot be changed

.

Click on the

Opt-In Field

to set up your

Disclaimer

(

required

).

Scroll down to

Disclaimer

and choose

Provided

or

Custom

For

Provided

Disclaimers, select:

Choose one of three Message Types from the dropdown: Promotional, Transactional, or Transactional and Promotional

Enter the URL for your company's Privacy Policy

Enter your anticipated frequency of communication

For a

Custom Disclaimer, you will enter your own text in the provided field. Work with your legal counsel to create your own disclaimer based on laws for the jurisdiction(s) you operate in.


Click

OK

and continue to edit your form.
Note: This feature does not apply to Classic Forms.
SMS Opt-In Disclaimers Provided by Act-On
Act-On provides three different predefined Disclaimers which vary based on why you are sending SMS. The message will include a link to your Privacy Policy and will reflect your anticipated frequency of communication.
Message Type

Disclaimer (example)

Promotional

(eg marketing campaigns)

You agree to receive automated Promotional messages. Terms and Privacy Policy can be found at https://act-on.com/privacy-policy/. You may receive up to 3 msgs/wk

Transactional

(eg purchase receipts, account notifications)

You agree to receive automated Transactional messages. Terms and Privacy Policy can be found at https://act-on.com/privacy-policy/. You may receive up to 3 msgs/wk

Promotional and Transactional

You agree to receive automated Promotional and Transactional messages. Terms and Privacy Policy can be found at https://act-on.com/privacy-policy/. You may receive up to 3 msgs/wk
If you choose to use one of our Disclaimers, you are still responsible for meeting regulations for SMS based on the jurisdictions where you operate business and send messages to. Consult with your legal counsel to ensure you are meeting all requirements for SMS Opt-In communications.