Installing the Act-On package in Salesforce will allow your Salesforce Sales users to see the Act-On behavior history for Leads and Contacts, access the Act-On Hot Prospects dashboard, and send emails to Leads and Contacts with custom email templates and can use Act-On email tracking.
Features this package provides:
Hot Prospects dashboard for Sales

Sent Messages

User profile settings such as signatures
This guide provides instructions to install the package. Once the package is installed, the Act-On components must be enabled in Salesforce.
Prerequisites
Act-On Marketing or Admin user credentials

Username, password and security token for a Salesforce Administrator

Pop-up blocker disabled
Instructions
Install the Salesforce integration package in the following steps:
Configure Remote Sites for Act-On

Set up a Domain for your Salesforce account

Install the package

Enable Oauth for System Administrator and Act-On Users
Step 1: Remote Site Setup
Act-On's inline activity history view for the sales team requires you to authorize two Act-On URL's as remote sites in your Salesforce account.
In Salesforce, navigate to

Setup.

In Quick Find in the left column, type "Remote Site" and click on

Remote Site Settings.

Click the button

New Remote Site.

Configure

two

new remote sites with the following settings:

First site

Remote Site Name

- Act_On_Service

Remote Site URL

-

https://sf.actonsoftware.com

Second site

Remote Site Name

- Act_On2

Remote Site URL

- https://cixx.actonsoftware.com (this will match the login URL of your act-on account)

Ensure that the

Active

checkbox is checked for both sites.

Ensure these reflect secure URLs (https) exactly as above.
Step 2: Set up a Domain for Salesforce
Note: Some Salesforce accounts already have this configured.
This step sets up a custom subdomain for your Salesforce account, which is required to use the Act-On Lightning app.
Log into Salesforce as a System Administrator

Go to

Company Settings > My Domain

Click

Add a Domain

Enter the domain name

Click on

Check Availability

Register Domain (Note: this can take a few minutes)

Click on Login
See Salesforce Help for more information on this setting and more advanced configuration options.
Step 3: Install the Act-On Package
Note: When installing the package, a custom field will be created labeled "AccountId18char". This is a field necessary for our Account Report feature.
In Act-On, go to

Settings > Connectors > CRM > Salesforce

.

(

Connect to Salesforce

if you are not already connected)

Click on the

Install Package

button.

Click

OK to acknowledge that you have set up your Remote Site Settings (above)

A new window will pop up.

Log in to Salesforce as a System Administrator.

Select

Install for All Users
Check the box to acknowledge this is a non-native Salesforce App.
Click
Install
.
Note: This may take a while. You will receive an email when the installation is complete.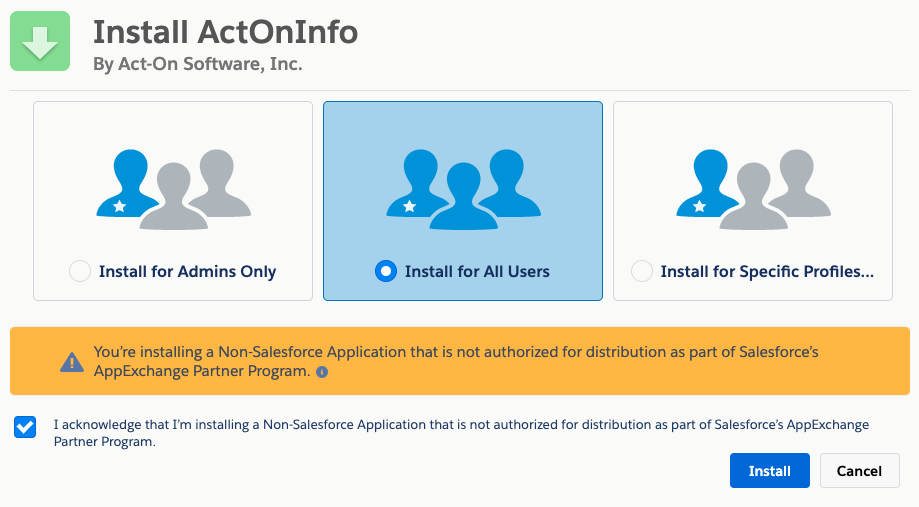 Step 4: Pre-approve OAuth for System Administrator and Act-On Users
This allows users to access Lightning features.
Go to

Setup > Apps > App manager > Act-On Lightning Support >

select

Manage

from drop-down

Click

Edit Policies

Go to

OAuth policies > Permitted Users > Admin approved users are pre-authorized > Save

If you get a pop-up warning, click

OK

Scroll down and find the button "

Manage Profiles

"

Check the box for

System Administrator

and any other Profiles for your Act-On Users (eg, Standard Platform User) click

Save.
See Salesforce Help for more information on this setting.
Step 5: Update Clickjack Protection settings
Clickjack Protection is not required to use Act-On, however if your organization has chosen to use this security feature, it may block Act-On from loading in the page.
To display Act-On elements in your Salesforce account while still using Clickjack Protection, your Salesforce System Administrator may whitelist the domain *.force.com.
Go to Setup > Quick Find and type to find "Session Settings".

Find

Clickjack Protection

Turn off/uncheck "Enable clickjack protection for custom Visualforce pages with headers disabled"

Scroll to the bottom of the page and click Save.
Next Steps
Once the Salesforce package has been installed, your Salesforce Administrator can enable Act-On components in Salesforce so your users can access Act-On features directly in Salesforce.
Troubleshooting
Remote Site Errors
If you continue to receive an error to add the Remote Sites list, have your Salesforce Administrator follow these steps to resolve the errors.
Remote Site Settings error:

Additional indication there are errors with remote site settings:
Solution: Review and Update Remote Site Settings
Confirm in Salesforce that your Remote Site Settings for Act_On2 and Act_On_Service are:
Active

Reflect secure URLs (https)
Act_On2 must match your account server URL, which is ci36.actonsoftware.com in this example:


Have no other syntax errors
If you made changes here, visit the Act-On tab to test the integration.
If you are still receiving errors after you have confirmed your remote site settings, submit this form and contact our support team for further assistance: