Act-On Contacts gives you a single, consolidated list of all your contacts with consistent data columns, improved CRM sync options, more insights into contact data, and an improved user experience overall with organizational tools such as subfolders, tags, and drag & drop segments.


Essentials to Get Started
Is your account supported?
As of January 2023, customers using the below options to generate lists are not yet supported with Act-On Contacts. We plan to have support in an upcoming release:
Sync with Microsoft Dynamics CRM
Sync contact data with FTP
Using extended lists to join related data to contacts
If you see All Contacts in your Act-On Navigation, you're ready to set up your All Contacts list: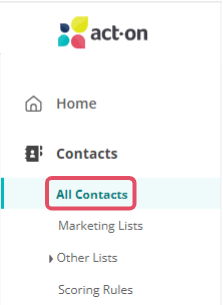 Tip
: If you don't see
All Contacts
, please fill out the form
here
 to request this feature activation.
Instructions
Get started with Act-On Contacts with the 3 steps:
 Prefer to learn by video? Check out our video series all about Act-On Contacts! Sign-in required.


1. Set Up Your List
In Contacts > All Contacts, click Set Up Now or navigate to Settings > Data Management:




If you are not syncing with a CRM, click Get Started and follow the steps in Set up your Act-On Contacts Data Schema (for accounts without a connected CRM).


If you are syncing with a CRM, follow the steps in Map and Sync CRM Fields for Act-On Contacts to map your data columns. 


Tip: You don't have to map every field to each CRM column. Leave it blank if you don't want it to sync.

Check your sync settings: 

In the Data Management window, click the Sync Schedule tab.

Check your schedule. We recommend the Automatic setting in most cases.

Check your opt-out sync options.

Click Sync Now to populate your All Contacts list (or wait until the next scheduled sync).



See Data Management for more information.



Return to Contacts > All Contacts to see your new All Contacts list.


If you have a CRM, CRM segments are created automatically & the list populates on your sync.




2. Import Data
If you don't have a synced CRM, you can import data from a CSV file or a Marketing List.
Follow the steps in Import Act-On Contacts from a CSV or a Marketing List to import data into Act-On Contacts. Fields will be automatically matched if possible:
3. Start Using Your Contact Data
Create segments and subsegments to further categorize your contacts on the All Contacts page as described in Create a New Segment – Act-On Contacts.
Organize your segments with folders and tags as described in Organize Act-On Contacts Segments in Folders and Getting Started with Tags.
Send an email to one or more segments as described in Send an Email from All Contacts.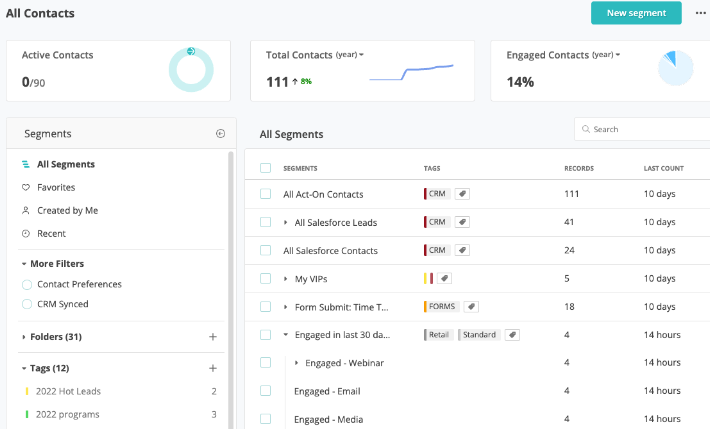 Update Forms
Update your forms to ensure they submit contacts to the All Contacts list as described in Syncing Form Submissions to Act-On Contacts.
If your form pushes submits to your CRM, they'll automatically appear in All Contacts on the next sync.


Update Automations
Update your Automated Programs to use All Contacts segments as the source.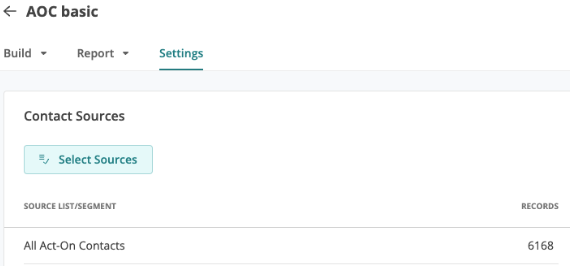 If you have a running program based on a Marketing list or segment, switch as follows:
Create that segment in All Contacts.
Pause the program.
Remove the current source list and save the program.
Change the Contact Source to the new segment and save the program.
Restart the program.
Switching an existing program will not impact contacts already in progress and will retain your program history.
If your program has other lists & segments used in steps or for early exits, switch all of them to Act-On Contacts segments as follows:
Remove them from the program.
Save the program.
Select the new source segments.
For more information, see:
Migrate Automated Programs to Act-On Contacts
Use Lists and Segments in Automated Programs
Using Act-On's New Automated Programs Dashboard


Next Steps
To fully transition to Act-On Contacts, consider:
Updating any API interactions to our new Contacts APIs

Stopping the scheduled CRM syncs on Marketing lists

Stopping any unneeded list maintenance automations on Marketing lists (especially setting lead score)


Archive or delete unneeded Marketing lists.