Act-On Forms will collect and store all data submitted by form visitors in a form submission list. When creating a new Form in the Forms Composer, you'll specify whether your Form's data will go into a new or existing form submission list.
Instructions
Create a New List for Your Form
To create a new form submission list for your Act-On Form:
Go to Content > Forms and create a new Form by clicking New Form

In the Forms Composer, go to the Properties tab
Under List, enter a List Name to create a new form submission list

You'll find your new list in the Default Folder under Contacts > Other Lists > Form Submissions once your Form begins collecting submissions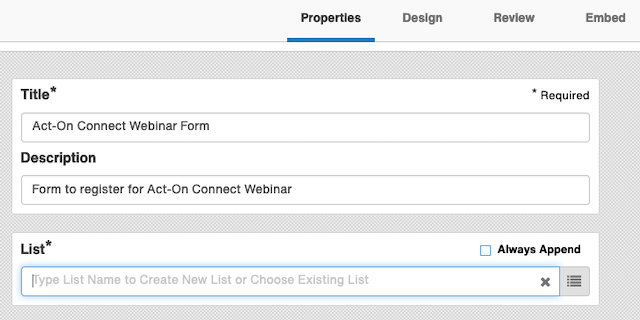 Select an Existing List for Your Form
To add submitted Form data to an existing form submission list:
Go to the Properties tab in the Forms Composer
Under List, click Select Existing List

to the right of the input field
Select an existing form submission list from the pop-up menu
Learn more about existing form submission lists and the Always Append feature.

Be careful! Your Form's column names in Field Mappings must match the column names of your selected list. If these fields don't match when saving your Form, you'll get an error prompting you to re-map columns to resolve this.
Combining Multiple Form Submission Lists
If you'd like to share data across multiple form submission lists or want to merge submission data to your primary marketing list, you can use a List Maintenance Program to copy or merge data across lists.
Learn more about List Maintenance Programs.