The Form Report provides useful data about the number of views and submissions a form receives. Additionally, the Form Report tracks the various methods used to promote your form for easy comparisons.


Instructions
View your Form Reports
Go to Content > Forms and in Form Manager on the left, use the filters, folders, and tags to find the Form you want.


In the list, hover over the Form and click View report:



A Form Performance report is displayed.


Report Data Details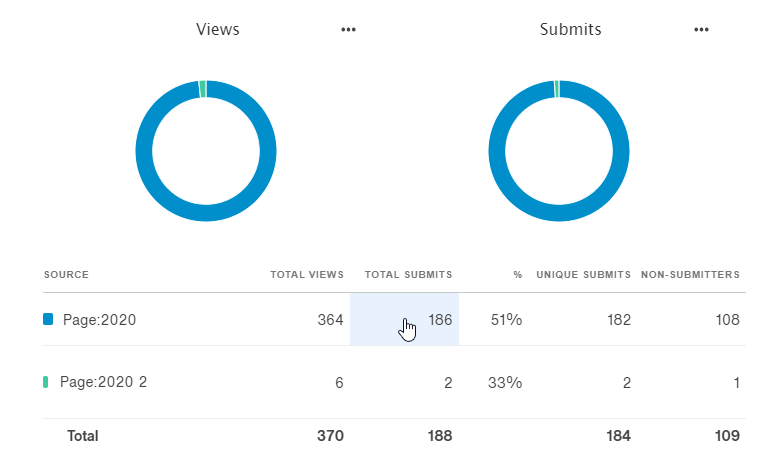 Data Name
Description
Views
The total number of times the form was accessed, including referrals from Landing Pages and external pages.
Submits

The total number of contacts who submitted the form.

Records with an asterisk next to the email address indicate that the contact has submitted the form in the past using a different email address.

Source

Compares the different methods used to promote your form.
Click on any number to view more details about that specific data.

List names will appear if you sent an email message to that list with a link to your form
Public URLs and Landing Pages will appear with their page name

Activity Over Time

A graph showing Views and Submits by time.
Hover over the graph lines for details.

Form Responses are also available via the Report tab at the top left. See Viewing Form Submissions As Survey Results.


Clear Your Form Report's Data
All form views and submissions are counted as live data. In some cases, you may want to clear the results to prevent them from skewing your data (for example, after testing internally).
Caution: Keep in mind that deleted data cannot be restored.
View the Report for the Form you want as described above.


At the top right, from the Actions menu, select Clear performance report:




You are prompted to confirm that you want to remove all view and submission events for the selected Form.
To proceed, click Clear past data.