Act-On makes landing pages a snap. With minimal clicks, you can create, test, and launch these vital pages and drive real results. Landing pages are instrumental to digital marketing because they drive all types of conversions, from simple sign-ups (e.g., newsletters) to bona fide purchases.
This article covers the high-level process of launching a Landing Page. For a more detailed description of features, see this page.


Get Started
Go

to 

Content 

>

 

Landing Pages

, and at the top right, click 

+ Create landing page

.

Choose from the available options to get started.


Add Content Blocks
Once you have added Empty Sections and built out your landing page structure, it's time to begin adding content to your page. The Content section will allow you to quickly drag and drop various content blocks into Empty Sections to fill out your page with new or existing content that is already created in your Act-On account.
For details on content blocks, see this page.


Optimize for Mobile
You can enable and disable specific content blocks to show on mobile and/or desktop views. While editing your block, click the device icons in the upper right to toggle their display settings:


While in the Design tab of the editor, you can switch between desktop and mobile layouts in the lower left corner: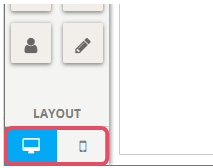 For mobile-friendly responsive design tips, see this page.
After designing your landing page, you will want to review it for accuracy and make sure it displays correctly on Desktops, Mobiles, and Tablets. From the Review tab, you can view how your landing pages render on desktop, tablet, and mobile. Additionally, you will be able to preview both vertical and landscape views for tablet and mobile: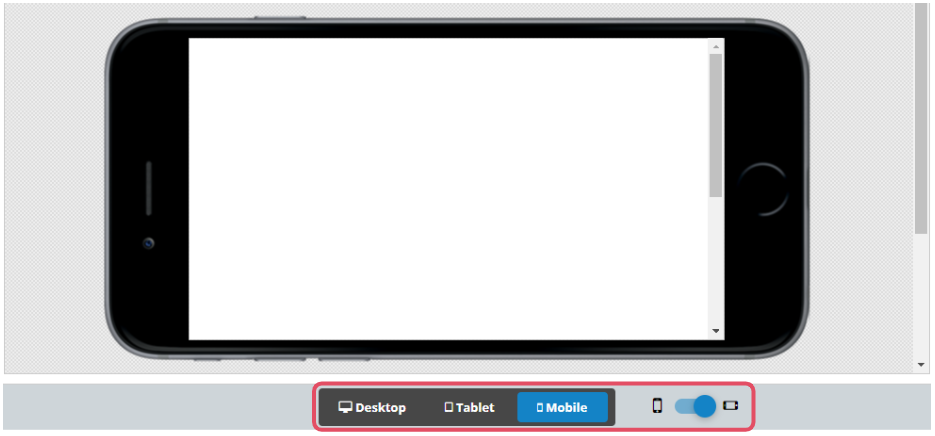 Add Clear Calls to Action
A call to action (CTA) is a critical part of your content marketing. It's the trigger that leads the visitor to engage in a meaningful next step with your organization — whether that step is engaging the audience in the comments, finding more content, or buying your product or service.
The best, most powerful calls to action are often the simplest. Calls to action should be as short and easy to follow as possible.
Your CTA should begin with an action verb that tells your potential customer what to do next.
Use Facebook, Twitter, LinkedIn, and other sites as destinations for your calls-to-action with a Social Share Block.
Have other (one or more) CTAs in the text.
Use multiple CTAs at the top and bottom of the page and within the content itself. If you're sending an email, make sure images, headlines, and products all link to relevant landing pages. Provide different value propositions for taking the same action.


A/B Test
Find out which landing page resonates with your target audience! See real-time results on your A/B tests to compare content variations head-to-head.
Common design elements to test:
Test buttons that people will click to take action. Test the language, placement, color, and shape.
Different headlines can increase your bottom line, particularly if you're using pay-per-click ads and including the keyword.
Also, test images to see if drawings give you better results than photographs or black and white versus color.


Create a Test
Navigate to Content > A/B Test Content then click New A/B Test.
Name your A/B test, give it a description, and then choose the landing pages you wish to test by clicking Add Landing Page.  
You can now select the options you want for your Test Method and Test Completion. 
Once you have your A/B Test set up, you will then Save your A/B Test before you can Start Test. 


Measure Your Success
Your landing page dashboard shows how well your landing pages are generating traffic.
To access the report, go to Content > Landing Pages. Find the Landing Page you want, hover over it, and click View report. See Using Landing Page Reports for more information.