You can check your email designs by sending a test copy of your message to yourself and/or colleagues on your test list. Sending a test email is an easy way to check and ensure that your content has a consistent appearance across multiple email clients, as well as get stakeholder approval for your email messages before they send out.
Essentials to Get Started
Instructions
In the upper right corner of the Email Composer, click Test
Select the Version to Send: HTML or Text
If you want, update the Subject Line Prefix, then click Save New Prefix.


This will appear in front of the subject line of your test email. This helps you identify test emails from live messages in your inbox.
The default prefix is "TEST- "

Select Test Recipients from the available options:

Yourself (logged in user)
Select Test Message Recipients... to select multiple contacts from your test list
Your entire Test List, or any of its segments

In the browser pop-up, click OK to send the test message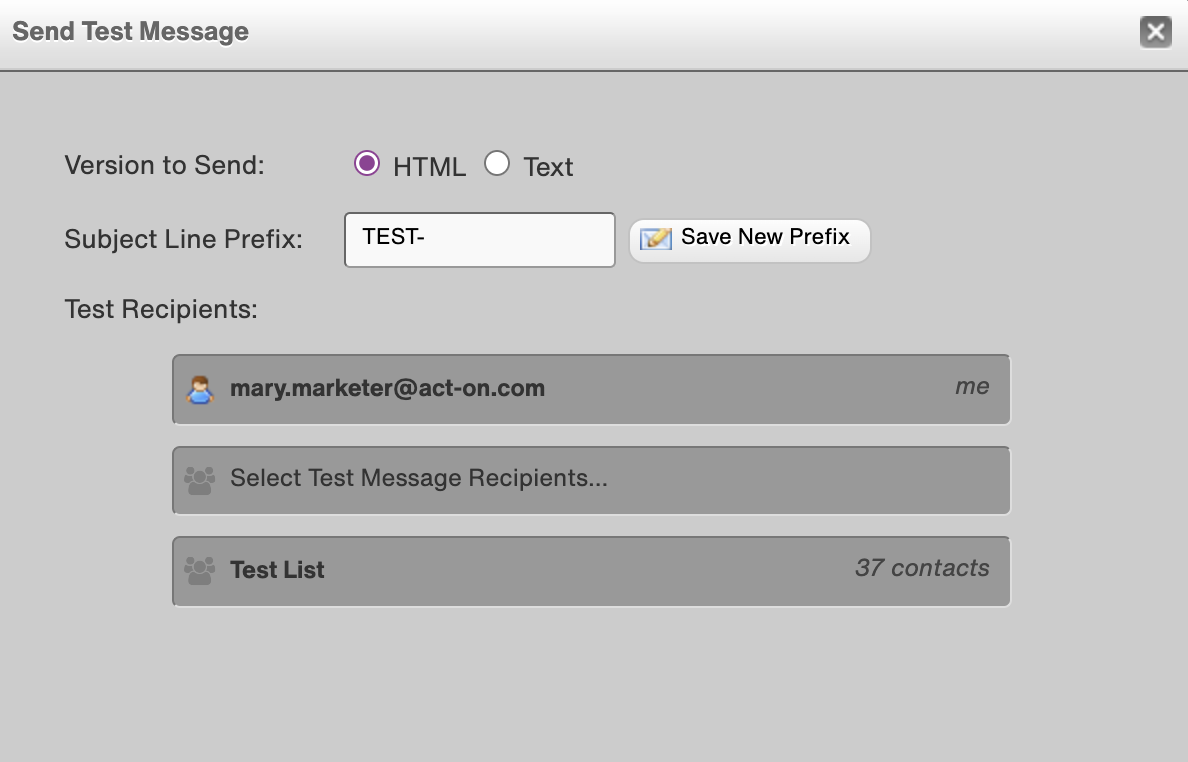 Test messages will appear in the recipient's inbox within a minute or two.
When sending out a test message, consider opening it up in different browsers and different mail clients, such as Hotmail, Gmail, Yahoo, or AOL, so you can see how your images and text are being rendered and interpreted. Each mail client and browser will interpret your HTML code differently, and you'll want to see what the end result will be.
If you are having trouble receiving a test message, see: Fixing Test Emails That Were Not Delivered
Test Messages Expire
Test emails that are untouched after 90 days will automatically be deleted from the account. Message reports will become inaccessible after this period, and message links will no longer be functional.
For Litmus Users
If you have a Litmus account, select See Appearance in Various Email Programs to push your email through your Litmus account. Establishing an integration between Act-On and your Litmus account can be done by going to Account > Connectors > Litmus. If you do not have a Litmus account, you will not see this testing option.