When using Personalization in your email messages, you can preview how it will display for a sampling of contacts. This ensures that your list is set up correctly, the fallback text is working, and it also allows you to review how the personalization will display in the message.
It's a best practice to preview personalization fields for your individual recipients and to run a full personalization check for your recipient list or lists before scheduling your email to be sent.
Essentials to Get Started
A personalized email that is ready to be sent out
All Personalization field names have been spelled correctly
Personalization fields have accompanying fallback text
Instructions
Step 1: Preview Personalizations for Individual Recipients
The Act-On Email Composer's Sample Preview feature in the Review tab allows you to preview your recipients' personalized version of the message.
Click the Address tab and add your recipient list(s)
Click the Review tab to view your email message
Under the Sample Preview header, select a recipient from the dropdown menu
Review your email message to make sure that your Personalization fields are filling out correctly:
Step 2: Check Personalizations
The Check Full Personalization feature in the Email Composer runs a check through your recipient list(s) and provides feedback on any potential errors.
Go to the Address tab and add your recipient list(s)
Go to the Review tab and expand the Check Full Personalization Now menu item
Click Check Full Personalization Now
If errors are found, Act-On will advise which field(s) have problems. When problems are found, you have three courses of action:
Make sure all Personalization fields have fallback text that will display when the field value is blank, or

Check your list and review the missing field values. You can either:

Correct the issue. This can be caused by missing data, incorrectly mapped data, problems with data sync/import, and/or using the incorrect field name in the email personalization (including typographical errors).

Send the message to those contacts who have a value but do not send the message for contacts missing the value. The message will daily to contacts who are missing that field value, and there may be circumstances where you want this result.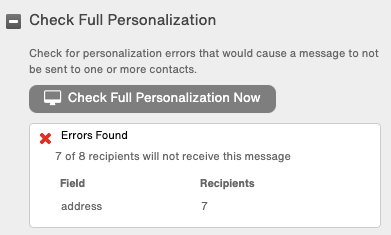 When the Full Personalization check passes, your message is ready to send: