The Act-On Email Composer offers a rich set of features that allow for targeted email delivery, automated personalization of messages, and several ways to import, design, and review your marketing emails.
Continue reading to learn about our Email Composer's key features.
Some of these options are not available when sending from a CRM or Act-On Anywhere.
New Message Options
When you go to Outbound > New Message, you'll have several options for starting your new email. Choose from these options to get started.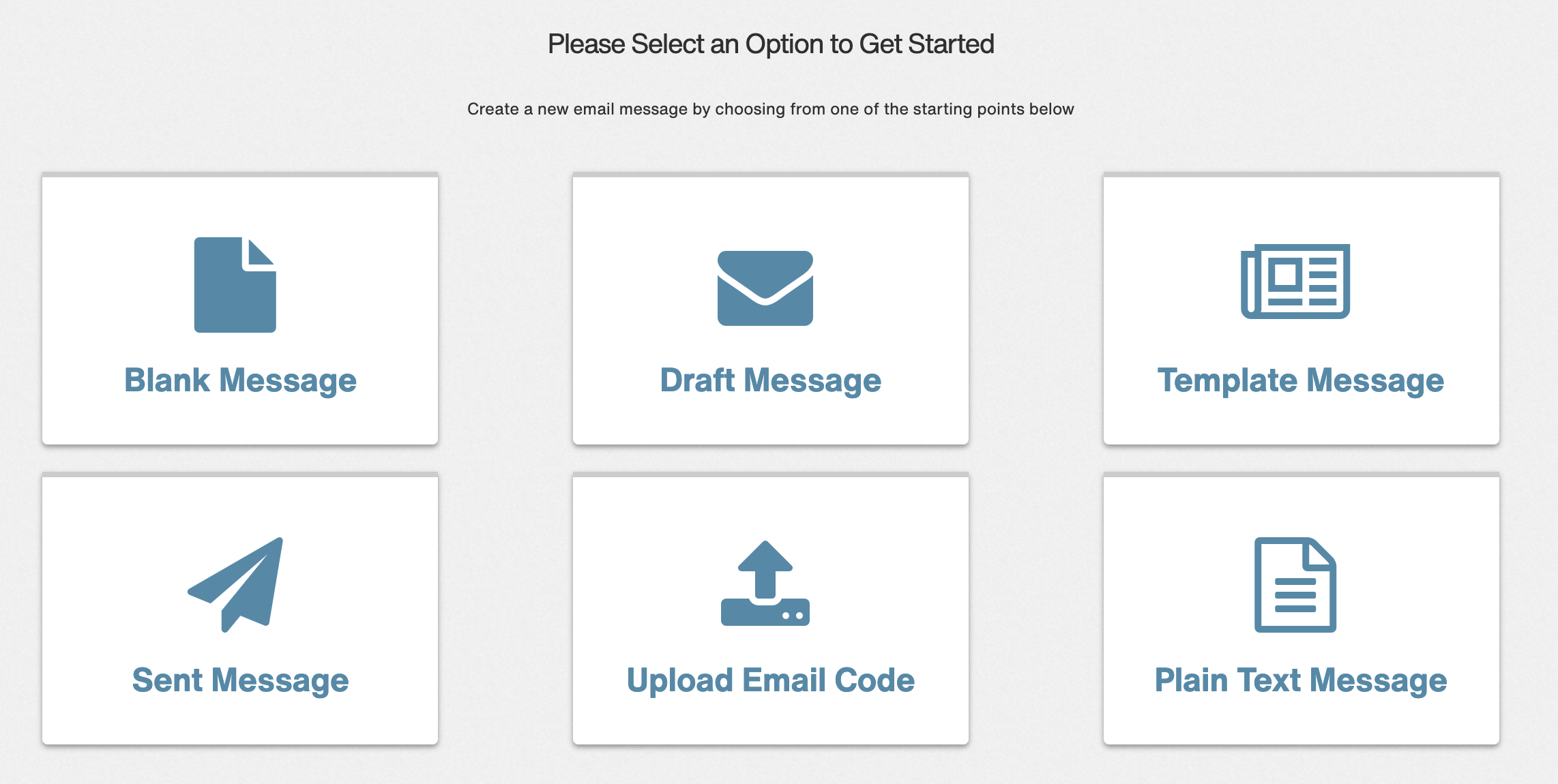 Option
Description
Blank Message
Start a new message using your default header and footer, and without pre-existing content in the body of the message.

You can customize the style for your blank message.
Draft Message
Start a new message using a Draft that you previously saved. This option creates a new email and uses the Draft as a Template.
Template Message
Start a new message using an Email Template that you have previously created.

Sent Message

Start a new message using a copy of a message that you have already sent.

This will import the message design, content, and settings.

Upload Email Code

Import a pre-designed email from a .txt, .htm, .html, or .zip file with HTML and images. You can also enter a URL to be copied from the web.

This will create a raw HTML block in your message so that you can continue to edit the code as needed.

Start a new plain text message with no styling, images, or hyperlinks.

Plain text messages do not include tracking for opens or clicks but may be necessary for older email clients or recipients with rigorous security settings.
Address
Begin building your new email in the Address tab of the Email Composer. Here, you can set the Message Title, Subject Line, and Preview Text for your message, as well as choose the list or segment you wish to send to.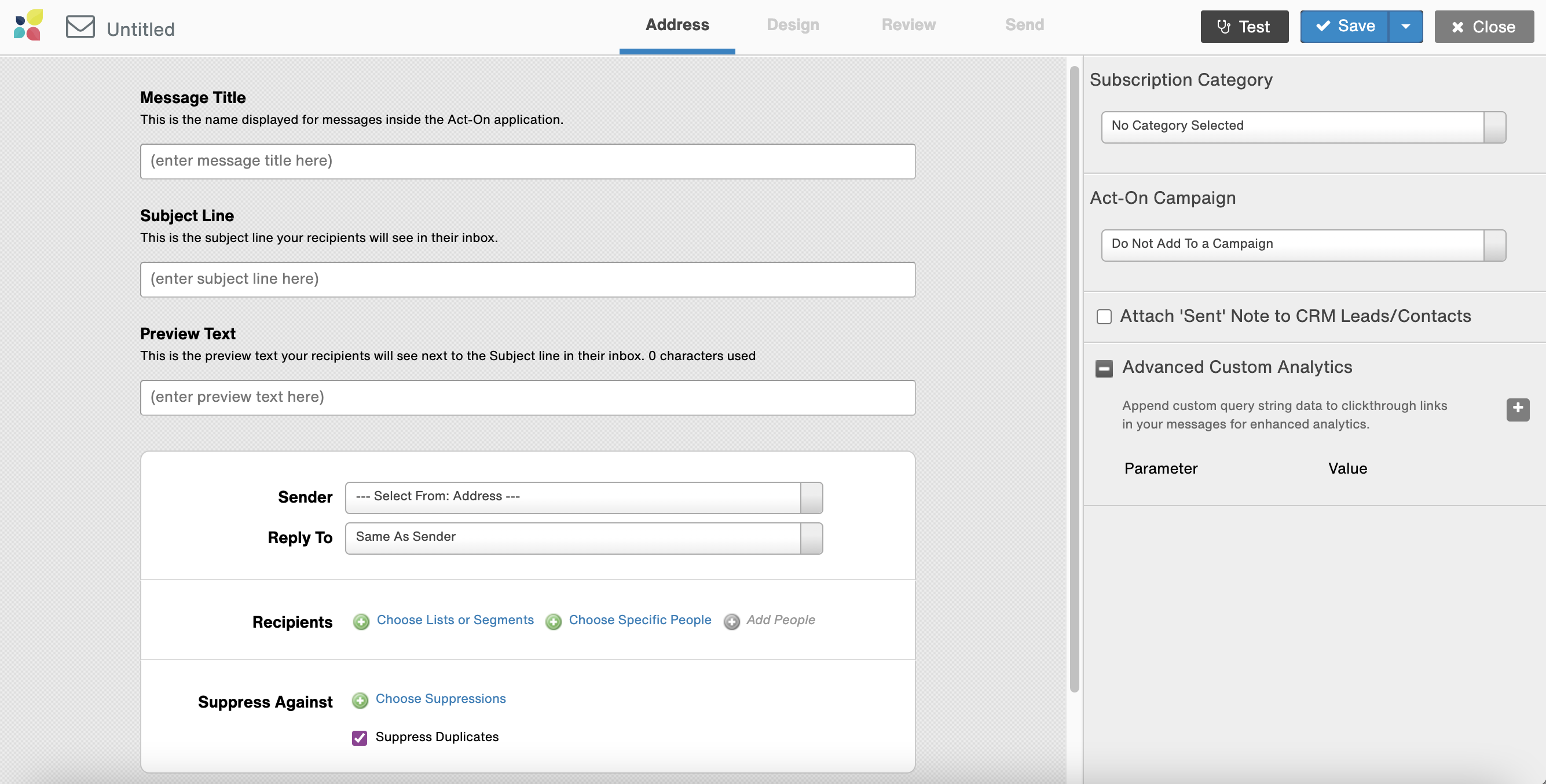 Feature
Description
Message Title
The Message Title is for your own reference in Act-On, and will not be visible to contacts. This displays in message listing pages and reports.
Subject Line
The subject line that contacts will see in their inbox.

See Tips for Email Subject Lines for suggestions.
Preview Text
This is the preview text your recipients will see next to the subject line in their inbox.

For help creating effective preview text, check out Litmus' Ultimate Guide to Preview Text.
Sender
Identify the person sending the message. This will appear in the From field of your email message.

From addresses you have added can also be personalized based on the contact's information.
Reply To
Identify the email address for replies to your message. This list is identical to the Sender list, but the selection does not have to match.

Hint: You can also specify a no-reply@ address if you do not manage replies. To do this, add the no-reply address to your account's From addresses.
Recipients
Select lists, segments, or individual contacts to send your message to. Options will vary depending on your user privileges.


Choose Lists or Segments
Choose Specific People
Add People

Suppress Against
Select lists or segments that will not receive your email message.

If a contact exists in both sending and suppression lists, they will, by default, not receive the email message.

Creating a targeted segment to send your email message to is strongly recommended over applying a suppression list to an existing list. See Defining a Segment for more information.

Options:


Choose Suppressions. Specify lists or segments to suppress against.
Suppress Duplicates. Prevents duplicate emails from being sent to individuals appearing in two or more specified lists or segments of recipients. If this is not selected, contacts may receive more than one email if their email appears on more than one list.

Subscription Category
Enables email contacts to opt in or out of specific email categories. The Subscription Management feature must be enabled for this option to appear.
Act-On Campaign
Select an Act-On Campaign from the dropdown menu to add your email message for consolidated reporting. 

The Campaigns feature allows you to group multiple email messages, forms, landing pages, and media into a single report.
Attach 'Sent'Note to CRM Leads/Contacts
Create a "Sent" note to your CRM Leads or Contacts. You must have an integrated CRM for this option to appear.
Advanced Custom Analytics
Append custom query string data (parameters and values) to the clickthrough links in your message for enhanced custom analytics and functions.
Design
Use our simple but powerful drag-and-drop editor to build your email. Your message appears on the left of the screen, and your design tools are available on the right.
Stationery
Stationery consists of the visual or aesthetic elements that frame the content of your email message. These design elements can compose a central theme for you to build layouts and styles on for future use.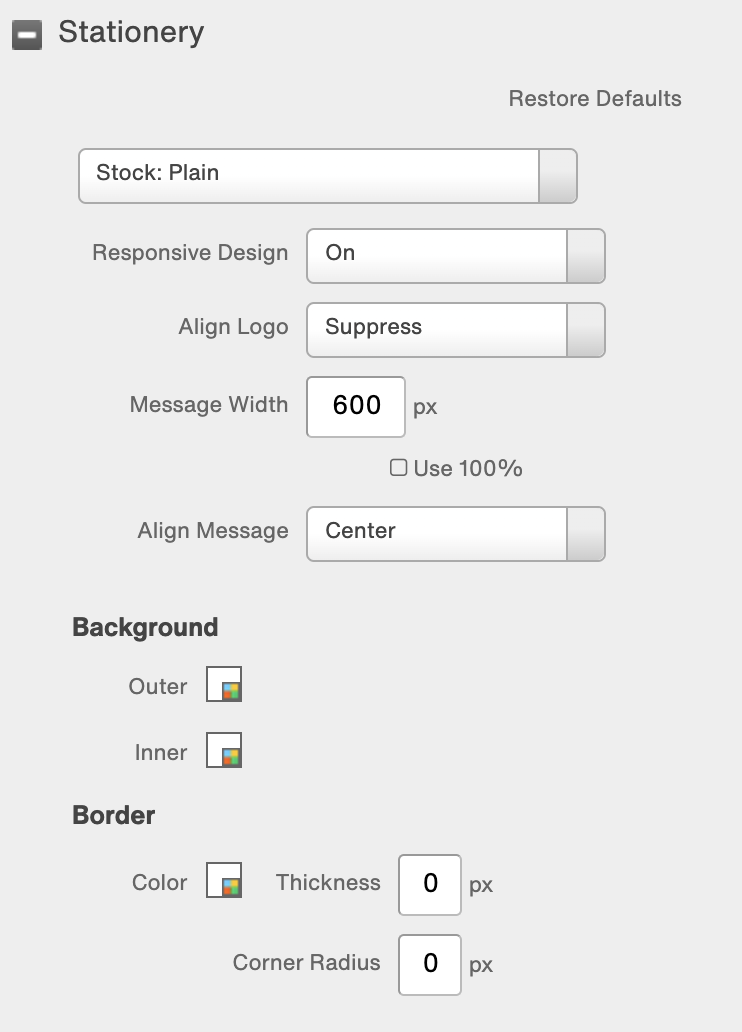 Feature
Description
Stationery

Act-On provides several different types of Stationery, and you can also create custom Stationery to match your brand image.
Choose a Stationery from the dropdown to see additional options.

If you choose No Stationery or Plain Text Only, the remaining options in this section will be limited.

Responsive Design
Enable or disable the ability for your email message to flexibly adapt to different-sized viewports. This feature is enabled by default.

We strongly recommend keeping this feature enabled so that your email messages are more mobile-friendly.
Align Logo
Align your logo to the left, right, or center of the screen.


Remove your logo by selecting Suppress.

Message Width

The width of your email message in pixels (px).

The default width of your email message is set to 600px but can be reset to any value between 300px and 1200px.

Choose to Use 100% to create an adaptive email design that changes width to match the viewing area of the screen.

Align Message
Align your email message to the left or center of the screen.
Background

Change the background colors for your email message.

Use a Hex code or select from predetermined popular and web-safe colors.

Outer Background Color
Inner Background Color

Border
Modify the color, thickness, and corner radius of the email border.
Content
Open the Content section to drag and drop the Smart Content Blocks to build your message.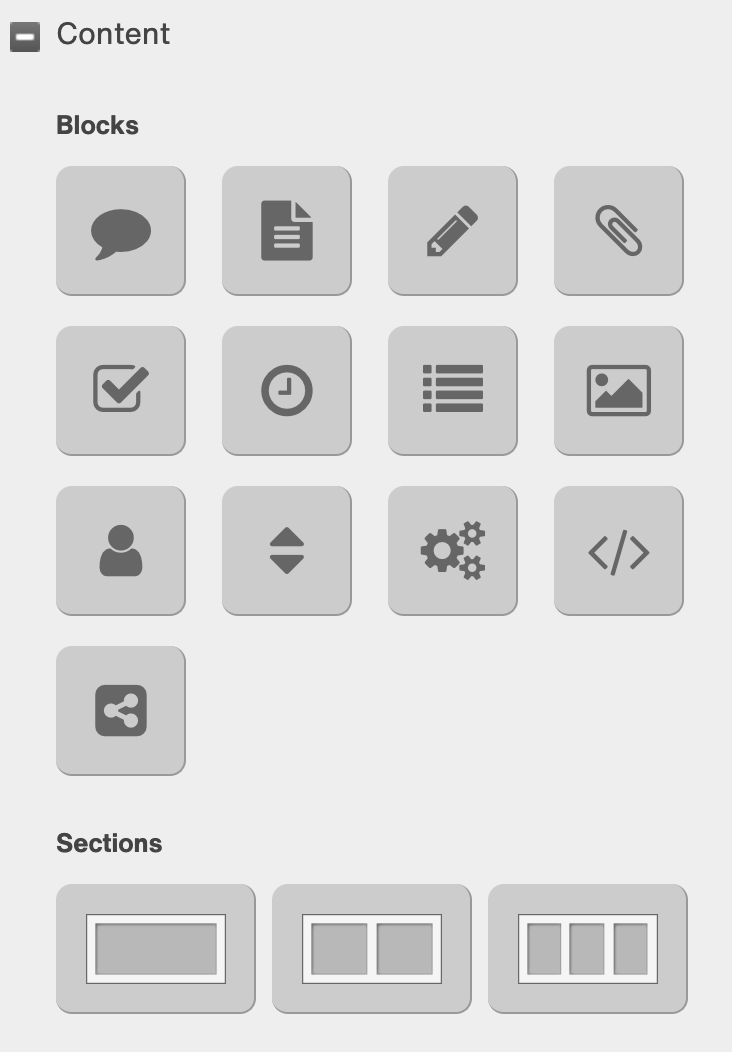 Block
Description
Greeting
Insert one of eight personalized greetings in your email.

You can set a default greeting to use when you are missing personal data for the contact.
Rich Text
Places a WYSIWYG ("What you see is what you get") message editor that allows you to create a text body within your email.
Signature
Adds a signature in the email.

You can choose between displaying a default signature or selecting a signature that you have created.
Media File Download

Inserts a downloadable link to a media file located in your Media Library that can be set to expire on a specific date. You can label the link with text or a graphic.

Learn more about adding files to the Media Library.

Form Link
Allows you to select and insert a link to a Classic Form. You can label the link with text or a graphic.
Time & Place
Allows you to create and insert the details for a meeting or event into your message.

You will need to specify the event name, place, time, and optionally, teleconference details.
Multiple Choice
Insert a simple poll into your message.

You will need to specify a prompt and provide choices for contacts to select from. You can use the settings to allow contacts to make multiple choices, leave comments, or see other contacts' responses.
Image
Insert an image from your Image Library into your message.
You can set a Target URL that takes the contact to a Form or Landing Page. You can also include alt text for your image, align it, and add a description.
Business Card
Insert a block of contact information that the contact can click to download as a VCF (Virtual Card Format) or vCard.
Spacer
Insert a customizable block of space that allows you to visually separate blocks in your message.
Dynamic Content
Insert conditional content sections into your message to provide tailored messages for your recipients based on characteristics that you decide. Dynamic content can be set to change based on user data, behavior, or preferences.
Custom Content
Insert or upload custom HTML code blocks that would normally be stripped away by the validation in Rich Text blocks.
Social Share
Insert customizable buttons for sharing links to your social media on various platforms.
You have the option to add a prompt or link to share your social media with others.
Sections
Insert areas to your message where content blocks can be placed.
You can choose between one-, two-, and three-column sections to format custom layouts for your emails. Column properties can be edited, providing greater control over the color, border, and padding for any individual content block.
Additional Options
Option
Description
Undo/Redo

Undo or redo changes to your email design.

Buttons are available at the top right of the design area.

Message Styling

Message, Header, and Footer control the font, line spacing, colors, and padding properties in your message.

Click Enable for any of these options to edit the styling options available, or Disable to turn it off.

Also see Hyperlink Underlining

Edit Plain Text Version

Generate and customize the plain text version of your HTML email.
Most contacts receive and view their email messages in an HTML format. However, there are still email clients and mail servers configured to accept plain text content only.

Tip! If you make changes to the content in the rich text version of your message, you may need to update your plain text version after creating it the first time.

Validate Clickthrough Links
Test all click-through links to ensure they lead to a web page (not a 404 error).
Select clickthrough links to view all links contained in your email, along with their associated anchor text.
Download Creatives
Download the HTML and CSS files of your email message.
These files can be forwarded to anyone who needs to send this email message from their own systems.
Check Spelling
Perform a message-wide spell check for all blocks containing text (headers, footers, etc.).
Email Header and Email Footer
See Email Headers and Footers for more information.
Review
After you've designed your email message, you'll want to look it over for accuracy.
Feature
Description
Preview Your Message
Preview your email message in three formats: HTML, Text, and Mobile.
Sample Preview
Preview how personalization will appear to your contacts.
Validate Message
Check your email message for required attributes such as a subject line, sender address, contacts, email content, and opt-out links.
Spam Score
Generate a spam score from 0 to 15 by checking your email message for spam characteristics.

Use SpamAssassin, MessageLabs, Barracuda, and Outlook to generate your spam score. Higher scores indicate a greater risk of your email message being flagged as spam by your contact's email provider.
Test with Litmus
Generate previews and test how your email content will display in the most commonly used email clients.
Check Account Limits
Check account limits and current usage to ensure that your email message can be sent successfully.
Check Full Personalization
Check your email message for any personalization errors that would prevent a message from being sent to a contact.
Send
Under the Send tab of the email composer, you will see five options to send your message.
To learn more about each option, see Choosing an Email Send Method.
Option
Description
Send now
Send your email message to contacts immediately.
Send at the following time
Send your email message to contacts at a specified date and time in your time zone.
Send in the recipient's time zone
Send your email message to contacts at a specified date and time in the contact's time zone.
Provides an option to specify a preferred time zone for sending if the contact's time zone is unknown.
Send over time
Stagger your email messages to be sent to contacts over a specified period of time, rather than all at once.
Use Adaptive Sending
Use predictive intelligence to determine the best time to send contacts your email message.