You can easily create and define segments within your Act-On contact lists. Segments allow you to group and organize your contacts by a variety of factors, including profile information, behavior, lead score, subscription preferences, and more.
Build a new segment
You can create segments off of marketing lists, form submission lists, or webinar lists. To do this:
Go to Contacts > Marketing Lists


or


Go to Contacts > Other Lists > Form Submissions or Webinar Lists
Choose a list to segment and click the drop-down arrow to the right of the list name
Click Create a Segment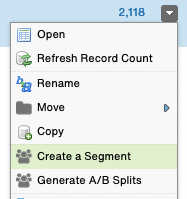 This will open the Manage Segment page, where you can define your segment's name, the segmentation method, and select the criteria for segmenting your contacts.
Choose a segmentation method
To get started, enter a name for your new segment and select one of these segmentation methods:
Search
Direct Selection
Query
Each method offers different options for finding and organizing contacts in your segment.
Search Method
The Search method allows you to search for specific values across all of your list's contact data. Enter one or multiple text values and click View Sample to see your search results.
For example, you could search for:
A contact's first name (e.g., 'Mary') – segment all contacts with the first name Mary
A contact's last name (e.g., 'Marketer') – segment all contacts with the last name Marketer
A company name (e.g., 'Act-On') – segment all contacts that work for the same company
An email domain (e.g., '@act-on.com') – segment all contacts with the same email domain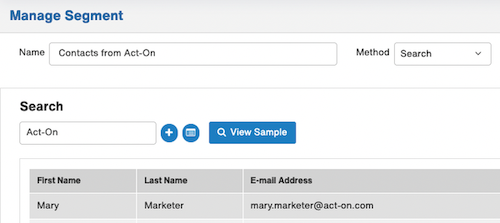 Direct Selection Method
The Direct Selection method automatically provides a table of all contacts in your list, organized alphabetically by last name. You can directly select which contacts you want to add to a segment by checking the box next to their name.
Query Method
Query segments are the most dynamic and robust segmentation method. With the query method, you can define and segment contacts with the following list data:
Profile
Create segments based on your contacts' profile information. You can segment by name, email, birthday, company, job title, department, city, date, and more.
Behavior
You can segment your list based on your contacts' behavior data. This helps you identify and group contacts by their interactions with your marketing content. Segment contacts that were sent messages, opened messages, clicked messages, submitted forms, visited landing pages, and more. For additional information on segmenting by behavior, see Creating a List of Contacts with Specific Behaviors and Tracking Form Views in a List Segment.
Note: Shorter behavior time frames will load faster. We don't recommend querying "in all time" behavior data as this can cause segments to load slowly.

Score
Create segments based on your contacts' lead scores or AI predictive lead scores. Segmenting by score can help you identify and group contacts by their funnel stage in the buyer's journey. To learn more, see Creating a Query Segment Based on Lead Score or Segmentation Using AI Predictive Lead Score.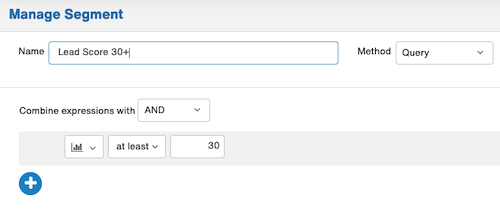 System
You can segment based on a contact's creation date (i.e., when the contact record was created in a particular list) or when a contact record was last updated. For example, you can build a segment for new prospects that have recently joined your marketing list by selecting contact records created after a certain date.

SMS
Segment your list's contacts by their interactions with SMS messages. You can identify and group contacts that have a valid phone number, have opted-in or opted-out to SMS, or have a phone number specific to a certain locale (i.e., creating a segment that only shows phone numbers from the United States). For additional help with SMS segments, see How to Create List Segments with SMS Criteria.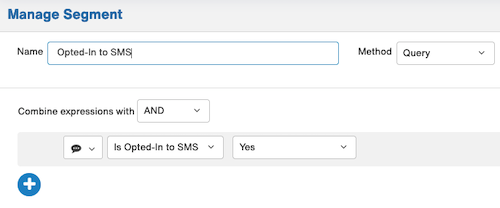 CRM
Segment your list's contacts by related data from your CRM. This feature is available for all accounts with Account-Based Marketing (including an Enterprise license). Available objects and fields will vary depending on your CRM. For full instructions, see How to Create List Segments using CRM Data.
Define query criteria
When segmenting your contact lists with the query method, you'll also need to define query criteria. These rules will help Act-On find the correct contacts for your segment. To do this:
Use the first drop-down to select the type of query you want to build

See above for more information on each type

Select a field name and an operator, then specify the value for your rule


These will vary depending on the type of query you've selected

Click the plus sign

to add additional criteria that your contacts must meet
Combine multiple query expressions
You can define how multiple criteria interact to segment contacts. In the Combine expressions with drop-down, select:
AND to require that contacts meet all criteria listed
OR to require that contacts meet at least one of the criteria listed
CUSTOM to define custom combinations of criteria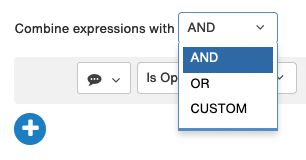 For more help with setting query logic, see Defining Logic for Query Segments.
Custom combinations
Create custom criteria rules with boolean logic. Instead of only using AND or OR to combine your criteria in a segment, you can set custom boolean expressions to build variations of these expressions.
For example, the custom expression "1 AND (2 OR 3)" will require contacts to meet the criteria set by the first rule AND criteria set by the second OR third rule.
Save your new segment
Once you've finished creating your segment and setting segment criteria, click Save.
You can also save your segmentation queries as templates to reuse for future segments. To do this, click Query Templates to pull up a list of existing templates or to save your current query as a template.
Additional resources
Want to learn more about leveraging segments? Check out these additional resources: