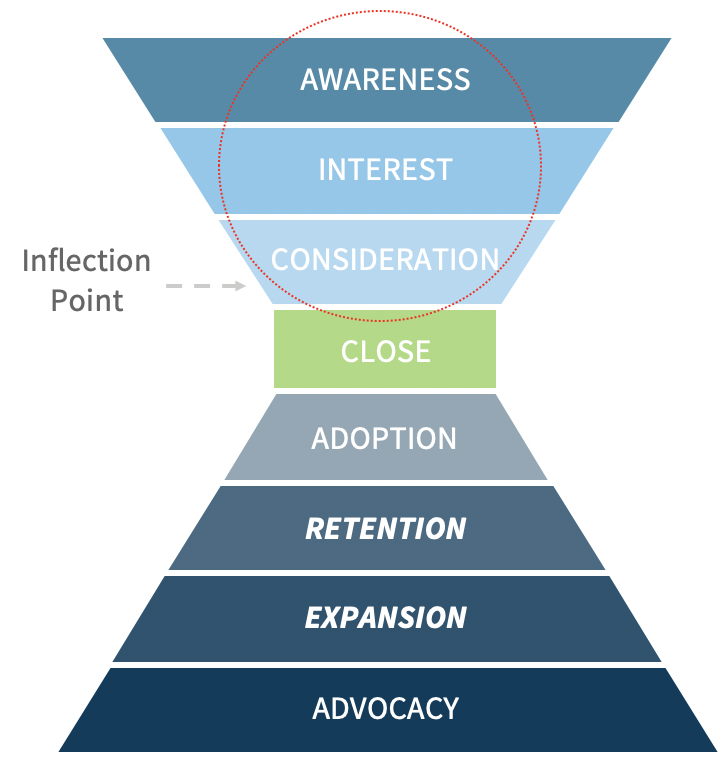 | | |
| --- | --- |
| Market | Non-Profit |
| Category | Lead Engagement |
| Value | Automated Multi-Channel |
Campaign Goal: To leave batch-and-blasts behind to create cohesive and meaningful engagements that produce results
Executive Summary
The Challenge
When many of our customers arrive at Act-On, they are venturing into marketing automation for the first time and this customer was no exception. While very seasoned marketers with an appetite for technology to improve systems and procedures, creating an engaged – and automated – funnel for both their current donors (customers) and prospects had been out of reach. Frustrated by the lack of improved outcomes and needing to do more than batch and blasts, they changed gears.
With a large multi-layered marketing team, a database of over 100K contacts, and a very complex martech stack, this was a big integration by any standards. One of the bigger issues they faced was how to take their contact lists within their CRM and translate that into meaningful and definable segments to base their campaigns within Act-On. During their onboarding and discovery process with Act-On, an audience that had been largely underserved was a segment that centered around what they called recent graduates, which enabled the team to reach a new and dynamic demographics - millennials. There were over 10,000 unengaged prospects that had not been communicated to in a meaningful or consistent way.
With the end of the year fast approaching, the team needed to create a much more engaged pipeline of leads, and more importantly, new leads, in order to leverage in their end of year appeal.
The Solution
To achieve engaging a pretty unengaged audience that the organization new little about, it was important to create a path that would reflect what this audience cared about, as well as inspire them to take action. The marketing team achieved this by developing a multi-touch automated marketing campaign over a period of approximately 45 days. The campaign took advantage of social media, email marketing, a survey, landing pages, and telemarketing. It truly was a multi-channel approach.
How it works:
A prospect would enter the campaign through email marketing with a "Get to Know You" survey. This was sent to the targeted 10,000 prospects in Act-On.

Additionally, to grow its base with the audience, the company also created a social media effort driving to a specific landing page to qualify and convert into a prospect. After filling the Act-On form, the prospect entered the campaign, and was sent the "Get to Know You" message.

The campaign included a series of connected emails delivered over a set period of time.

These emails guided the lead to one of three designated landing pages that were educational in nature while inspiring them how to be the "Bigger Difference."

In the consideration stage, there were two touches in an effort to convert to an MQL.
Let's break down the key components of the campaign. This approach falls into three core segments:
Awareness (TOFU)

The first email was geared towards getting to know the prospect better. It identified the challenges that they face and asked to take a simple survey verifying what they cared about. If a lead did not click on the first email, a second chance email was sent 7 days after.

The second touch gave more of an inspiring message regarding three key initiatives the organization was spearheading. This email allowed the lead to pick their journey into one (or all) of the three landing pages.

If a lead did not engage in the first or second emails, a third and final email was sent 10 days after the second message. If the lead did nothing from any of the emails, they were exited from the campaign.





Interest (MOFU)

The main vehicle to continue to warm up the prospect was the use of three specific landing pages that offered rich content regarding what the company was doing to make a difference.

There was a second email in this stage sent 10 days after a contact had been sent to one of the landing pages. The intent was to continue to nurture the converted lead by sharing a success story and to showcase what it would be like to be involved with the organization.





Consideration (BOFU)

The first email in this series confirmed their information and made an offer for different opportunities to connect.

If a lead did not click on the email after the second chance message, 5 days later, telemarketing was alerted to follow-up for a final ask before the lead was exited from the campaign.

A solicitation email is sent to the contacts.

After the solicitation email, the campaign officially ended and all contacts that made it to that point the campaign ended and everyone exited it.
This graphic shows the details of the campaign flow: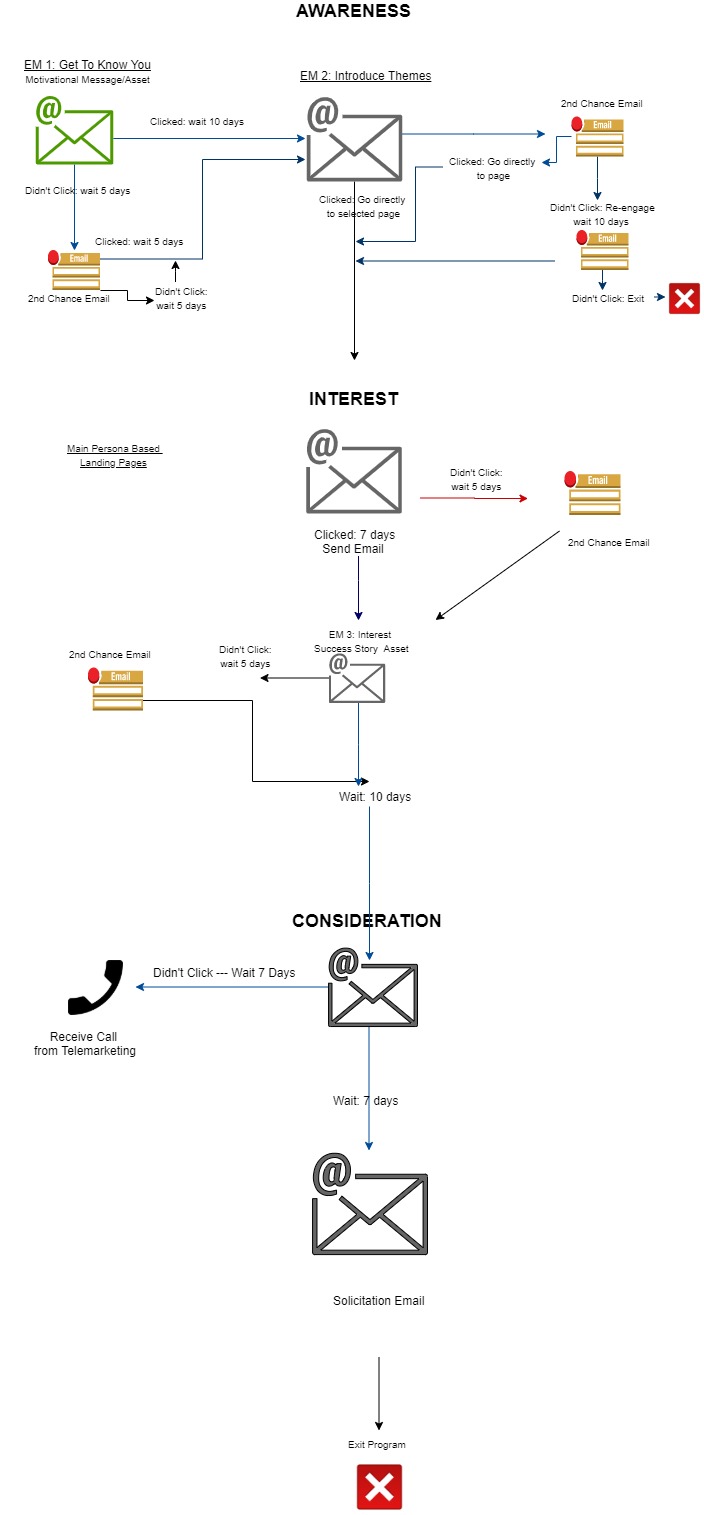 The Impact
This company gets several strategic benefits from this campaign:
They can track which type of leads converted the fastest and which ones were getting stuck within the campaign.

They can now build a pipeline of qualified leads with an attached opportunity value.

They turned a very manual process (sending individual emails to each lead that completed the online video demo) into a fully automated campaign that engages the lead at the right time with the right information.
The marketing team now has insights and efficiencies that let them focus on other strategic initiatives and leverage their time and resources more impactfully.
How to Build This Campaign
You can build this same multi-touch engagement campaign easily and efficiently. Everything you need is below.
Included Assets
These are the assets needed to build the nurture stream.
Lists
Lead List - This list contains the leads who will go through the automation. It can be a form submission list, a uploaded list, or both.
Forms
Request Form: Net new prospects from the social media campaign filled out the form to get more information. When filled out prospect entered the automated program.

Survey Form: Survey form to get information from contact.
Landing Pages
Request Landing Page: Landing Page used to secure prospect info from the social media campaign – first, last name, email address etc …

Three themed Landing Pages with targeted content and downloadable assets
Messages
Awareness
Email #1:

Get to know you – take a survey.

Email #2:

Reminder: Copy of email #1 with changed subject line

Email #3:

Making an Impact. Contains link to one of three of Landing Pages.

Email #4:

Reminder: Copy of Making and Impact with changed subject line.

Email #5:

Final attempt to engage prospects.
Interest
Email#6: Focus Area and Second Interest

Email#7: Reminder: Copy of Focus Area and Second Interest with changed subject line.
Consideration
Email #8:

Get Involved + additional get involved.

Email #9:

Solicitation: Crowdfunding + additional crowdfunding .
Automated Program
Accelerator Program: Automated Campaign targeting top, middle and bottom of funnel.
Automated Program Setup
General Settings tab
The general settings allow you to select the list of records that feed into the program and choose how often the program adds new records. Below is a video and screenshot of the general settings we used for this automation.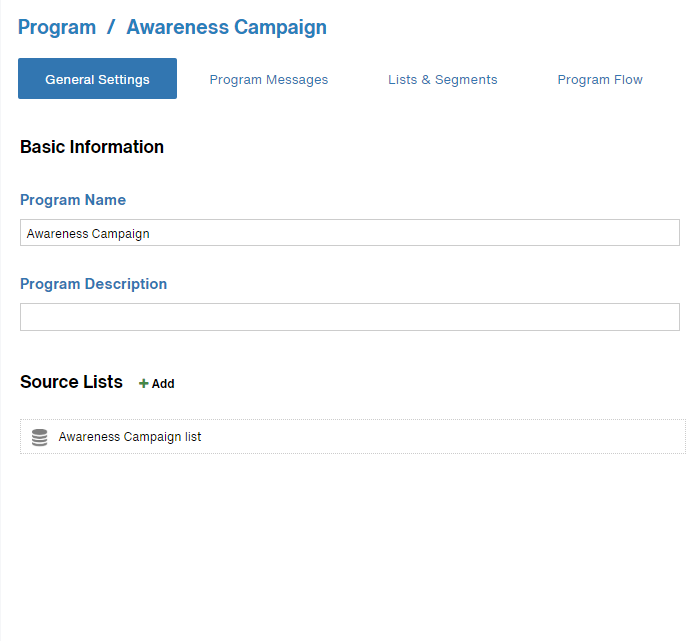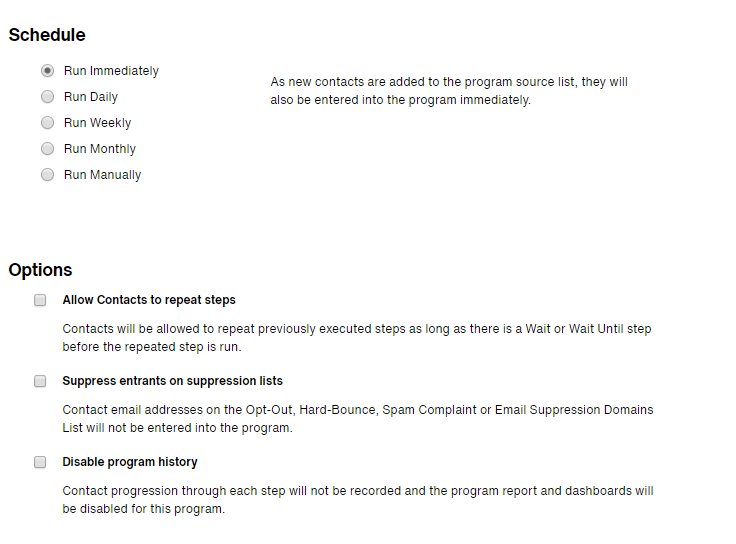 Program Messages and Lists & Segments tabs
To use lists and messages in and automated program you must import them under Program Messages and the Lists & Segments tabs. Once imported you can select them when building out the program flow. Below are the video, and setting we used.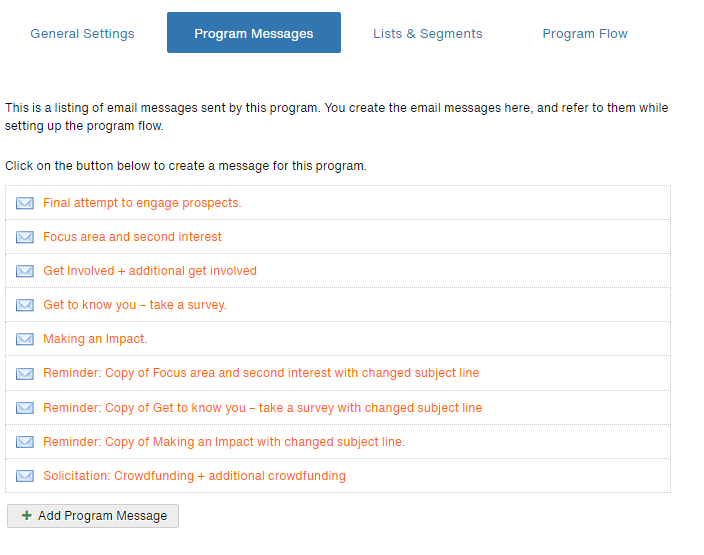 Program Flow tab
The program flow is where we build out the actions performed by the automation like send messages, wait steps, and check for clicks. Below is a screenshot of the exact program flow we built for this automation. Below are the video, and setting we used.