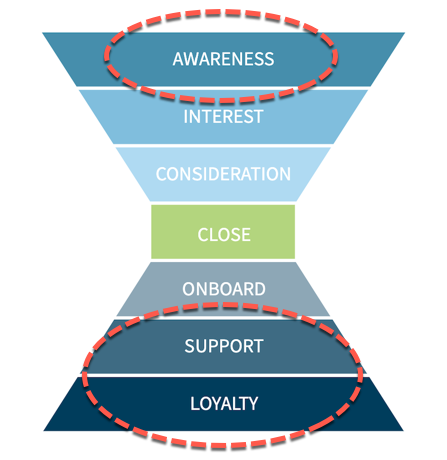 | | |
| --- | --- |
| Market | B2B & B2C |
| Program | Send Company Updates via Newsletter |
| Campaign | Company Newsletter |
Campaign Goal: Email newsletters allow companies to provide informative content to subscribers to promote brand awareness and potentially increase customer conversions. Promote your newsletter on your website in order to improve lead generation. Over time, you will be able to actively measure results to enable you to tailor your content to the demand.
Executive Summary
The Challenge
Creating engaging, relevant, and useful content to include within your newsletter on a regular basis can be challenging. With that being said, this is very important to promote continued engagement on regularly scheduled newsletter emails.
In addition, capturing new subscribers through subscription forms on your website can be difficult. You might want to consider adding an incentive to subscribe or review your form placement.
Managing subscriptions within your overall database to identify subscribers of newsletters email vs. alternative email streams is important, but requires detailed organization of data.
The Solution
Your content should add value to your subscriber's lives in some way. Your newsletter goal should be investing in good customer relations as opposed to sales-driven advertising emails. Utilize content you already have available within your newsletters. A newsletter should offer an opportunity for your subscribers to learn by providing them access to valuable content such as Blog Posts, Webinars, Upcoming Events, New Products, Promotions, Industry Best Practices, etc.
It is important that you drive newsletter subscriptions by having a prominent sign-up form(s) on your website. If you're not seeing subscribers flowing in, consider your form strategy:

Do you have enough opportunities for people to subscribe?

Do you have a simple subscription process?
Create an incentive to subscribers by offering something special when they sign up. This can include a downloadable document (eBook, White Paper, Case Study, etc.) or even an exclusive discount on your product or service.
Identify an easy, replicable process for building and scheduling your newsletter on a regular basis. newsletters can be sent weekly, monthly, or even quarterly. Call out the frequency within the subscription process and be diligent about sending these newsletters on time. Act-On Email Templates allow you to quickly replicate a previous newsletter in order to ensure that this process is not overtly time consuming.
The Impact
Company newsletters keep current customers informed of newsworthy events regarding your company, product(s), or service(s). This naturally keeps you top-of-mind for current customers and allows them to take full advantage of products, services, and promotions.
newsletters also offer an opportunity to increase ROI by generating new leads that can eventually be directed back to your website. Leads who opt-in to your newsletter may not regularly think to come back to your website. A newsletter encourages these leads to revisit if they find something of value within your content.
In addition to this, you will have the ability to identify interest across your entire subscriber base to understand content that is relevant to them.
How to Launch a Newsletter Campaign
We must first identify who you want to send a newsletter to. There are multiple ways to identify a subscriber list in Act-On, however it is dependent on how that data has been organized in the past.
If you have captured subscribers in the past, we will need to understand where those contacts have been placed. In many cases, these subscribers may be included within a Marketing List. You are able to target a Marketing List for a newsletter Email, or you can target a subset of a Marketing List by creating a Segment underneath that list. You will want to review your current process of capturing Subscribers to identify whether or not you are tagging these subscribers in any way with additional data. For example, you may have a field in your Marketing List that identifies whether or not a record is opted-in to a newsletter.
If you are not currently capturing subscribers on your website, you now have the opportunity to start generating subscribers within Act-On through Web Forms. A simple form on your website can add new subscribers to a Marketing List in Act-On. In this use-case, we will capture subscribers with a Form that requires just an email address, and we will be tagging these individuals with a hidden field to indicate that they have opted-in to a newsletter. This will allow us to decipher who we want to send a newsletter to within our Marketing List.
Included Assets
Create a Subscription Form
You will want to build a newsletter Subscription Form to get started. You can place this Form on any web page you manage or any Act-On Landing Page that you build. It is a common practice to place a newsletter Subscription Form on multiple pages of your web site to increase the opportunities for subscriptions.
Our Form will only include two fields:
Email Address: This will be a text box field that captures the subscribers email address. We can apply validation rules to ensure that the value submitted here is in format of a valid email address. In addition to this, you will want this to be a required field.
Newsletter Opt-In: This will be a hidden field that is passed along with the email address to tag/identify records in our Primary List that have explicitly opted-in to our newsletter. We can submit any value within a hidden field. In this case, we will be capturing a value of "True" within our "Newsletter Opt-In" field.
All Form Submissions will be added to our "Act-On Primary List."
Note: If you know that all of the records within your Primary List have explicitly opted-in to email communications. You are able to target your Primary List for newsletters as opposed to a Segment that populates records with explicit opt-in values.
Here are the field configurations within the Form Composer:
Email Address (Text Box)


Note: The Field Names will vary by account depending on the unique field names within your Marketing Lists. These should be standardized across all Lists within your Act-On Account.
Newsletter Opt-In (Hidden Field)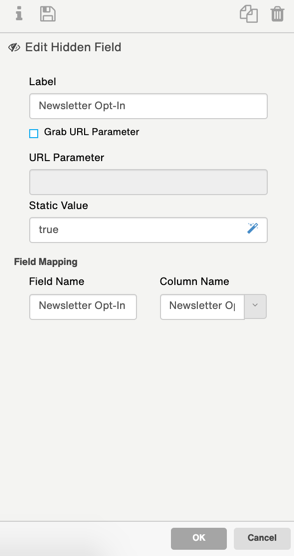 Once your form is configured, you are ready to embed it on your website or Landing Pages. We recommend that this form be placed in a prominent position in order to promote subscriptions. Here is a preview of our Subscription Form once embedded on a Web page or Landing Page:

Identify Subscribers Within a Segment
We will need to identify all records within our Act-On Primary List who have a "true" value within their "Newsletter Opt-In" field. We will call this Segment "Newsletter Subscribers." This will identify every subscriber that needs to be targeted with our newsletter.
Here is the criteria of the "Newsletter Subscribers" Segment:

You can now see this Segment located under the Act-On Primary List: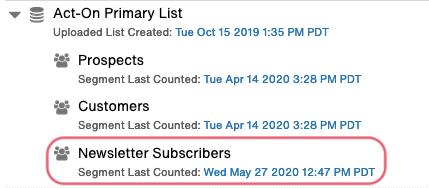 Note: Identifying all subscribers is easiest when utilizing a Primary List structure within your Act-On Marketing Lists. This allows you to build a single segment underneath a parent Primary List to identify all records who meet your unengaged criteria.
Build Your Newsletter Email
When building a newsletter email, it can be beneficial to utilize an Email Template within the Act-On Platform. Templates can be used as a starting point when building new emails. By utilizing an Email Template, you can save time building future emails due to the fact that all of your basic branding, styling, and structure are already in place.
If you have not built out a Template in the past, Act-On Users can customize one of the many templates available within their Content Catalog located within the "Content" section of the platform. Additionally, you are welcome to enlist Act-On's Professional Services Team to create a Custom Designed Template designed with your own Company's branding.
With a newsletter Template in place, you will want to populate your Weekly, Monthly, or Quarterly newsletter with relevant content. The term "relevant content" will vary depending on your Industry and subscriber base, however some examples of effective newsletter Content could include the following:
New Product or Service Updates

Current Promotions

Latest Blog Posts

Press Releases

Upcoming Webinars or Events

Documentation (eBooks, Case Studies, Research Papers, Product Documentation)

Links to Videos

Tips or Educational Information
Once your email is created, we will want to schedule it to send out to all newsletter Subscribers. Within the Properties section of our newsletter email, we will want to target the Segment we created above titled "newsletter Subscribers." In addition to this, we recommend you use a consistent From Address when sending out newsletter emails to build familiarity within a recipient's inbox. In this case, we're sending on behalf of a Marketing Team member, Mary Marketer: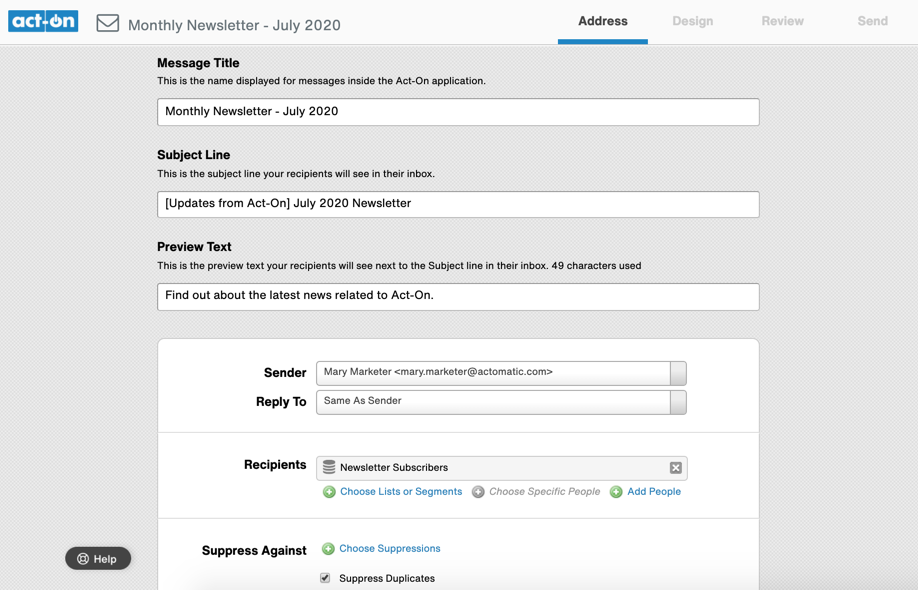 Note: Suppress Duplicates is checked by default. This prevents duplicate emails from being deployed in the scenario that you target someone multiple times.
Note: If you have Act-On Marketing Lists or Segments that you utilize as Suppression Lists, you may add them within the "Suppress Against" section of the "Properties" tab. By default, Act-On will suppress any previous Opt-Outs, Hard Bounces, or SPAM Complaints.
Schedule Your Newsletter
The final step will be to schedule your newsletter at your desired time of deployment. You have five separate scheduling options within the "Send" tab of the Email Composer. For further explanation of these sending options, you can read about each of them here.