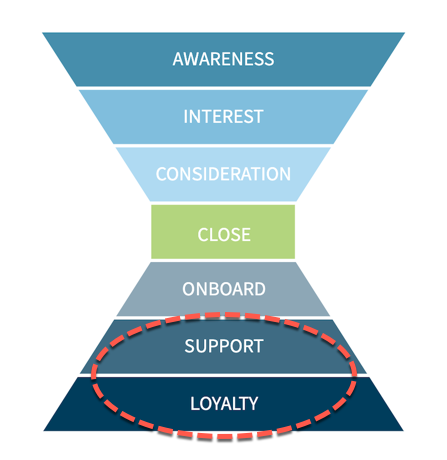 | | |
| --- | --- |
| Market | B2B & B2C |
| Program | Automate Renewal Communications |
| Campaign | Customer Renewal |
Campaign Goal: To formally acknowledge a customer's contract is coming to an end. Automate the renewal communication via email to ensure the renewal date doesn't come as a surprise and provide a seamless, pain-free renewal process.
Executive Summary
The Challenge
Identifying customers who are approaching the end of their contract can be a tedious manual process for a sales team. Constantly reaching out on a 1:1 basis can take up time and resources that can be spent elsewhere. When this process is not started in a timely manner (e.g. several months prior to expiration), renewal communications can come as a surprise for a customer, as an interruption in service could have a direct business impact.
The Solution
Implement an automated renewal process that triggers a series of emails that allow customers to prepare for an upcoming renewal. This will add a sense of urgency by informing them of their contract expiration date and begin a countdown within your series of emails.
This campaign also allows you to reinforce the value of your product by sending resources and useful tips on how they can make the most of your service or product. Share case studies and ideas, and prompt them to try something they haven't before.
In many cases, you can optimize the renewal process in order to continue your partnership with your customers. Renewing a contract should be easy and painless. In some cases, an incentive to renew can be included to give customers a reason to renew early.
The Impact
This campaign will help to avoid lapses in service for customers who may not have been aware of their upcoming contract expiration. The automation of this process will alleviate the manual 1:1 communication for renewals in order to free up additional resources to close new business. Within the automation, you have the ability to keep sales informed of customer renewal status throughout the campaign.
Overall, you should be able to increase renewal rates by reinforcing the value of your product or service.
How to Build This Campaign
You can build a simple Customer Renewal campaign in just a few steps. Everything you need is below.
Included Assets
Segments
The campaign uses two segments:
90 Days Until Contract End Date
Within 90 Days of Contract End Date
90 Days Until Contract End Date 
We will first want to create a segment that automatically populates anyone who is approaching the end of their contract. Depending on a typical sales cycle or contract length, this could vary by company & industry. In this use case, we are going to be targeting anyone within 90 days of the contract end date. This will give us plenty of time to periodically send emails that incentivize a renewal.
There are various methods to creating a segment to identify approaching contract expiration, however, this is dependent on the data available within your Act-On account. You can see within the segment below, we are utilizing a "Contract End Date" field. In this scenario, we are actively syncing this data from CRM. We are using a relative date segment to identify any customers whose "Contract End Date" is 90 days from the current day. You want to be sure that your date format within your segment criteria matches the format of the values within your list (for example, MM/DD/YYYY vs. MM-DD-YYYY).
Here you can see the criteria used for this Segment:

Within 90 Days of Contact End Date
In addition to this, we are going to create a secondary Segment in order to identify those within the Program who may have renewed since being entered into the renewal campaign. This will be utilized as an Early Exit Condition within our Automated Program. Its purpose is to remove anyone from the Automated Program who may have renewed since receiving the initial renewal email communications. We want to prevent ourselves from continually sending renewal notices to folks who have already gone through the renewal process.
In this case, we are once again utilizing the "Contract End Date" field, however, the criteria is identifying anyone who is within 90 and 1 day(s) from their "Contract End Date." This will identify anyone who is less than or equal to 90 days from their "Contract End Date"

Note: Identifying all Customer records who are approaching a Contract End Date is easiest when utilizing a Primary List structure within your Act-On Marketing Lists. This allows you to build a single segment underneath a parent Primary List to identify all records that meet your segment criteria.
Note: If you are using a static Marketing List in Act-On, chances are that new data will be manually appended periodically. In this case, you may need to increase the timeline of your entry segment criteria (e.g. Contract End Date is within 90 days of Today). If that is the case, you will want to re-think the early exit condition as well.
Messages
Create a series of emails that you would like to use in order to alert customers of their upcoming contract expiration. We recommend that you include a series of 4-6 emails, depending on how far in advance of the expiration date you are starting your renewal campaign.

The content within these emails will vary by Company, Product, Service, & Industry. However, the main goal should be providing a seamless process for customers to renew services. The content of these emails can be centered around a number of items, however here are a few examples:
Creating a sense of urgency to renew by informing customers of their expiration date and starting a countdown to the end of their service.

Incentivizing the need to renew - "Renew before X Date to receive this limited-time bonus."

Reinforcing the value your product or service provides - Share case studies and ideas, and prompt them to try something they haven't before.

Last chance email - "Renew now before your service expires!"
Here are the emails that are being used in this particular customer renewal campaign:

Automated Programs
The automated program will be used to automatically trigger off your renewal series emails.
General Settings Tab
The "90 Days Until Contract End Date" Segment will be used as our Source List to pull in all customers who meet our Segment criteria. We have set up the Program to pull in new records within this segment once per day at 9 AM (this can vary depending on when you want the initial email to be deployed).
Additionally, we have set the following options:
Suppress entrants on Suppression Lists: Ideally, no customers have opted out or filed a SPAM complaint, however, if that does occur, this option will prevent them from entering the Automated Program. While they would be unable to receive emails regardless of whether or not they enter, this will provide cleaner analytics in your reporting dashboard.
Allow contacts to re-enter: This allows customers to re-enter a Program multiple times. This will allow contacts who are approaching their Contract End Date for a second time to re-enter the customer renewal campaign Automated Program again. Typically each record can only enter an Automated Program once. This feature must be turned on by Technical Support, so you may need to open a Support Ticket if you do not see this option within your General Settings.
Ignore Email Fatigue Rules: If you have set up Email Fatigue Rules on your account, you have the option to override those rules for this particular campaign. If you believe these emails are pertinent to your expiring customer base (they are), it could be beneficial to override fatigue rules here to guarantee that these messages will be delivered. If you're unfamiliar with Email Fatigue Rules, you can find an explanation here.
Screenshot of the General Settings tab: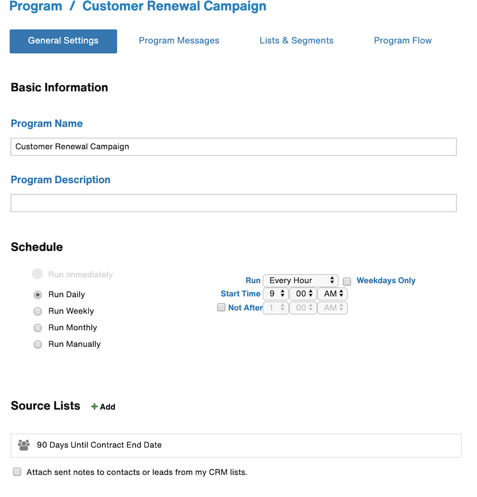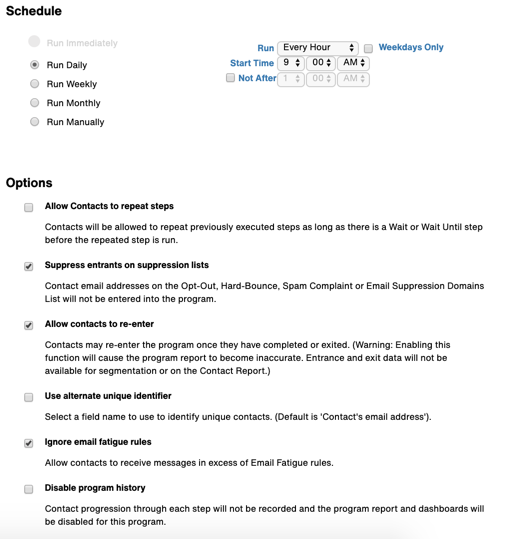 Program Messages Tab
The program will include any email messages that you intend to use for your Customer Renewal campaign. This particular campaign includes a series of five emails, aligned for different timelines leading up to the contract expiration: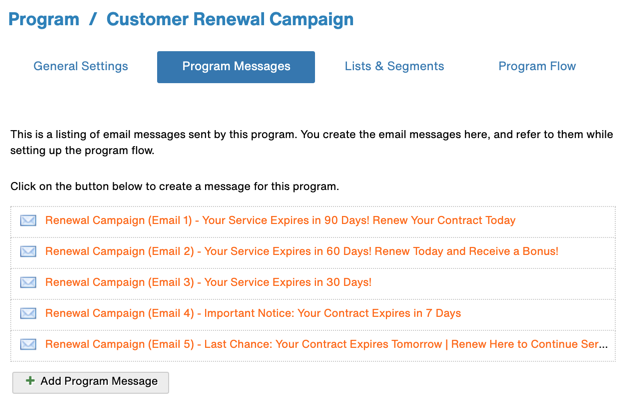 List & Segments Tab
The Source List Segment "90 Days Until Contract End Date" should be seen within the Lists & Segments section here. In addition to this, you will want to add the "Within 90 Days of Contract End Date" Segment. We will be utilizing this Segment in the Program Flow as an Early Exit Condition.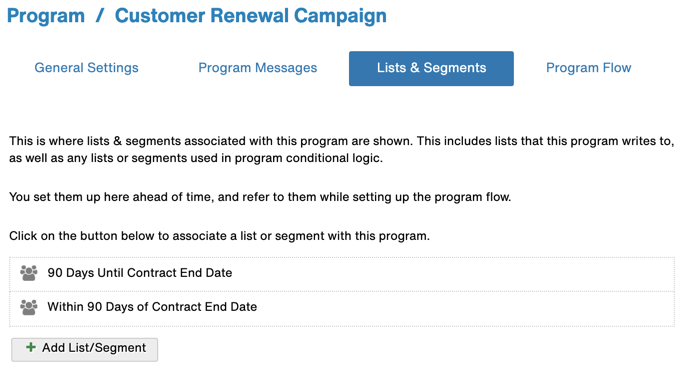 Program Flow
The Program Flow is set up to send emails out, 90 days, 60 days, 30 days, 7 days, and 1 day prior to the Contract End Date. 
In addition to this, we have included an Email Alert step after each of the renewal emails to provide visibility to the sales Team. Each email is informing a sales Representative that this customer is X Amount of Days from contract expiration. This step is optional, but it can be configured in a number of ways. In this particular Program, we are alerting the Contact Owner in CRM. 
Note: This particular alert configuration does require you to Identify Your Sales Prospects Lists.
You can see a screenshot of the Alert configuration below, along with the full Program Flow.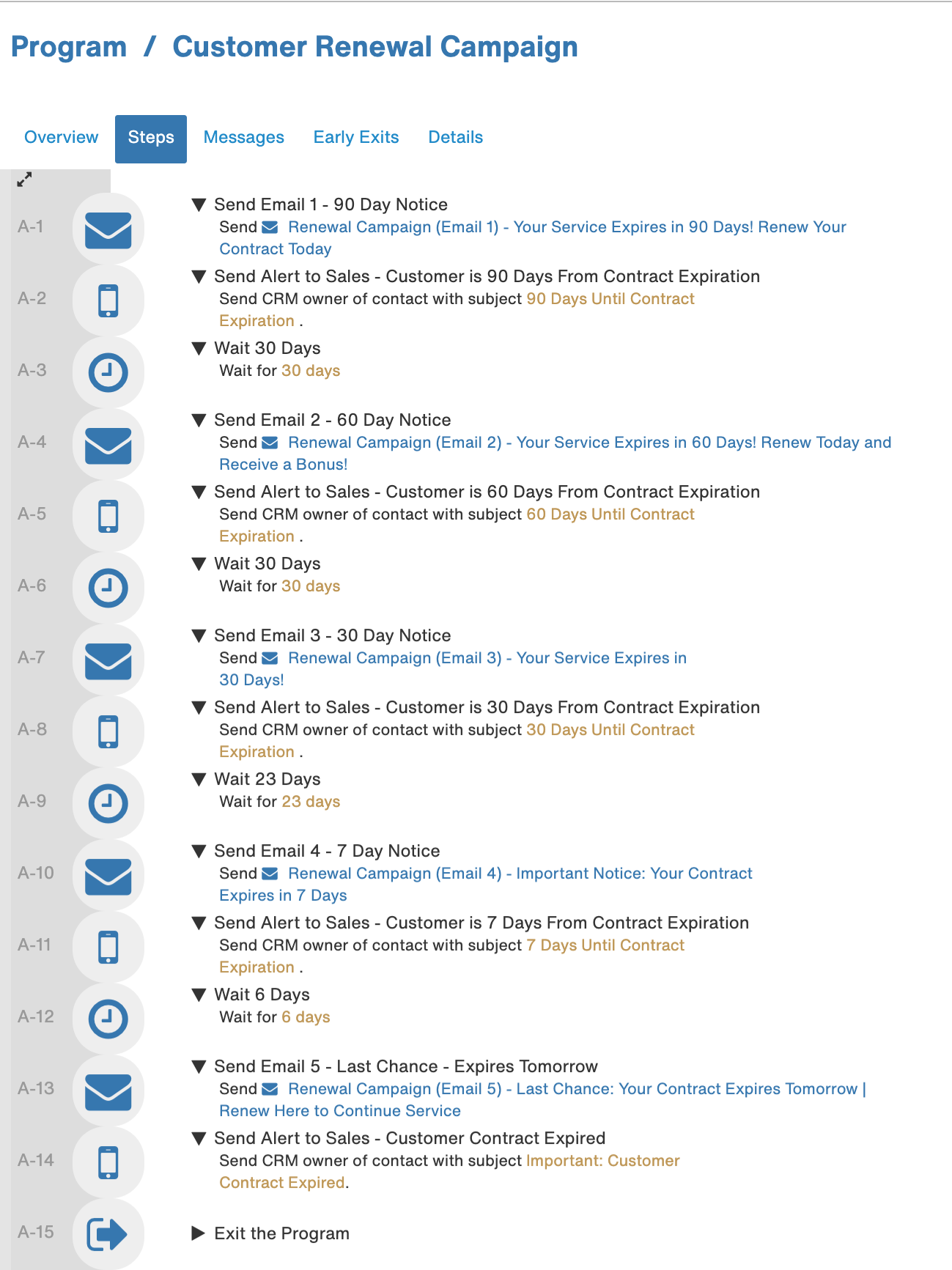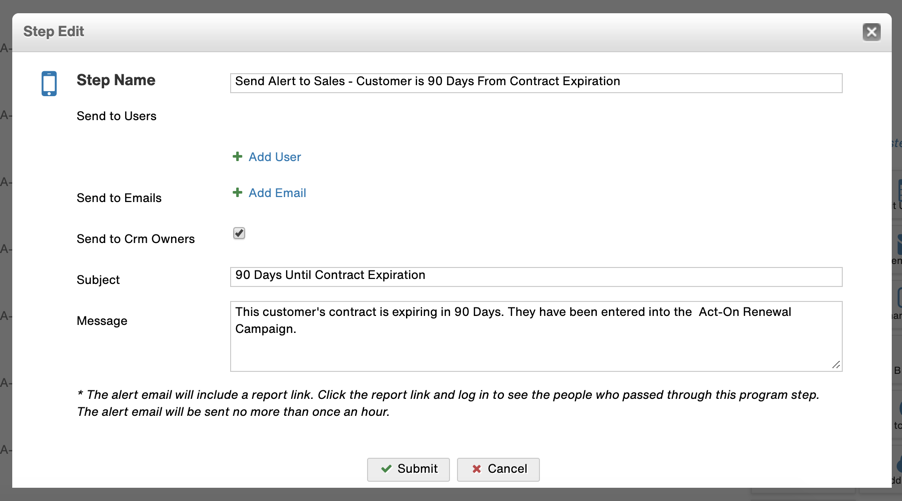 Early Exit Condition
We have set up the Early Exit Condition to remove a prospect from the Automated Program if they are not in the Segment titled "Within 90 Days of Contract End Date." The customer record will be within the Program Flow for the entire duration of the campaign unless a renewal has been processed and the "Contract End Date" has been appropriately updated. In this case, if their Contract End Date is not within the next 90 days, they will be removed from the Program.

Final Step
Once your Automated Program is in Draft form, it is ready to be activated. When you're ready to start actively pulling customers approaching their renewal date into your Automated Program, you will need to activate it manually to get it started.