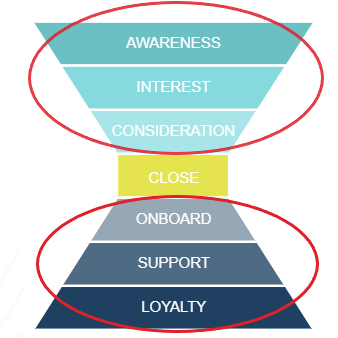 | | |
| --- | --- |
| Market | B2B & B2C |
| Program | Increase Engagement & Deliverability |
| Campaign | Dynamic Content in Email |
Campaign Goal: (1) Create a personalized and customized experience by building a content relevancy; (2) Increase overall email metrics, which in-turn improves inbox deliverability; 3) Increase overall conversions by providing relevant content in one email.
Executive Summary
The Challenge
Customer A is implementing a new Field with Product Interest/Preference on their Act-On Forms. This field consists of multiple choices and therefore a user could select several options at the same time (there are 7 products/choices in total). Customer A would like to send 1 email but only show relevant Call to Actions based on products/categories/options selected by the end user.

Customer B has several products (5 in total) and would like to be able to send 1 email to all their clients and advise on upcoming Program Incentives based on products they have purchased. The end users could have purchased all 5 or any variations of 5 product choices. Customer B needs to determine how to send targeted email based on their customer's previous purchases.

The Solution
Create an Email with Dynamic Content that will help reduce the time spent on creating numerous separate emails to different variations of contact lists. A single Dynamic Email will be able to populate the relevant content for each individual recipient.
The Impact
Dynamic Emails will improve your click-through rates, increase your ROI and, also, minimize your opt-outs as your customers learn that your emails are highly-targeted and relevant to them. This also alleviates email fatigue by lowering the volume of emails each of these recipients receive, as a single email showing all relevant products is more efficient than multiple individual product-related emails.
How to Build This Campaign
Included Assets
Form
If we take an example of Customer A, we will need to create a form with Product Interest/Preference and make sure to add your chosen Field name in the form to your Standard Field Name (if it does not exist already). We will need to access that field when building Dynamic Content in our Email.


Create a form with all required fields and make sure you map Product Interest/Preference field correctly:
Field Mapping: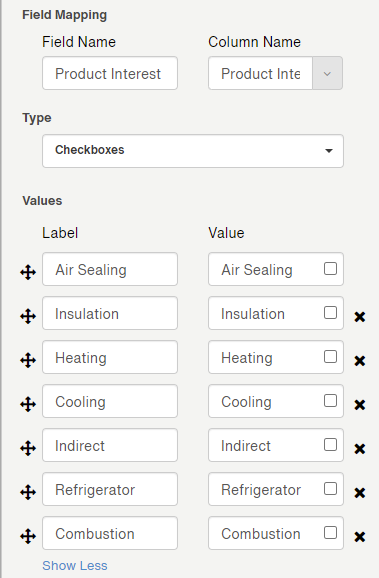 ProTip: Save this Field as a Fragment to reuse in any future forms:



Example of Saved Fragment:



Add this field to your Standard Field Name (if you do not have it) and Save:




Actual Form View: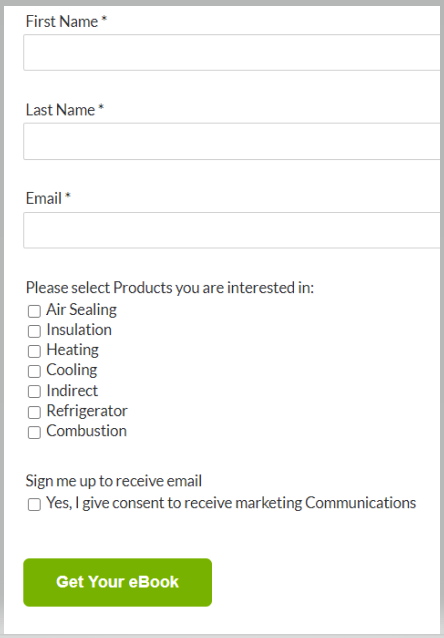 Video Tutorial:
Email Template

Start creating your Email Template but bear in mind what sections you would like to keep as Standard Blocks and which sections would have Dynamic Content.
Add Dynamic Content Block and create first block by giving it a Description and building Conditions. Click on Product Interest/Preference Field, select contains, add/type Air Sealing (Add conditions by the Values within your Form Fields rather than the Labels).
From the Design tab of the Email Composer, drag the Dynamic Content block into your message


Click If [Untitled Condition] at the top of the window


Create your first condition:






Enter a short description for the condition
Select the criteria for this condition

Contact Field – If you've added a recipients list for this message, you will see every field from that list; if you haven't, your account's Standard Field Names will appear
Condition – Choose the logic to check against this field (equals, does not equal, contains, etc.)
Value – Choose the text (case sensitive), number, or date to check against this field

To add more criteria to this condition, click the Add Profile Condition link
Click OK

Enter Your Content.

Fill in the rich text block with the personalized content to display to contacts who meet the condition.




Continue building the rest of the email using individual Dynamic Content Blocks.




Continue with the rest of Product Interest/Preference, leave Else empty.


Video Tutorial:
Preview & Testing
To preview your Dynamic Content via test emails:
Create a separate marketing list with the same column names (case sensitive) that are present on your recipient list and test contacts that meet each condition you've set.




Go to Outbound - New Message and create an Email from the Template you have created above.


Add the Test list to the Recipients




Go to Review and click on Sample, click on drop down and select random contacts

Here is an Example for a contact that has only 1 product option:



Here is an Example of a contact that has 2 product options:


Video Tutorial:
Final Step:
Go back to your Form and add this Email Template to the Confirmation Email.