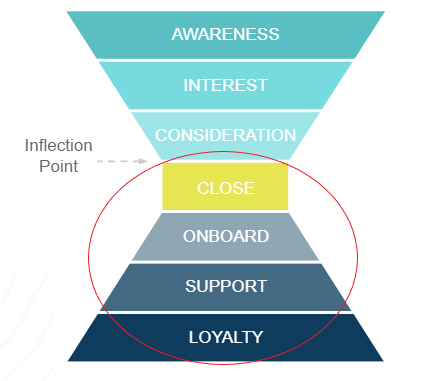 | | |
| --- | --- |
| Market | B2B |
| Category | Account Based Marketing (ABM) |
| Value | Account Targeting |
Campaign Goal: Account Based Marketing (ABM) helps customer to deliver deeper, personalized engagements for specific accounts so instead of specifically marketing and targeting individual Contacts, account based marketers are focused on optimizing the quality of their engagement with Accounts and Opportunities.
Link buyer behavior + data across contacts for a single account view
Create account-centric campaigns to enhance the impact or your nurture strategy
Score accounts for prioritization and product matching
Deliver targeted messaging to an account, ensuring content is highly relevant based on the contact's role
Executive Summary
The Challenge
Account Based Marketing is an add-on feature in Act-On which is available for customers who have an active integration with Salesforce, Microsoft Dynamics, SugarCRM, or NetSuite. Account-based marketing is a strategic marketing strategy where key business accounts are marketed to directly, as units of one (compared to the typical one-to-many approach). In essence, high-value accounts or prospects are identified, key stakeholders in these businesses are targeted, and then marketing strategies are implemented through various channels to appeal to their specific personas and needs.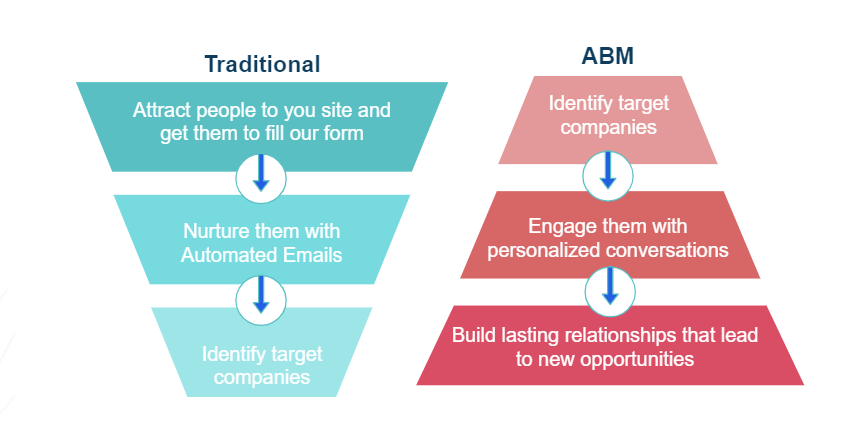 The Solution
We enabled and configured the Account Based Marketing feature in Act-On. This allowed us:
Group Accounts and associated Contacts based on various Account's parameters/fields inside Act-On
Segment CRM Contacts inside Act-On on parameters/fields we can find under Accounts, Opportunities, Campaigns, Owners (CRM Segmentation)
The Impact
When enabled customers are able to group and target Accounts inside Act-On rather than grouping them in CRM and sort/target them by overall or sum of Act-On Behavior Score.
How to Set Up Account-Based Marketing
Create a Recurring CRM Sync in Act-On
1. When you first visit the Accounts Dashboard page (Contacts > Accounts, you will see that option only when ABM is enabled in your account), the application checks to see if you have properly configured a sync via the Data Management page.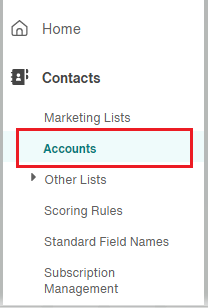 2. If you have not yet set up a recurring sync, navigate to Settings > Data Management to set the frequency of synchronization to populate your CRM data.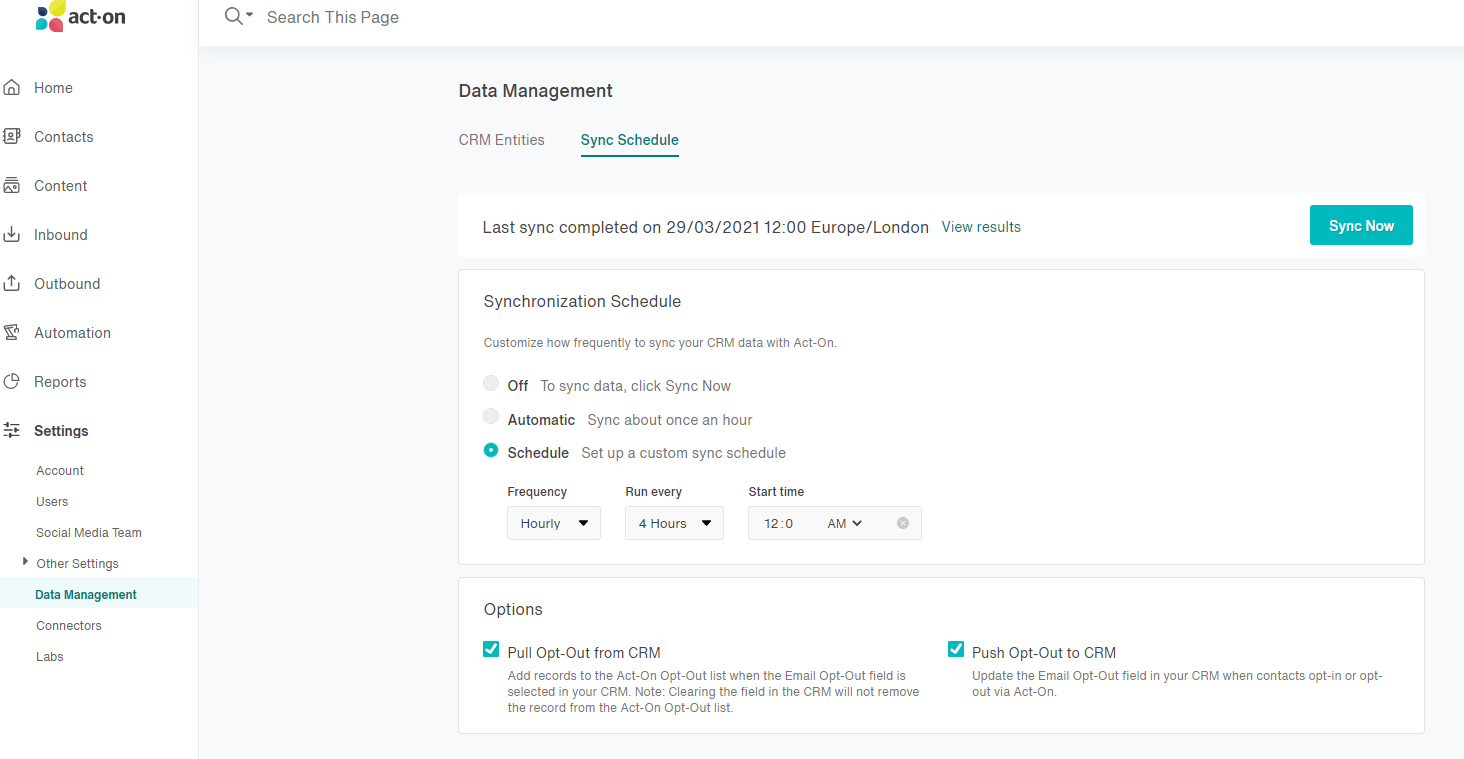 3. When you land back on the Accounts Dashboard a popup will appear where you will define which list contains your CRM Contacts* and the field in that list which contains the desired lead score.
*If you have not already done so, you will need to create a List Maintenance Program which writes the contact's score to the configured list and selected score field periodically. This score can be based on the same, Default score sheet used for segmentation or you may choose to create a separate score sheet for the purpose of account scoring which is used in the program which writes the score to the contact record.
4. Finally, you will select the method used to combine (Sum or Average) contact scores to produce the roll-up account score.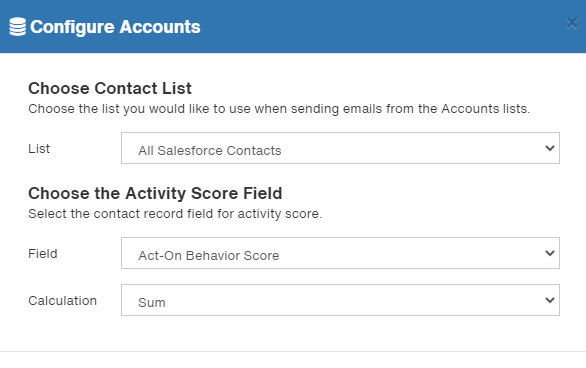 Once completed, the Account Score will now be visible in the account listings and in the Account Report.

Once Completed, these settings can be accessed via the Actions drop-down next to the All Accounts default account group at the top of the list from in the Accounts Dashboard.
Video Walk-through
The Accounts Dashboard
Navigate to Contacts > Accounts and open the Accounts Dashboard. You will work with Groups of accounts which function similarly to the segments of contacts you are likely familiar with.
1. By default, Act-On creates an "All Accounts" group. This group contains all of the accounts which have been synced with Act-On and from the dashboard, you can see the number of accounts contacts associated to accounts. Once you define additional Account Groups, they will be displayed and managed from the Accounts Dashboard.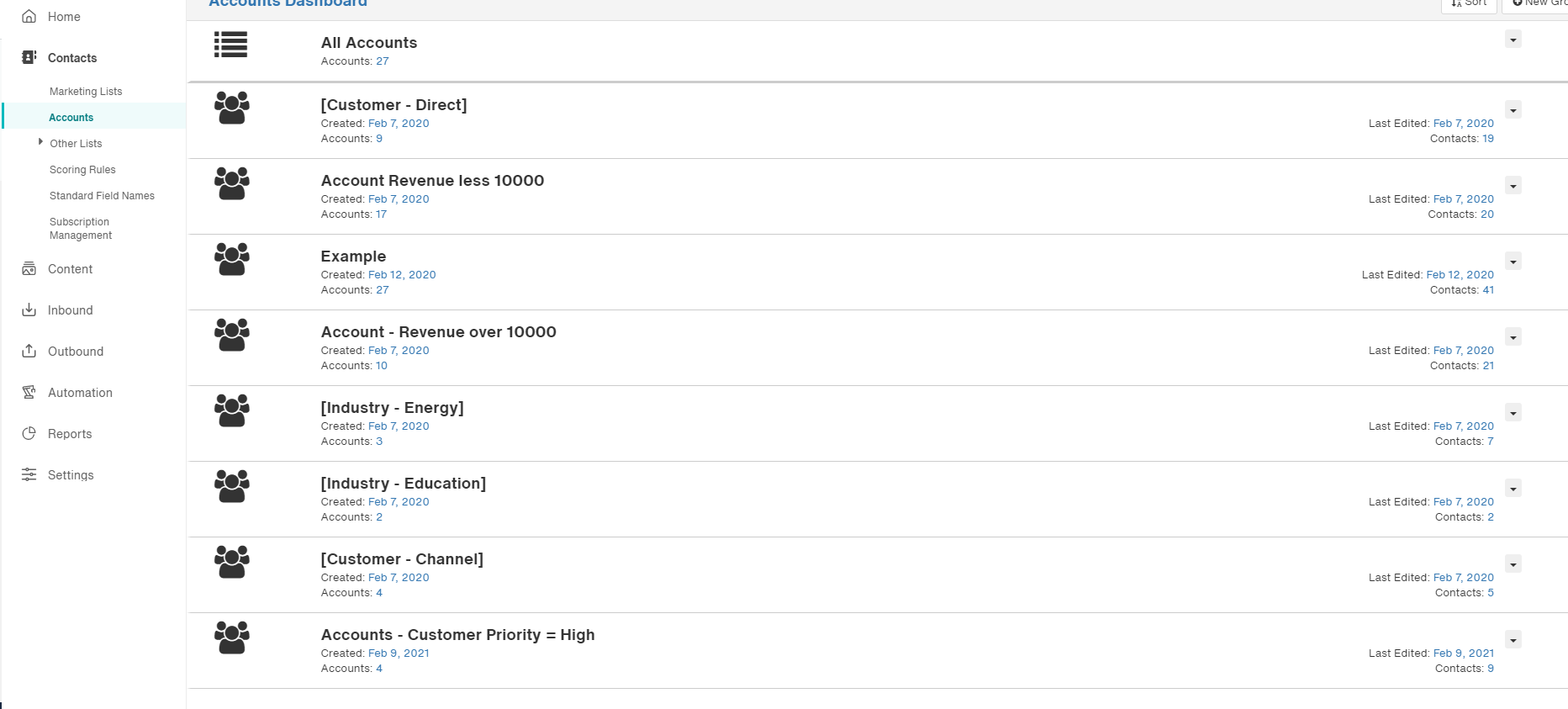 The actions drop-down menu allows you to dive in and view the underlying accounts, create a new group of accounts, manage the email list and score field or otherwise manage (edit, delete or email to) an Account Group.
2. Once an Account Group is selected, you can select View Accounts from the action menu to see a list of all of the accounts that the group contains. This list displays the account name, the number of contacts, the cumulative score for the account and provides a number of options for interacting with the account from the actions menu.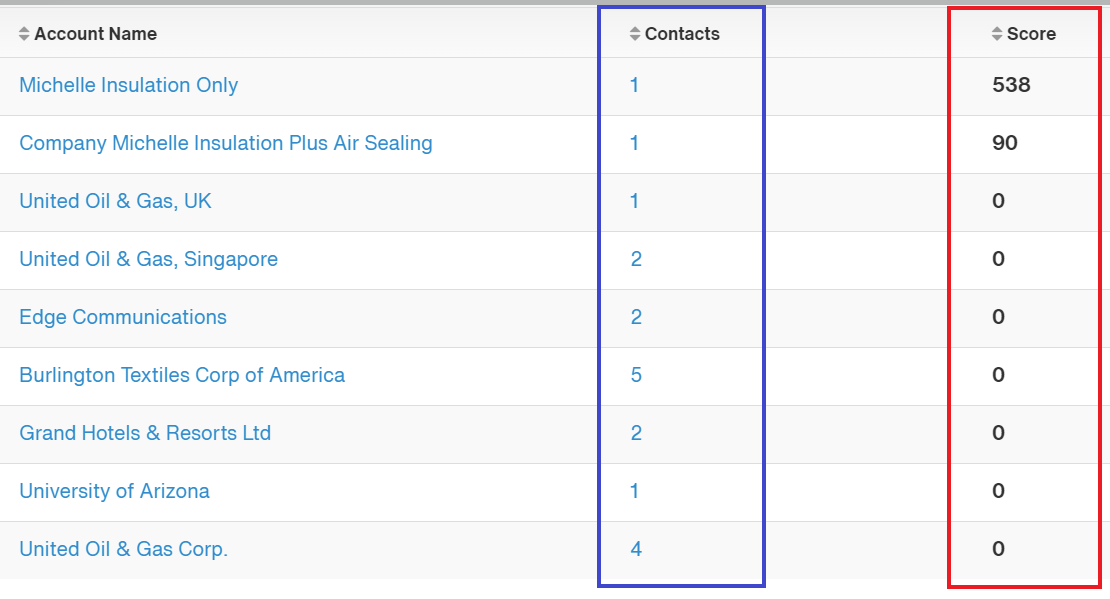 3. From the list view, one or more accounts can be selected and emailed simultaneously in order to send an email to all contacts at one or more accounts via the email button in the top right. This action triggers the Message Composer where you can select from templates, previously sent messages, or start from scratch as usual.

4. When you select Contacts from the drop-down on an Account in the list, you will be presented with a list of the Contacts which are currently associated with that account along with their Title and Score. Furthermore, one or more contacts can be selected and emailed just as Accounts could be in the previous screen. In the Actions menu, a single contact can be sent an email as above or you can view their Contact Report.

Video Walk-through
Creating Segments using CRM Data
From the relevant List, select

Create a Segment

from the list menu
Build your segment query:

Select

CRM

from the first dropdown menu
Select the

object

you wish to search against in the second menu. See

CRM Object Relationships, below, for more information.
Select the

field name
Select an

operator (eg "equals", "contains", "starts with", "is between or equals", etc)
Specify the

value. See also

CRM Fields with Specific Values, below, for more information.

Name your segment.
Click Save.

NOTE: Remember to go to Data Management to select any new CRM fields you need to use for CRM Segmentation and resync CRM Contacts as well as Data Management.
Video Walk-through