Use Contact Settings in Act-On All Contacts to control your inactive soft bounce threshold, email suppression domains, and fatigue suppression rules.
Instructions
View Contact Settings
You'll find Contact Settings at the top-right corner of the All Contacts page. Click the three dots icon and select Contact settings.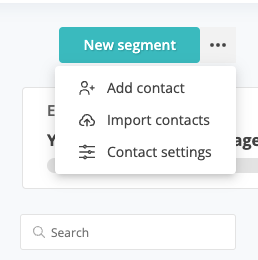 You can also find these settings under Settings > Other Settings > Contact Settings.
Heads up! Changes to these settings will also appear in Contacts > Other Lists > Bounces & Opt Outs and apply to all contacts in your Act-On account.
Inactive Soft Bounces
With Inactive Soft Bounce settings, set how many soft bounces your account will allow before moving a contact to the Inactive Soft Bounce segment. When contacts join this segment, your account will no longer attempt to send email messages to them.

Learn more about setting your preferred soft bounce threshold here. This may vary depending on how often you send messages.
Be careful! Leaving this setting blank will prevent contacts who frequently soft bounce from moving to the Inactive Soft Bounces segment. This can hurt your deliverability over time.
Email Suppression Domains
Use this setting to prevent your emails from being sent to certain domains. For example, you can suppress your competitors' domains, personal email aliases, or the domains of subsidiaries and other affiliated companies that shouldn't receive your marketing messages. Learn more here.
Type any domain into the field to suppress it from your email campaigns.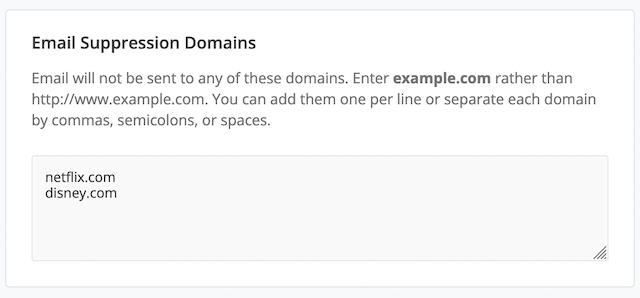 Fatigue Suppression Rules
Create rules to limit how many marketing emails your contacts receive within a specified time period. Once your contact has received the maximum number of emails specified by your rule, Act-On will suppress any additional emails to this contact until the end of your rule's time period. This helps ensure you're not overwhelming your contacts with too many emails, which is commonly associated with spam. Learn more here.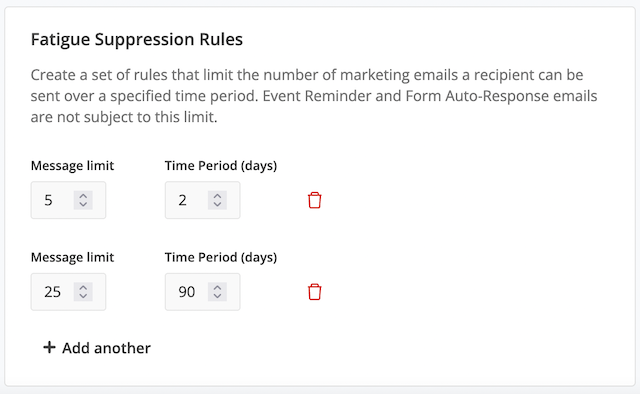 Tip! Event Reminder and Form Auto Response emails are not subject to fatigue suppression rules.