Folders are used to organize email templates. Creating folders is a great way to find templates faster and make your work in Act-On more efficient.
Create an Email Template Folder
Click Content > Email Templates
Click on the plus symbol to add a new folder
Type the name for the new folder, then click the check mark to save it
Repeat steps 2 and 3 for each new folder you wish to create

If you wish to hide folders from view, you can select the Eye symbol and toggle the folders you would like to display. Once you are done, select the symbol again to revert back to the folder view.
This can also be done for displaying only certain folders for your Sales Users by selecting the Cloud symbol.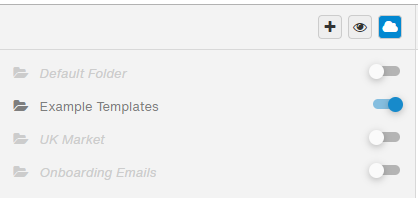 To edit an existing folder, simply hover over the folder name and options Rename or Delete will appear.