Microsoft Outlook renders email messages a differently from other popular email clients. If you find that your content is not displaying as intended in Outlook, we have some tips below that may help you resolve the issue.
Images and Tables
Image or Table Alignment Issues
Detail: Outlook does not render images and tables according to TEXT alignment, which is what displays correctly in our Rich Text Editor as well as web email clients.
Solution: Adjust table properties (Select table and click Insert/Edit Table button on Rich Text Editor toolbar) and set alignment to the desired alignment. For images, insert a 1x1 table with desired alignment and insert/drag the image in to the table.
Images/Tables Stretched Beyond Message Width
Detail: Image/table width is not defined or set to a pixel width larger than the message width.
Alternatively: Image block is used with a large image and align "Left/Center/Right is selected.
If image is the same pixel width as the message but still wider than the message.
Solution:
Image Block: Use "Fit in Block"
Image/Table in Rich Text: Set Image/Table Width to % instead of specific pixels.
Images Stacking Abnormally or Sized Too Small
Detail: Outlook sometimes shrinks images so that they do not align with the content section where they are placed.
Solution: First, insert a 1x1 table in the Rich Text Block where you want the image to appear. Then, insert/drag the image in to the table. Finally, drag the corners of the image so that the image resizes to the specific desired height/width.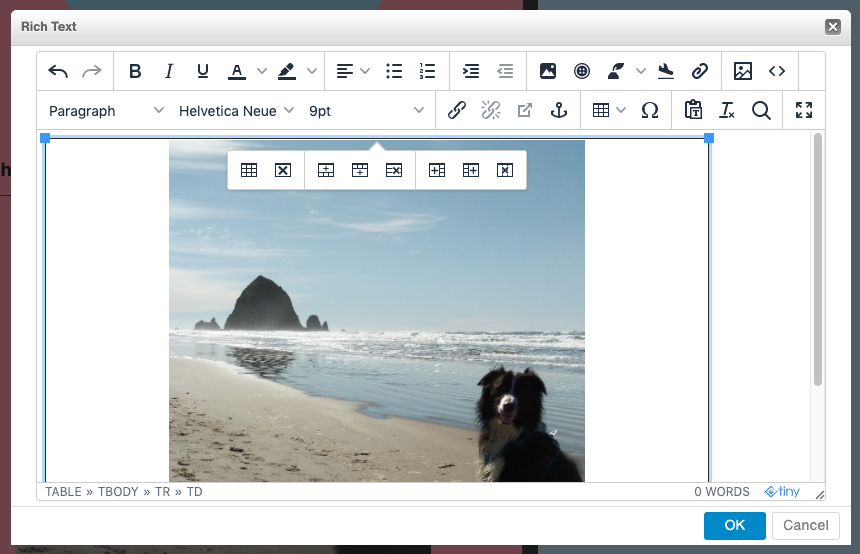 White Bar Breaking Up Message Content
Detail: Since Outlook renders images in Word format, email messages are subject to a 1728px vertical limit. Any content around this limit (page break) is subject to odd gaps and clipping.
Solution:
Gaps: Add a line spacer or more content at the top of the message to work around the vertical limit.
Image Clipping: Reduce the image height to under 1728px.
Other Content Sizing Issues
Detail: If none of the other solutions resolve margin gaps, it may be due to the way Outlook converts pixels to points and inches. This conversion can cause tables and images to not convert to suitable widths. Images and tables that have pixels that cannot be converted correctly will snap to the closest 100th of an inch. This may cause some discrepancies in regards to all other elements in your email.
Solution: When possible, use percentages opposed to defined pixel widths. In situations where the entire message width is in question, change the message pixel width a larger or smaller number.
Table Background Images
Detail: Outlook as a rule does not render table background images.
Solution: Use a message background color as a backup, or insert the content of the table as an image instead.
Table Background Colors
Detail: When replying to or forwarding an email in Outlook, the background color from the table is sometimes applied to the entire content of the email.
Solution:
Create a custom Stationery that uses table background colors instead of the typical background or bgcolor tag
or
Have end users turn off reply/forward formatting for Text, Background, and Stationery in your Outlook Settings. Remove or change backgrounds and stationery on replies and forwards
Font Sizing and Spacing
Line Spacing Discrepancies
Detail: Outlook converts pixels to points and scales up. This may cause a line spacing discrepancy between the HTML and Outlook version.
Solution: None available.
Sizing and Spacing Differences Between HTML and Outlook Versions
Reason: The Outlook program (along with the rest of Microsoft Office Suite) is subject to DPI scaling through your Windows Visibility Settings.
Solution: Adjust Windows Appearance Settings.
Windows Vista, 7, 8: Windows > Control Panel > Appearance and Personalization > Display. The slider here has the follow options:

Smaller - 100% (Actual Rendering – This is how other/web based email clients render the email)
Medium - 125% (Default – Text size is increased not proportionally to table and image sizes)
Larger - 150% (Text size is further increased not proportionally to table and image sizes)

Windows 10: Settings > System > Display. The slider here will have percentages similar to above except with a larger scaling range.