Getting Started
To reach the Form Composer:
Navigate to Content > Forms
Click the blue + button
Choose whether to create a New Form from scratch or use a Template Form (from the Form Templates section)

Form Properties
Title and Description
Provide a title and a optional description containing 150 characters or fewer. This title is not visible to customers - it is for internal reference only.
Use terms that will help other Act-On users identify the form and its purpose. This will be useful as you build a library of forms that you reuse. The description will be visible when hovering over the form title on the form listing page.

Submission List
Choose the list that will store the form submission data.
Type a list name to create a new list
or
Choose an existing list to add leads to by clicking the list icon
Once you've created the new Form Submissions list, you'll notice a checkbox called Always Append. By default, this feature is disabled. By keeping it disabled, the Act-On form will allow duplicate submissions based on the email address; however, Act-On will simply update the previous form submission with the new form submission.
Example: if john@abc.com submitted the form twice:
Without Always Append - the form submission list will overwrite the first submission with the information from the second submission
With Always Append - the form submission list will contain two entries for john@abc.com and treat them as unique submissions (see this page for more details)

Form Response Options
Response Page
Choose what happens after a prospect submits a form. Options include:
Redirect to URL – The user will be automatically taken to this URL once their form has been submitted. This URL should be secure (HTTPS). More Info.
Landing Page – You can direct the user to an Act-On Landing Page you have created.
Classic Form – You can direct users to another Act-On Form you have created.
Saved Rich Text Fragment - If you have saved a rich text block from the Form editor, you can show that to users after they submit the Form.
Rich Text Block - Design a Rich Text message to display. Once selected a WYSIWYG editor will appear.
Confirmation Email
If desired, you can send the user an email after they submit the Form. This can be used to send event details, a downloadable PDF, or any other details relevant to that particular form submission.
Suppressed Domains
You can reject form submissions from domains you specify in the Domains Suppression List.
If a user submits the form with an email address containing a suppressed domain, their data not be added to the Sign Up List and the submitter will be redirected to your choice any URL, Act-On Landing Page, or form.
Capped Sign-ups
You can place a limit on the number of people who can submit a form, such as a registration for an event.
Once the limit is reached, users will be redirected to your choice of any URL, Act-On Landing Page, or Form you define.
Expiration
You can fill in an expiration date, after which users will be redirected to your choice of any URL, Act-On Landing Page, or alternate Form. If this is left blank, the form will not expire.
Alerts
Enter email addresses that should receive real-time alerts for each form submission - this will contain all field data from the form. You can also choose automate alerts to go to your CRM's account owner.
CRM Settings
Set whether submission data should push automatically into your CRM. Make sure that field names are aligned - if they are not, data will not be pushed. Act-On will create a lead in your CRM if it does not exist already.
When you select Push Signup Data to (name of CRM), additional options will appear based on the CRM you use.
External Data Submission
Select this to post the form's submission data to an external URL.
Designing Your Form
Not Sure Where to Start? Check out our content catalog for pre-designed template ideas!
Sections control the layout of your form. All form content must be placed within a section.
Sections function as rows - within each one you can add up to 12 columns. This is key for creating responsive designs.

Make A New Section
Click and drag the New Section block to add it to your form.
To edit either column or row settings:
Hover over the page section
Click the Gear icon at the top of the section to edit column settings
Click the Gear icon on the right of the section to edit row settings
To add additional rows, click the icon below the Gear icon on the right side.

Use a Saved Section (Content Fragment)
If you saved a section as a Content Fragment, drag the Saved Section block onto your form and choose the section you would like.
Blocks
Rich Text
The Rich Text Block is the most versatile block in the form builder. You can input text, insert images, link to Act-On content, create tables, and much more.

Image Block
Images are pulled from your Act-On Image Library.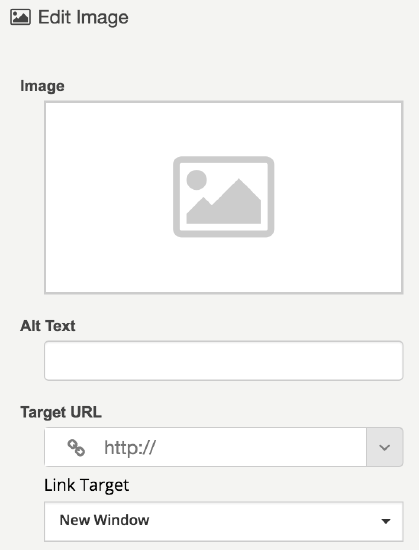 Text Box
The Text Box is the most basic type of form input.
Enter the label and any placeholder text
Choose whether the field is required by clicking the asterisk
Provide a field name by either typing a name or making a selection

Make sure the field is aligned with your lists, CRM data, and any external forms

Click Validation if input validation is required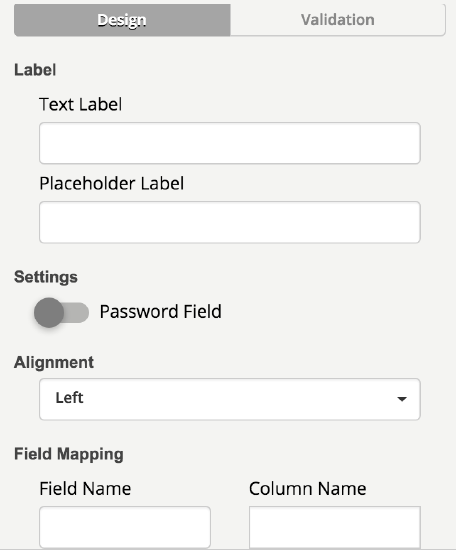 Hidden Field
Hidden fields can be used to pass data in the background of the form. For example, the field name could be 'Lead Source', and the field value 'website'. This is useful information in your CRM. When linking the form to an email campaign, make sure the Hidden field has the same column name as your mailing list.
You can pull certain values into your hidden field using the personalization picker: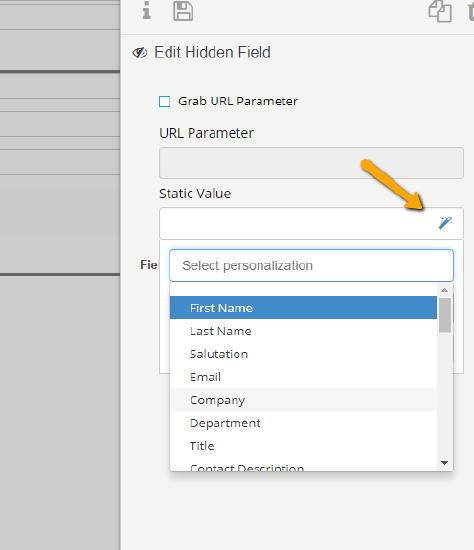 This magic wand icon will allow you to choose which standard field you would like to pull into your hidden field
Paragraph
Use the Paragraph Text block when you want to ask a question and give people the ability to respond in paragraph format.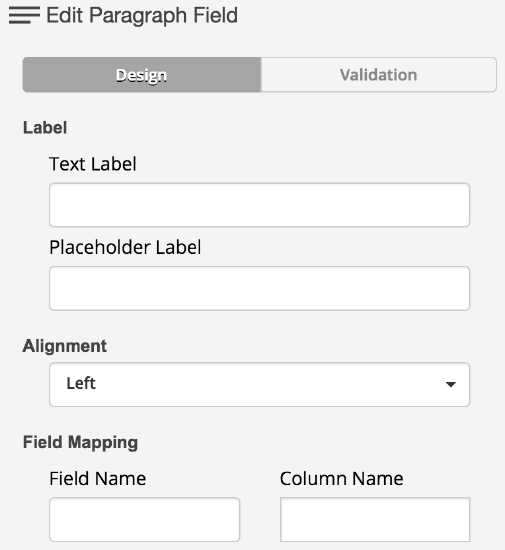 Combo Box
The Combo Box allows you to choose from three variations:
The Drop-Down list allows users to make a single selection. If you will use these same selections again in another drop-down list question, select the Save Template option. The next time you insert a drop-down list, simply select Load Template, select the template you wish to use, and your drop-down list, with its choices and corresponding values, will automatically populate.

The wording in the Labels field will appear on the form. The wording in the Values field is the data that is pushed into the signup list. Again, indicate whether or not the field is required and provide or select the column name.
To display a blank value as the default in a dropdown list, simply leave the topmost "Label" and "Value" fields blank. If the drop-down field is marked as required, the user will be unable to submit their Form until they've made a selection.

Radio buttons allow only a single selection and check boxes allow for multiple selections to be made.For both radio buttons and check boxes, first enter a label and then choose either a horizontal or vertical layout ranging from one to four columns.
The Checkboxes field allows you to choose how the values are shown in the list.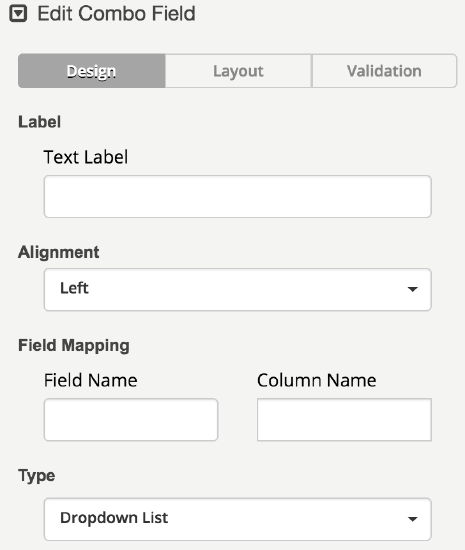 Captcha
Use the Captcha field to help catch spam bot submissions.

Date
Use the Date block to capture date entries. A variety of date formats and layouts are available.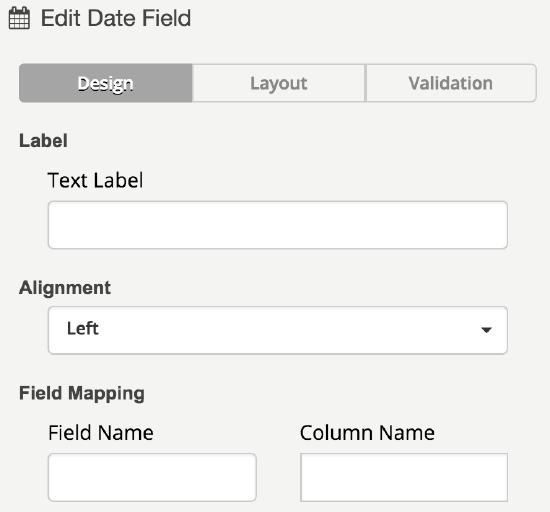 Submit Button
The Submit Button is required on all forms and allows you to choose a custom button the user will click to submit the form. Align the button to the left, right, or center, and move the button between content blocks to position it in the location you choose.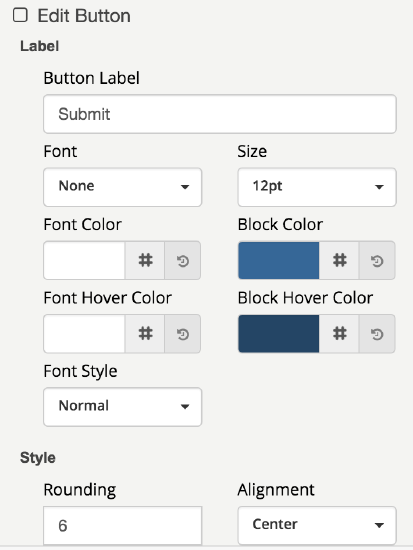 Saved Block
If you already have a content block created that you would like to reuse, you can select it here and drag it into your form.
Settings
Form Properties
Form Properties allows you to control the control the overall look and feel of your form.
Layout tab
Dimensions - Set the max width of your form.
Spacing - Allows you to set the margin and padding of your form.
Background - Allows you to set the color or add a background image to your form.
Advanced - Toggle the icon to have your form be responsive.
Styling tab
Font - Choose from both web fonts and google fonts. Click the Family field to search if you don't see a specific font type listed.
Color - Choose the color for both your text and hyperlink colors.
Validation tab
Styling - Choose the color and size of your validation text.
Settings - Click the toggle to validate on blur.
Field Mappings
Field Mapping list columns allows you to tell Act-On which data fields on your form belong in which columns on your list. In this area, you will be presented with a set of columns that may differ depending on whether you are creating a new list or an existing list.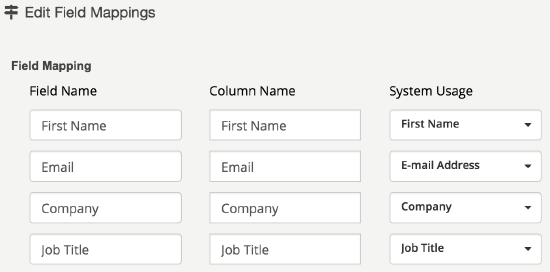 Form Conditions
You can set form fields to dynamically show/hide based on customers' selections (eg., if they pick United States as their country, show a State dropdown field). See this page for more information.
CSS
Either upload a style sheet or paste the CSS into the editor and customize the CSS of the form itself.
From the Design tab, click the CSS drop-down.
You can either click the Upload icon to upload your style sheet from your computer or click the Folder icon > + sign to insert a style sheet that is already loaded in your Act-On Media Library.
You can modify the code as needed directly in the editor. If you need to clear the CSS to load a new style sheet, click the Clear icon.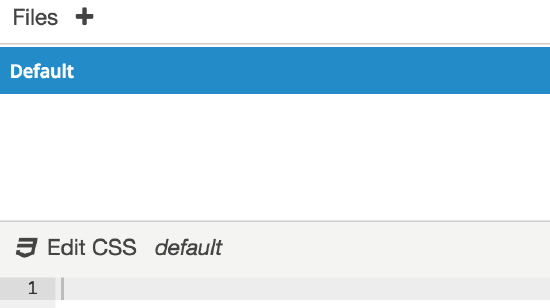 Review Your Form
After designing your form, you will want to review it for accuracy and make sure it displays correctly on Desktop, Mobile, and Tablets.
From the Review tab you can view how your form renders on desktop, tablet and mobile. Additionally, you will be able to preview both vertical and landscape views for tablet and mobile.
Publish Your Form
You can publish your form in two ways:
Act-On Landing Page - To do this, navigate to the Landing Page you would like to use, and use the form block to add it in.
3rd-party landing page - To add your form to an external page, you can use embed code. See this guide for details.
Please note: Act-On's New Forms do not have Public URLs. They must be embedded on a Landing Page other web page to be publicly available.