Is your Act-On account configured correctly? You can test using the steps below to be sure that you are set up with the technical requirements for successful digital marketing.
Test SPF Configuration
Act-On recommends validating SPF with a third-party site called MX Toolbox.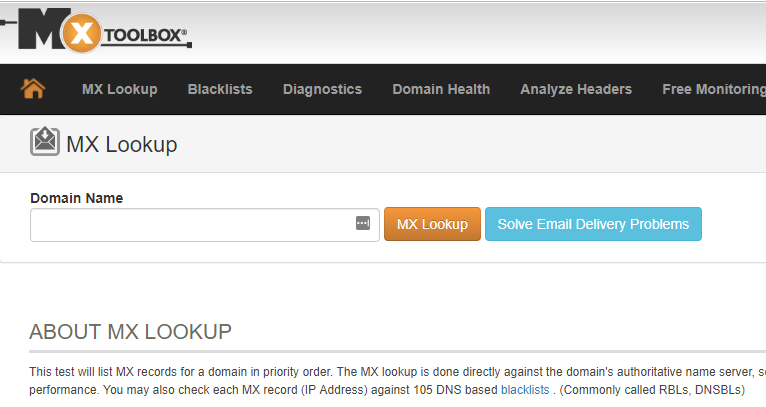 MX Toolbox does several checks, including on the DNS server where the domain lives. It may identify issues with your domain beyond your Act-On configuration, such as DNS propagation (how long your DNS changes take to travel across the internet).
For optimal delivery configuration, it's essential to have SPF on both the base domain (typically where the "From" address resides) and the envelope/mailer domain. The reason for both is to verify your ownership of all areas of the message.
Here's how to check SPF:
N

avigate to

MX Toolbox
Enter your

base domain and click

MX Lookup
Note: The next screen includes useful information, but nothing about SPF

After reviewing the MX Lookup information for the base domain, press the down arrow immediately to the right of the action button and select

SPF Record Lookup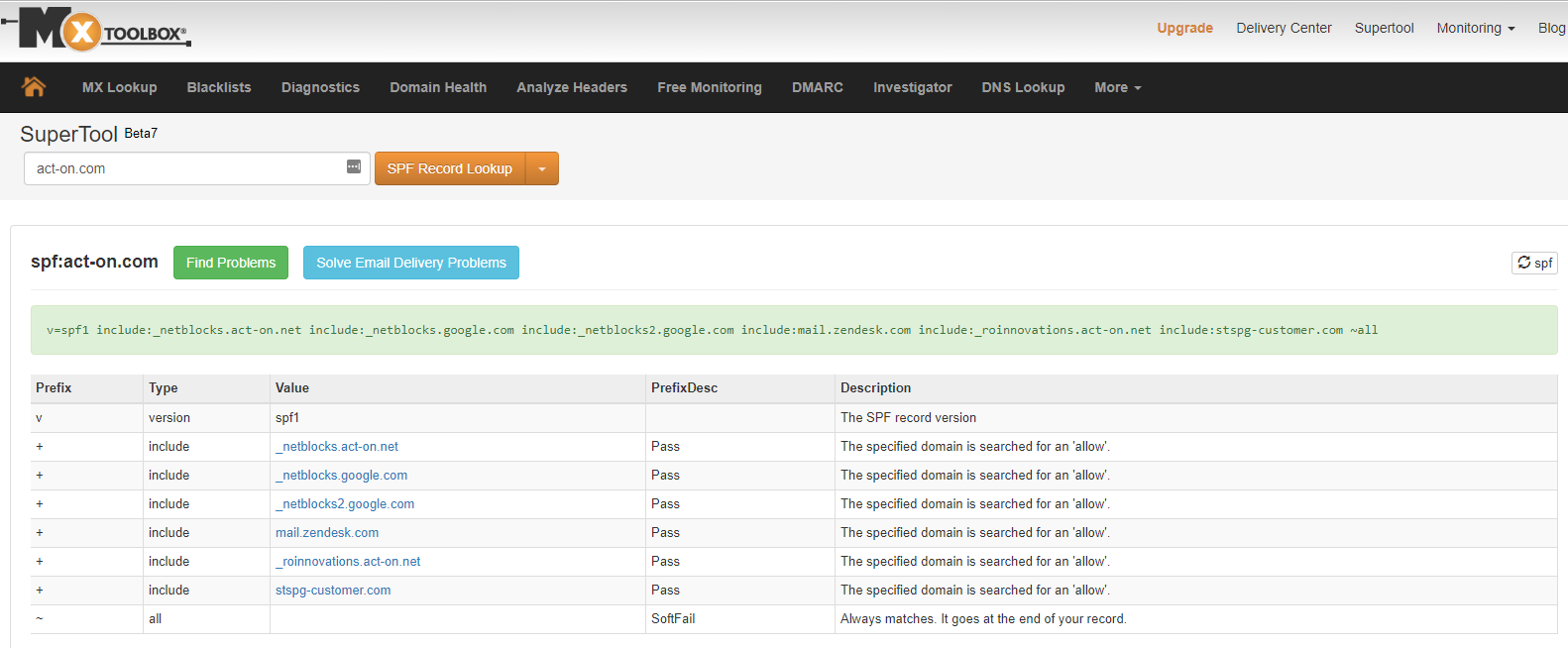 You should see a report like the above. If you get a response that shows all green checkboxes plus the correct string, "v=spf1 include:_spf.act-on.net -all" in the green box, and shows an entry in the table below, you have successfully configured your SPF for your base domain.
To test the Envelope From/mailer domain, repeat the same steps, but use the envelope domain instead of the base domain. You are looking for the same information, meaning the quoted string above listed for the Envelope From/mailer domain.
Test
DKIM Configuration
DKIM testing can use MX Toolbox as well. Simply use the right-hand arrow drop-down menu and select DKIM Lookup. You will need to know the DKIM CNAME record, which includes your account number plus "aoauth._domainkey.acton-success.com". Using Act-On's own instance, we see that the DKIM is:

Inputting that string into MX Toolbox reflects this:

Like SPF record validation, you want to see green checkboxes and a public key. The image above reflects how a proper record should look, but don't worry about matching the public key data as that will be different for your DKIM.
Test Custom Marketing Domain
Act-On highly recommends using separate subdomains from your top level domain for both your Envelope From Domain and Custom Marketing Domain. For example, the top level domain mycompany.com could use mailer.mycompany.com for the envelope and info.mycompany.com for the marketing domain. If for any reason your Envelope From sender reputation worsens, your marketing domain will be partially protected from being affected.
Testing your Custom Marketing domain can also be accomplished via MX Toolbox. You simply select the "CNAME Lookup" option. Using Act-On's domain reflects this:

Again, you're looking for green checkboxes, but more importantly, you want to then place the marketing domain URL in your browser and verify it redirects to the desired URL. In Act-On's case, our CNAME marketing record redirects to Act-On's main web page.
Once you have confirmed the CNAME is correct, open your Act-On instance and navigate to the Branding section. On the main Branding page, you'll see a "Marketing Domain" box. This shows you your current Marketing Domain.

In order to change the Marketing Domain to your new CNAME, you need to navigate to the Domain tab and click Edit in the upper right corner.

An editing panel will appear where you can add your new CNAME marketing domain.