Act-On Landing Pages can be created without the involvement of your IT or development team. Landing Pages are generated using the web page editor within Act-On, or an imported design can be used.
There is no distinction between 'draft' versus 'published' with Landing Pages. In Act-On, as soon as the Save button is clicked within the editor, your page is live and is accessible through the Landing Page public URL.
Go to Content > Landing Pages.
Find the Landing Page you want, hover over it and

 

Edit.
In the Properties tab, you can access the Public URL: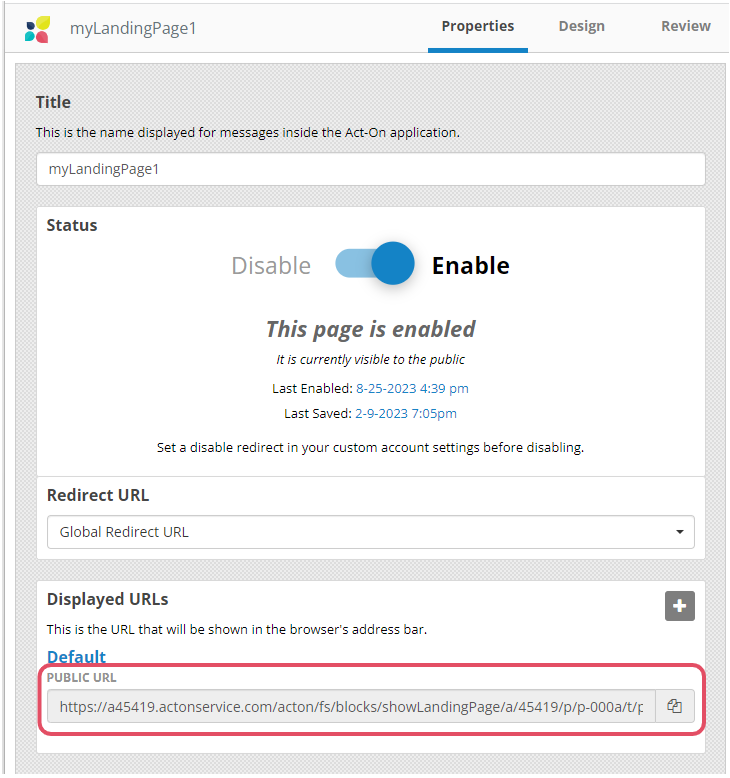 In the Properties tab, you have the option to generate a new URL, a short URL, or an SEO-friendly URL.
Each standard landing page URL generated by the system can be paired with a short URL or an SEO-friendly URL -- they are grouped together in this way. For instance, by default, you may generate a single short URL and an SEO-friendly URL to complement the default landing page URL, but to generate a new short URL or SEO-friendly URL you would need to generate a new URL (creating a new group).
One purpose of multiple URLs is to enable tracking the source of your visitors. For instance, you could reserve URL Group A for Social Media campaign A, or URL Group B for online banner ad B. Visitors could be coming into either URL, and the Act-On Landing Page report will break down the statistics independently for each URL group.


Short URL
If you have connected a Bitly account to Act-On, you can generate a shortened landing page URL. This is more conducive to social sharing and situations where customers need to manually type in a URL (eg. from a printed brochure).


SEO-friendly URL
An SEO-friendly URL enables you to customize the text within your landing page's URL. This makes your URL "human readable," which is one aspect used for SEO scoring. For example: 

This enables search engines to parse keywords present in your landing page URLs, which can help improve the ranking your page has in search results for those keywords.


Landing Pages in Search Results
For a Landing Page to appear in a search engine, it must first be indexed by a web crawler. In order for the web crawler to find your page, your website must contain a link to the Landing Page. (In other words, you must publish the link.)
If you have a
Custom Marketing Domain
, your Landing Pages will reflect your brand URL. Your web administrator can control how your Act-On Landing Pages are indexed by creating a sitemap, a robots.txt file, and using SEO audit tools with major search engines such as Google Search Console.
If you do not have a custom marketing domain set up, your pages will show in search results from the domain
actonsoftware.com
. (This is one reason we highly suggest creating a Custom Marketing Domain!) Act-On does not create or submit sitemaps to Google but does block activity from web crawlers from showing as page views.
For more information, you may wish to review
Google's SEO Starter Guide
.
Disabled Landing Pages
When you disable a landing page, you can set it to redirect to the URL of your choice. See this page for more information.