Landing Page Content Blocks
Building out a Landing Page is as simple as dragging content blocks onto the main page area. In the Design tab of the Landing Page editor, you'll find blocks for everything you need on your page.
Rich Text
As the most versatile content block within Act-On, the Rich Text block allows you to create text, insert pictures, link to documents and forms, and much more.
Click a text section within your landing page to open the Rich Text editor, or drag the Rich Text block into your page if you are starting with a blank page. Along the top of the Edit Text window you will find a series of icons to assist you in creating your landing page. You may be familiar with some of the icons here, but there are also additional ones that may prove helpful.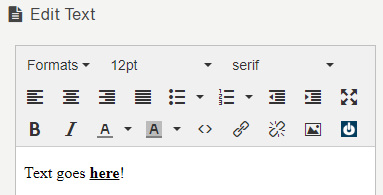 Image
The Image block provides access to your Images library, and allows you to insert a responsive image along with a description on any side of the image.
To use the Image block:
Drag the

Image block

into a

Content Section

.
Click the

image icon

.
Find the image you would like and click

Select

.
Choose the

Target URL

. You have the choice to use a custom link, or link to an Act-On form, media download or landing page.
Set the

Image Alignment

.
Add an optional

Image description

. You can choose to have it above, below, to the right/left of the image.
Set the Corner Radius (optional).
Click

OK.

Forms
The Forms you create for registrations, surveys, and more can be embedded into your Landing Page.
Drag the Form block into your page area.
Click the Checkmark under Select Form and choose the form you would like.
Check Show Prefilled to have your known prospects information pre-populate the form.
Click OK.
See this page for more on creating forms.
Custom Content
A Custom Content block is a unique tool within the Act-On editor for landing pages. A Custom Content block allows you to paste in your existing HTML, CSS, and JavaScript (in landing pages and forms). Act-On will not remove your custom CSS, whether it is inline, internal, or external. Alternatively you can upload valid HTML with images.
Upload - Upload HTML directly from your computer. If you choose to upload content rather than pasting in your code, ensure your HTML is a valid HTML file.
If uploading a zip file, only one HTML file will be read, and your file or images may not be in a subfolder within the zipped-up file structure.
Choose File - Choose from HTML landing pages that you have loaded into your Act-On Media Library. Once you click the File icon, choose from your available landing pages and click Submit.
Button
Buttons on your landing page are key for having your visitors interact with your content. All pages should have a strong, clear call-to-action and a button that stands out enough for your prospects to be drawn to it.
Spacer
The Spacer allows you to drop a block into your content to add a horizontal rule across content. Unlike typical horizontal rules, you have extensive customization options to increase the thickness, horizontal and vertical padding and color of the line.
To add a Spacer to your landing page:
Click and drag the spacer block into a content section.
Under Style you can set the color and thickness of the Spacer.
Under Padding you can set the padding around the Spacer. Toggling Customize will allow for more control over the padding.

Icon
Easily insert an icon from a wide array of options. You can style the icon's color, size, etc. as well as add a link.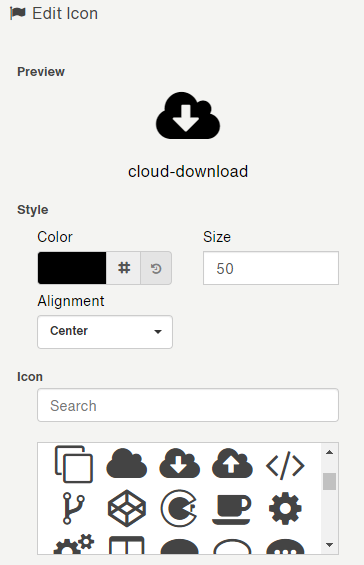 Video
Enter the link for a video hosted online, and it will be embedded onto the page instantly. If it's a YouTube video, you can also enable autoplay to start the video when the page loads.
Slideshow
Creating a dynamic image carousel has never been easier! Select up to five images from your Image Library to rotate in an image banner.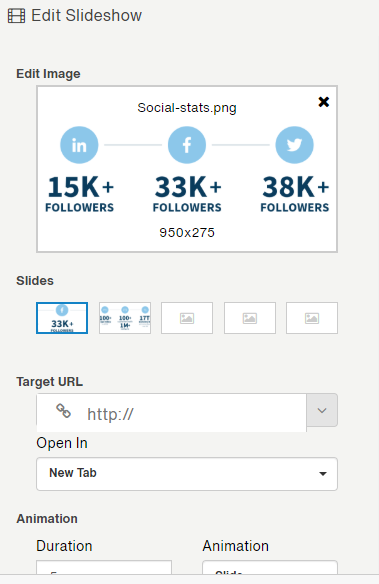 Map
Add a location to your page, powered by Google Maps.

Social Share
Using Social Share, you are able to provide your visitors a button to promote your marketing content on your behalf through their social networks.
Facebook, Twitter, and LinkedIn are supported for social sharing. You have complete control over styling options, which include the abilities to select different icon sets, icon size, icon padding, alignment and horizontal/vertical layout.
Additionally, you can drag the icons in the order you want them to appear on your landing page.
RSS
If your website or blog uses an RSS feed, you can embed it directly into your page for an up-to-date list of your recent content.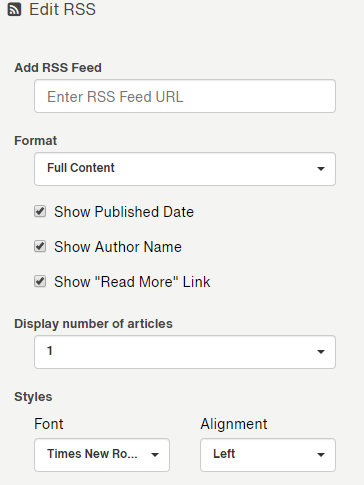 Business Card
Present your information in a downloadable Business Card that can be imported directly into your recipients contact list.
For example, if you are hosting an upcoming event featuring a guest speaker, you can include the speaker's contact information on your landing page and make it available for download.
To add a Business Card block to your landing page:
Drag the Business Card block into a Content Section.
Populate your Business Card info and click the checkmark if you would like to set it as default.
Click OK.

Signature
Signatures provide a way to save time when creating landing pages in your Act-On account. You have the ability to input signatures into a library that is available every time content is created and is an easy way to keep control over corporate branding.
There are two types of signatures in your Act-On account appropriately named My Signatures, available only to you, and Account Signatures, available to all users in your account. Only administrators are allowed to create Account Signatures while anyone can create a signature for their own personal use.
See this page for more on creating signatures.