Sometimes errors occur when installing or using the Act-On Anywhere for Outlook (legacy version) Add-In. This article reviews the known issues and solutions. 
If you are experiencing an error that is described in this article, go straight to that section for specific steps.
If you are not sure what the problem is, or if the error you are having is not described on this page, start by uninstalling and reinstalling the plugin.


Initial Troubleshooting
Uninstall and Reinstall Act-On Outlook Extension
Many errors during installation are resolved with a clean installation. Please review and follow these specific instructions when reinstalling.
Go to Add or remove programs.
Uninstall the two Act-On applications in the order below:


Uninstall the plugin first
Uninstall the installer next

Delete any existing setup.exe files from Act-On that you have currently.
Download and Install the Act-On plugin following our installation instructions.

When you open setup.exe, right-click and choose Run as Administrator
If you have done this and are still having trouble, next review the known errors below to see if these describe the problem you are having.
You can also contact our Technical Support team using the form below.


Errors during Installation
There was an error during installation: Downloading the file did not succeed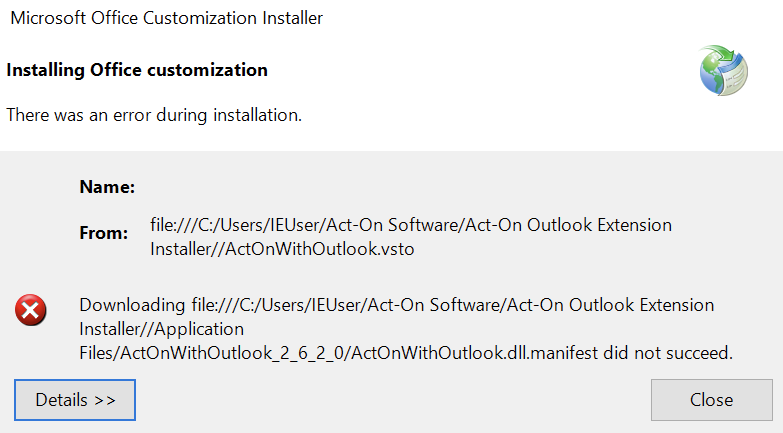 There are several causes for this kind of error, each described below with a solution.
Cause: Your network is behind a firewall that is blocking the download.
Solution: Ask your IT administrator to approve Act-On's domains for the Outlook plugin.
Once they have confirmed this is done, uninstall and reinstall the plugin.
Cause: Your local machine is blocking the site.
Solution: Add Act-On to your Trusted Sites
Go to Start and search "Internet Options"
In the Internet Properties control panel, go to Security
Click on Trusted Sites, then click on Sites: 


Enter https://downloads.actonsoftware.comand click Add:
Click Close
Go to Settings > Add or Remove Programs
Uninstall and re-install the plugin
Cause: You are using an older version of the installer (setup.exe). 
Solution: Use the newest version.
Uninstall the plugin
Delete all existing setup.exe files you've downloaded from Act-On
If you are still experiencing this error after doing the above steps, click on Details in the notice and copy the error text. Contact our support team using the form below and provide the full text of the error message.


I Installed the plugin, but it isn't showing in Outlook.
When this happens, the add-in may be disabled.
First, review the disabled Add-Ins:
Open Outlook.
Go to File > Info.
Click to open Slow and Disabled COM Add-ins.
Find Act-On Outlook Extension.
Under Options, select Always enable this add-in and click Apply:
Next, enable the Act-On Outlook Extension:
Navigate to File > Options > Add-ins.
Next to Manage: COM Add-ins, click Go:

Check the box for Act-On Outlook Extension.
Click OK:


Errors during Plugin Use
Login Errors
Please ensure your password for Act-On does not contain any special characters. If this is required as part of the password security policy for your Act-On account, this setting must be adjusted in order to use the plugin. Ask your Act-On Administrator for help adjusting the password policy.


Missing Notifications
System Notifications are configured in several different locations. Review the following settings to ensure you can receive your Notifications from Act-On:
Act-On Anywhere Settings
Live Notifications must be turned on
Open Outlook
Go to Act-On Anywhere
Check the box to turn on Live Notifications

Additionally, the Act-On Message you send must have both Record and Notification checked in the New Message window.

Operating System Settings
The available settings for system notifications will vary by operating system.
The following instructions apply to Windows 10.
Notifications & actions settings
Go to Settings and search for Notifications & actions settings.
Turn On Get Notifications from apps and other senders:
Under Get notifications from these senders, turn notifications On for Outlook:
Click on Outlook to see more notification settings. We recommend the following:

Notifications On
Show notification banners On
Show notifications in action center On
Focus Assist
Go to Settings and search for Focus assist settings.
Review your settings here to make sure you have not inadvertently silenced your notifications with settings such as:

Notification Settings

Priority Only > If you use this, is Outlook a priority?

Alarms Only
Automatic Rules
During these times
When I'm at home

Go to the Action Center and make sure Focus Assist is turned Off (it will be highlighted if it is On):



Network Settings
Contact your company's IT team to ask if you are working behind a firewall. Ask your IT team to approve Act-On's domains listed in this page. Firewalls may block Act-On's notifications if this is not completed.
Outlook continues to crash
If the plugin crashes and becomes disabled, first follow these instructions from above to ensure it does not auto-disable.
If you have done this and the plugin is constantly crashing Outlook, check your settings for any other plugins that have been installed. Act-On cannot guarantee compatibility with third-party Outlook plugins. You may need to disable these in order to use Act-On Anywhere. 
Go to File > Options > Add-ins.
Review the Active Application Add-ins.
Click Go next to Manage COM Add-Ins.
Un-check each third-party plugin to disable it.
Click OK.
Restart Outlook.


Still need help?
If this does not resolve the issue, please contact our Support team. For a faster resolution, please provide the log files from your computer.


How to Locate Act-On Anywhere Plugin Log Files
When contacting our support team, we may request log files from your computer. This information is a key component of troubleshooting.
To obtain this file, open Windows Explorer.
Enter this location in the address bar, and hit Enter: C:\%USERPROFILE%\appdata\local\Acton\ActonOutlookExtension
You will see a log file saved for each day the plugin was active. Today's log does not have a date on the file name.
Provide the log files for the dates where you experienced the issue you are reporting: